Plains Day a welcome return to Clark Fork Valley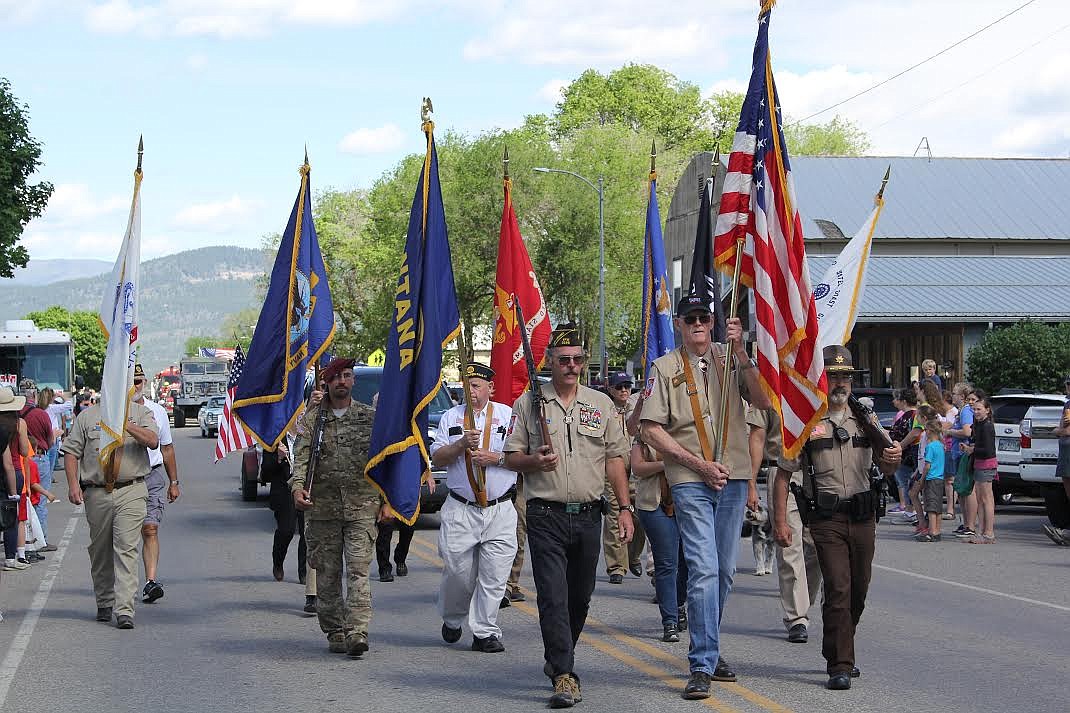 Members of the Plains VFW Post marched in the Plains Day parade last week. (Monte Turner/Valley Press)
by
MONTE TURNER
Mineral Independent
|
June 9, 2021 12:00 AM
If you had a lump in your throat watching the Plains Day parade, you weren't alone.
Lots of laughter and whistling and candy and banter from the crowds to those in the parade, but more American flags, shirts and hats blazed in red, white and blue with the feeling and mood of patriotism that was felt and seen in the faces of all ages.
The theme was "God Bless America" which was organized by The FREE Americans, and their volunteers were well-marked and helpful answering questions and giving directions while explaining what their new organization does.
"We formed after the 2020 election as a group of liberty-loving people who do not want our guaranteed freedoms to disappear," explained Amy Dishaw.
The organization is co-chaired by Connie Foust and Mary Halling with the membership around 55 and growing. They were also one of the 60-plus vendors set up on the greenway sharing information or selling Indian fry bread, jewelry, clothing, antler-art, watercolor prints, Native American flute melody CDs, custom mold-made holsters, pinecone wreaths, kitchen gadgets, wooden bowls, BBQ ribs, cupcakes and cookies and breads.
The atmosphere was enhanced by Jaden Decker playing his original country music with a patriotic flare.
People were also treated to the first Tom Peterson Memorial Car Show. Plains lost a local hero this last year with the passing of Tom Peterson, who was fond of vintage automobiles and regularly featured them at Ripples Ice Cream Parlor, the business he began with wife Jacqi.
A familiar face all around Plains, Tom always had a laugh, a story and made everyone feel especially welcome while whipping up some original ice cream creation.
"Very good guy and liked by everyone," said Joann Mathers who had a car entered in the lineup.
Across the railroad tracks in the Fred Young Park, activities to keep the little guys and gals laughing were hosted by Plains Bible Church.
A bouncy house, games, crafts, popcorn, snow cones, hamburgers and brauts kept their bellies full.
The annual classics of Plains Day were on hand being the turtle races, cross-cut saw competition and Rocky Mountain Bank ice cream social.
The Plains Day Dance Party kicked loose at 5:30 and was sponsored by the Ryan family and another gob of volunteers.
After a long, hard year, it was time to get out and celebrate this great community.
Plains has long held the tradition of Plains Day as a time to honor their heritage in the valley, the terrific people who live there and the many businesses and non-profits who call this place home.
---