Superior High School golf team third at state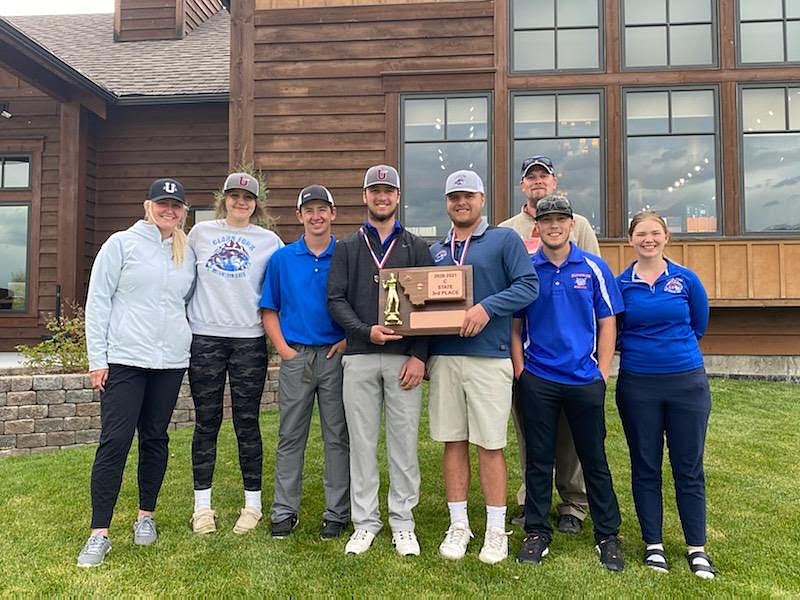 From left, are Superior golf coach Kyra Palmer, Aubrie Constant, Carter Mclees, Danner Haskins, Aaron Waddle, head coach Seth Kuhl, Bryan Mask and Lauren VanCleaf. (Monte Turner/Mineral Independent)
by
MONTE TURNER
Mineral Independent
|
June 9, 2021 12:00 AM
Superior head golf coach Seth Kuhl was more than pleased with how his team finished the season.
"I was very happy how the boys held things together after the first day and stayed in the running to bring home third place for the Class C trophy," Superior head coach Seth Kuhl said.
The team had a score of 275 at the state finals at the Riverside Country Club in Bozeman last month. Second place went to Westby-Grenora and the championship for the year went to Manhattan Christian School in the Gallatin Valley.
"Actually, we had five boys who qualified but we could only have four compete," he said. "Our alternate who could not go but still qualified was Thomas Anderson."
Those that played were Danner Haskins, who placed ninth individually. Aaron Waddle was 13th overall. Carter McLees was 21st and Bryan Mask placed 25th.
The season started April 15 and a big shout out to the Motes Family and St. Regis Golf Course for allowing the students to practice at each location a couple of times a week.
16 students started this year with seventh who qualified for state in the last two weeks.
Girls that qualified were Aubrie Constant and Lauren VanCleaf.
During the short season, the team played at Plains, Thompson Falls, Eureka, Anaconda, the Missoula Country Club, Canyon River in Bonner and at Seeley Lake.
"Also, a huge thanks to my assistant Kyra Palmer! I am sorry to see the seniors go. Out of the seven boys and girls that qualified, five are seniors. But with that being said, we're excited for the younger class that will pick up behind them in the years to come."
---