Area wrestlers qualify for Montana Class B/C championships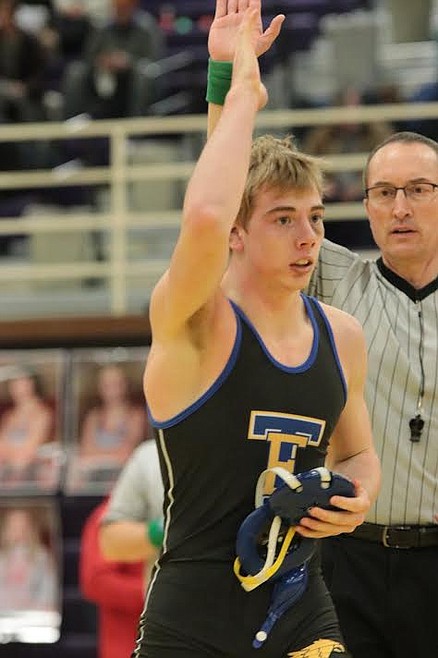 Thompson Falls wrestler Trae Thilmony celebrates a win at the Western B-C Divisional last weekend. (Photo courtesy Sally Anderson)
by
SCOTT SHINDLEDECKER
Clark Fork Valley Press/Mineral Independent
|
March 3, 2021 12:00 AM
Fifteen wrestlers from Sanders and Mineral counties punched their tickets to this weekend's Class B/C Montana High School Association championships in Shelby.
Plains-Hot Springs has seven, Thompson Falls had six while Clark Fork advanced two from the West Divisional in Cut Bank last weekend. The top eight from each weight class qualified for state.
According to results from trackwrestling.com, the Savage Horsemen's state qualifiers include Drew Carey (120), Jacob Schulze (120), Peter Carey (126), Stephen Schulze (126), David Schulze (132), and Jesse Uski (170). Freshman Donny Nelson (113) also qualified and will wrestle in the East bracket after there was an opening.
"I have to give it to the team, they all showed up to do their part this weekend," Savage Horsemen coach Shane Angle said. "Everybody wrestled with heart and determination and layed it all out on the mat. You can tell when a wrestler has given it all that they have when they come off the mat with bloody noses, bloody lips, bruises and scrapes all over and they are still happy with their performance. It takes a tough competitor mentally and physically to endure the loss on the champion side and turn around and fight their way all the way to the end in the consolation. I can't say enough about them because they all did just that.
"We even had to wrestle our own in a semi-final round in the consolation when Drew Carey and Jacob Schulze met. That is never a good outcome when going for the highest place you can get, but Drew and Jacob battled it out to earn their spot regardless of winning or losing to a teammate. We are very happy with our outcome, this Western B/C super division was just a blood bath to get qualified for state, and they earned it every step of the way."
For the Blue Hawks, they crowned three champions as 132-pounder Trae Thilmony, Eli Ratliff (145) and Dane Chojnacky (182) stood atop the podium.
Thilmony won a true classic as he beat three-time champion Gunnar Smith from Eureka, 12-10, in overtime. Thilmony is a defending state champ as well.
At 152, Shane Reishus, placed fourth while newcomer Max Hannum was also fourth at 160. At 170, Josh Baldwin was eighth.
The Mountain Cats have two going to Shelby, including Decker Milender (120) and Hunter Haskins (160). Milender placed third while Haskins was second.
Here are the team standings and some individual results for the tourney. Complete results may be found at trackwrestling.com.
TEAM
Jefferson (Boulder), MT Jefferson, MT (GET) JEBO 16 175.0
Whitehall, MT Whitehall, MT (GET) WHIT 15 169.5
Cut Bank, MT Cut Bank, MT (GET) CUBA 15 148.0
Fairfield/Augusta, MT Fairfield, MT (GET) FFA 13 137.5
Thompson Falls / Noxon, MT (GET) TFN 9 136.5
Florence-Carlton FLCA 16 132.0
Lincoln County (Eureka) 11 122.5
Plains/Hot Springs, MT PHS 16 121.0
Simms, MT Simms, MT (GET) SIMM 9 121.0
Three Forks/Ennis, MT Three Forks, MT (GET) TFE 10 119.0
Bigfork, MT Bigfork, MT (GET) BIGF 12 101.0
Superior/Alberton, MT SUPA 5 53.0
INDIVIDUAL 120
Guaranteed Places
3rd Place - Decker Milender of Superior/Alberton
4th Place - Jacob Schulze of Plains/Hot Springs
5th Place - Drew Carey of Plains/Hot Springs
3rd Place Match
Decker Milender (Superior/Alberton) 19-5, So. over Jacob Schulze (Plains/Hot Springs) 11-3, So. (Dec 6-4)
5th Place Match
Drew Carey (Plains/Hot Springs) 11-4, Fr. over Angus Anderson (Bigfork) 25-6, Fr. (Fall 6:00)
126
4th Place - Stephen Schulze of Plains/Hot Springs
5th Place - Peter Carey of Plains/Hot Springs
3rd Place Match
Dayne Sullivan (Simms) 18-13, Jr. over Stephen Schulze (Plains/Hot Springs) 8-5, Sr. (Fall 4:49)
5th Place Match
Peter Carey (Plains/Hot Springs) 14-3, Sr. over Chase Kirkland (Three Forks/Ennis) 16-7, So. (Fall 1:37)
132
1st Place - Trae Thilmony of Thompson Falls / Noxon
2nd Place - Gunnar Smith of Lincoln County (Eureka)
5th Place - David Schulze of Plains/Hot Springs
6th Place - Ryder Nollan of Big fork
1st Place Match
Trae Thilmony (Thompson Falls / Noxon) 30-1, Jr. over Gunnar Smith (Lincoln County (Eureka)) 30-2, Sr. (SV-1 12-10)
5th Place Match
David Schulze (Plains/Hot Springs) 6-3, Jr. over Ryder Nollan (Bigfork) 22-13, Jr. (MD 13-1)
145
Guaranteed Places
1st Place - Eli Ratliff of Thompson Falls / Noxon
2nd Place - Mathew Larson of Cut Bank
1st Place Match
Eli Ratliff (Thompson Falls / Noxon) 34-1, So. over Mathew Larson (Cut Bank) 21-5, Jr. (Dec 7-2)
152
Guaranteed Places
3rd Place - Ty Curry of Cut Bank
4th Place - Shane Reishus of Thompson Falls / Noxon
3rd Place Match
Ty Curry (Cut Bank) 13-3, Jr. over Shane Reishus (Thompson Falls / Noxon) 18-6, Jr. (Dec 11-4)
160
Guaranteed Places
1st Place - Coy Cohenour of Three Forks/Ennis
2nd Place - Hunter Haskins of Superior/Alberton
3rd Place - Miles Hoerauf of Whitehall
4th Place - Max Hannum of Thompson Falls/Noxon
1st Place Match
Coy Cohenour (Three Forks/Ennis) 16-0, Sr. over Hunter Haskins (Superior/Alberton) 20-3, Sr. (Fall 4:58)
3rd Place Match
Miles Hoerauf (Whitehall) 29-2, So. over Max Hannum (Thompson Falls / Noxon) 28-7, Fr. (Fall 0:31)
170
Guaranteed Places
7th Place - Jesse Uski of Plains/Hot Springs
8th Place - Josh Baldwin of Thompson Falls / Noxon
7th Place Match
Jesse Uski (Plains/Hot Springs) 12-9, Sr. over Josh Baldwin (Thompson Falls / Noxon) 17-8, Sr. (Fall 3:20)
182
Guaranteed Places
1st Place - Dane Chojnacky of Thompson Falls / Noxon
2nd Place - Cameron Brusven of Shelby
1st Place Match
Dane Chojnacky (Thompson Falls / Noxon) 31-2, Sr. over Cameron Brusven (Shelby) 26-4, Jr. (Dec 4-2)
---