Seasons end for District 14-C hoops teams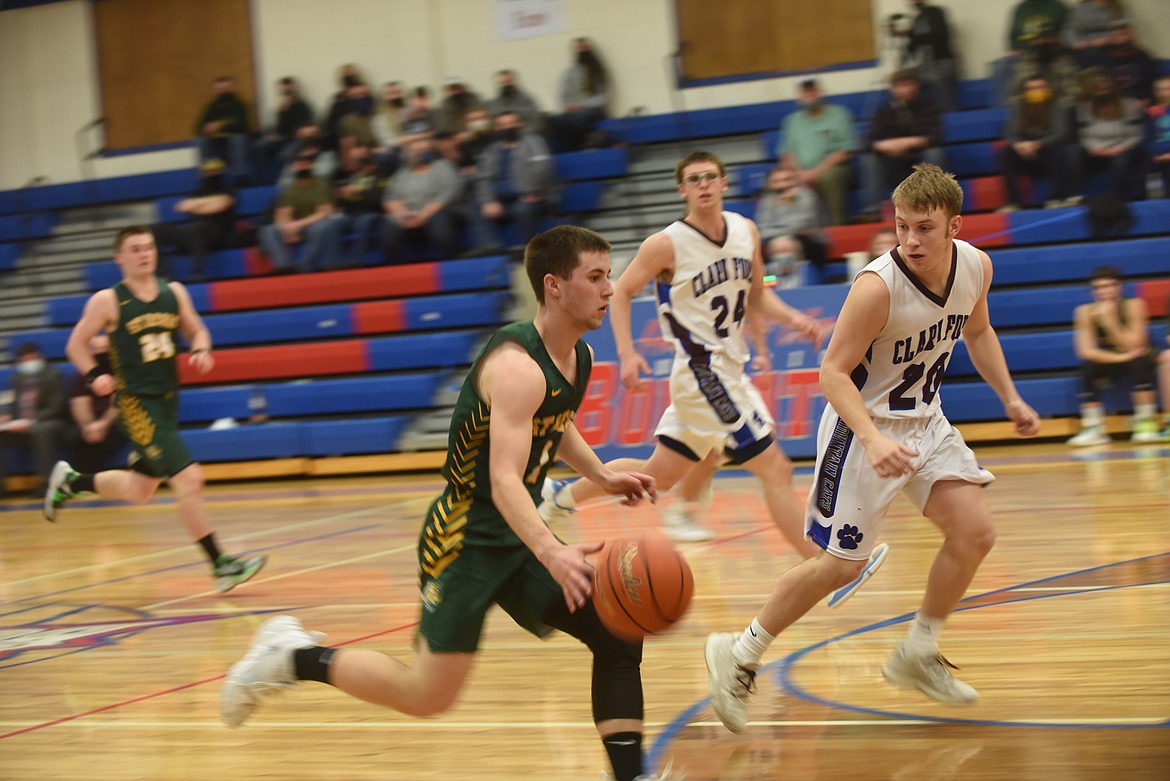 St. Regis' Caleb Ball races upcourt Feb. 20 against Clark Fork. (Scott Shindledecker/Mineral Independent)
by
Mineral Independent
|
March 3, 2021 12:00 AM
GIRLS
Western C
WEDNESDAY, Feb. 24
Charlo 42, Twin Bridges 30
Liev Smith topped all scorers with 13 points, Connor Fryberger added 12 and No. 4 Charlo used a huge fourth quarter to rally past Twin Bridges 42-30 in a tournament opener. Carlee Fryberger pitched in with nine for the Vikings, who trailed by four after three quarters but outscored the Falcons 18-2 over the final eight minutes.
Ennis 48, Clark Fork 35
Darby Haskins scored 12 to lead the Mountain Cats.
THURSDAY, Feb. 25
Manhattan Christian 46, Charlo 26
The winning Eagles held the Vikings to 23.1% shooting. Manhattan Christian also prevailed in the battle on the boards with a 45-23 rebounding advantage. The Eagles led 23-14 at halftime, then put the game away with a 15-2 run in the third quarter. Liev Smith led Charlo with eight points and five rebounds.
Clark Fork 67, Shields Valley 60
No details available.
FRIDAY, Feb. 26
Charlo 43, Twin Bridges 29
Liev Smith scored 16 points to lead No. 4 Charlo over Twin Bridges 43-29 for the consolation championship. Connor Fryberger added eight for the Vikings. Ayla Janzen and Callie Kaiser scored seven apiece for the Falcons.
Charlo 32, Clark Fork 27
No details available.
BOYS
Western C
THURSDAY, Feb. 25
Shields Valley 73, St. Regis 57
The Tigers dropped their tournament opener as Shields Valley dominated the fourth quarter.
St. Regis (9-4) trailed 19-14 after the first quarter before rallying to tie the game entering the final eight minutes. But Shields outscored the 14-C champs 22-6.
Manhattan Christian 69, Clark Fork 33 Danner Haskins and Carson Callison scored 11 points apiece for the Mountain Cats.
FRIDAY, Feb. 26
Philipsburg 43, St. Regis 40
Philipsburg rallied past St. Regis in the fourth quarter for a 43-40 loser-out victory. The Prospectors trailed by 16 at one point and outscored the Tigers 17-8 in the fourth quarter.
Caleb Ball scored 16 and John Pruitt added 10 for St. Regis.
Valley Christian 62, Clark Fork 41
Carson Callison led the Mountain Cats with 17 points and Bryan Mask scored nine.
---