Thompson Falls heads to state as Western B champs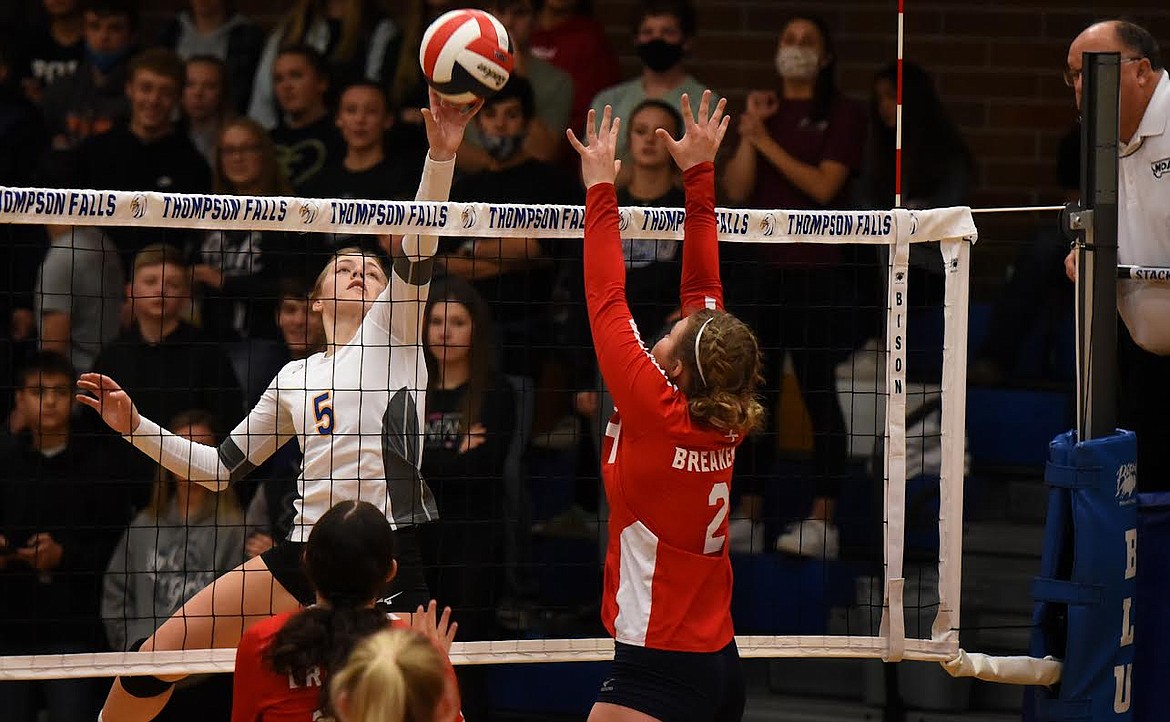 Thompson Falls junior Natalie Roberts tips a shot past Loyola's Natalie Clevenger during last Thursday's match in the Western B tournament. (Jeremy Weber/Valley Press)
by
Clark Fork Valley Press
|
November 10, 2021 12:00 AM
The Thompson Falls Lady Hawks are headed to the state tournament in Bozeman as Western B volleyball champions.
The Lady Hawks needed two matches on Saturday to win the title over Florence-Carlton. The runners-up took the first match Saturday, 25-18, 25-17, 21-25, 11-25, 15-12, to force a winner-take-all finals.
In that match, the Lady Hawks didn't waste much time in a three-set sweep, 25-18, 25-16, 25-21.
Both teams advanced to this week's state tournament at Montana State University's Brick Breeden Fieldhouse.
The Lady Hawks will face Broadwater County, the third seed from the South, at noon Thursday. A win would put them in the quarterfinals at 6 p.m. Thursday. Their opponent will be the winner of the Choteau-Jefferson match.
Thompson Falls was 1-2 in the last year's state tournament. They lost to Choteau, beat Florence-Carlton and exited the tourney after a loss to Colstrip.
At last week's Western B, the Lady Hawks opened with two three-set wins over Missoula Loyola and Anaconda on Thursday.
Friday, they won a five-set classic over Florence-Carlton to reach the finals. TFalls won the first two, 25-18 and 25-23. F-C responded with wins of 27-25 and 25-20. But the hosts regrouped for a 15-13 win.
In their matches against Florence-Carlton, Scarlett Schwindt led the way with 79 assists, 13 kills and three service aces.
But she was far from alone as the balanced Lady Hawks had good performances from a host of players.
Cheyla Irvine had 30 digs and three aces while Avery Burgess had 18 kills and four aces. Natalee Roberts had 22 kills, Abbi Lane had 14 blocks and four aces while Ellie Pardee had 18 assists and Donnie Jo Van Huss added eight kills.
Western B
Nov. 4-6
At Thompson Falls
(2 teams advance to state)
Thursday
Match 1: Thompson Falls def. Missoula Loyola, 25-10, 25-18, 25-18
Match 5: Thompson Falls def. Anaconda, 25-16, 25-14, 25-23
Friday
Match 11: Thompson Falls def. Florence-Carlton, 25-18, 25-23, 25-27, 20-25, 15-13
Saturday
Match 14: Florence-Carlton def. Thompson Falls, 25-18, 25-17, 21-25, 11-25, 15-12, first championship
Match 15: Thompson Falls def. Florence-Carlton, 25-18, 25-16, 25-21, second championship
In Western C action at Churchill, Superior was 0-2.
Thursday, the Bobcats lost to Manhattan Christian in three, 25-15, 25-12 and 25-12. Friday, Superior battled Drummond before losing in five.
Against Drummond, Sorren Reese contributed three aces, four assists, five digs, two kills and one block.
Cassie Green had five digs, three kills and two aces and assists each. Payton Milender had six digs and two kills while Brooke Bibler had two aces, Molia Dao had three assists and Kim Turner had four kills.
---