Superior woman starts home floral business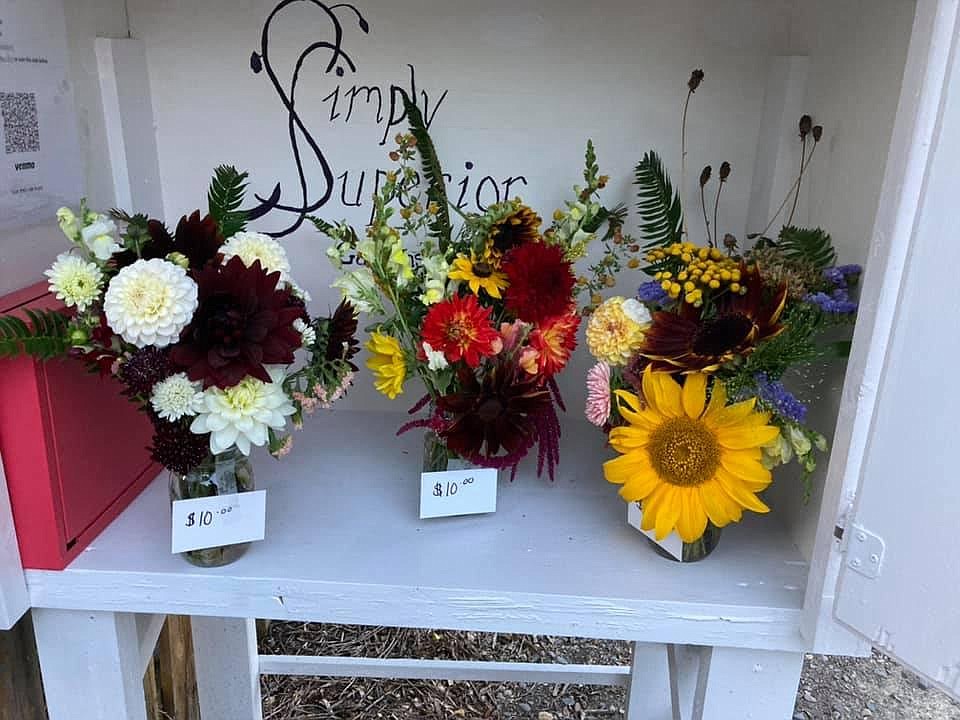 For the past several weeks locals could stop and peruse VanRimsun's flower box shop on Alder Street in Superior, in the coming months she plans to sell holiday style crafts and decor in it now that flower season has passed. (Photo courtesy Rachel VanRimsun)
by
AMY QUINLIVAN
Mineral Independent
|
October 13, 2021 12:00 AM
When Rachel VanRimsun isn't up at night working from home teaching English online to students in China, or catching up on her sleep during the day, she's busy out in her garden at her home in Superior.
This peaceful outdoor space chock full of an incredible palette of flowers provided VanRimsun with the means of starting her very own small scale floral business this year.
After a recent move to Superior, and a change in pace with her career she realized she wanted to get back to her green thumb ways.
"I missed gardening," remarked VanRimsun, that's where the concept of her pop-up flower shop came from. She added, "One idea just grew into another. My original plan was to have a U-pick and flower bouquet bar."
But being her first year in a new gardening space she knew it was going to be a lot of work. VanRimsun noticed, "The soil needs a lot of amending and the weeds."
After investing countless hours into her garden over the past year, she now has the culminating end result of her brand-new flower box business outside her home.
The little white box at 404 Alder Street was home to VanRimsun's innovative entrepreneurial gig called Simply Superior Gardens. For the past several weeks she would pick her beautiful flowers, arrange them in vases, and display them for customers in the box outside her home. Passerbys could drive or walk up, pick a bouquet and pay with cash, or Venmo.
Her aspirations are even bigger than the grab and go bouquet box, she hopes to one day sell seedlings. But for now, it's one step at a time.
She explained, "I also have a nursery license but that is phase III. My biggest mistake was thinking I could do all this physical labor myself. If I want to sell seedlings, I need the license. I had a little seedling sale early in the summer. There just weren't enough hours in the day to get it all going at once."
"So, I broke it down into phases. Phase one was my experiment year, planting what I could. Amending the soil and getting ready for phase II which are hardy perennials like peonies, astilbes, lilies," said VanRimsun.
Establishing such a large variety and stock of flowers took time. She noted, "Honestly selling bouquets was not high on my list of things to do. Why I've started now is because I finally have a sufficient quantity to sell bouquets but not enough for doing a u-pick or bouquet bar event."
The bouquet box was a bit of a compromise with herself. She shared, "Part experiment, part advertising, part sharing the beauty of flowers with others. Working nights makes it very difficult to interact. I started selling bouquets at the Saturday market a few weeks ago and the reception was great."
Discovering her own style and niche took some practice as well, she didn't want her flower arrangements to be just like those you'd find at the store or in a local shop. VanRimsun expressed, "I moved to Superior because it was my hiking territory and the mountains are important. So now, I mix mountain goodies with my flowers and feel that is a representation of who I am and it brings the beauty of the mountains to those who don't or can't get out."
Her heart for giving is a motivating force behind what she does. VanRimsun said, "I grew veggie starts and gave them to the two senior centers because it was really important to me people have access to healthy food." She added, "It is hard to have a garden when you get older."
Through the month of September VanRimsun sold several dozen bouquets with the fresh cut flowers she worked hard to cultivate all summer long. She was inspired by the number of people who came each week to buy her arrangements, it made for an uplifting experience even if it was a bit of an experiment.
She shared, "Thank you for all the support especially the words of encouragement."
VanRimsun now is gearing up for fall bulb planting. But the little white box on Alder Street won't stay empty for long, she suggests that locals check in often cause with the change in season she'll add new treasures for people to purchase.
She remarked, "I'll switch to dried flowers and plants, and wreaths and other little crafts. The bouquet box will become the craft box."
---