Blue Hawks complete perfect regular season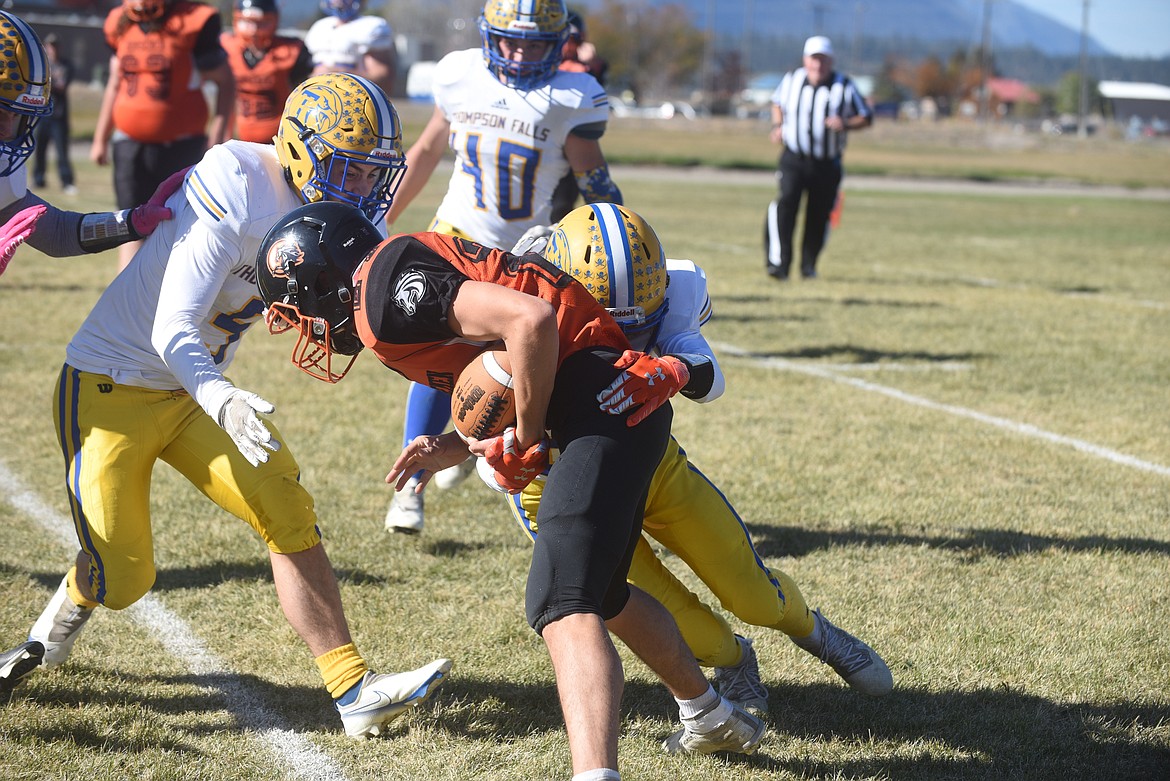 Thompson Falls senior Nathan Schraeder helped make a tackle against Plains during a game Oct. 16. Last Thursday against Troy, Schraeder scored a touchdown and added four extra point kicks. (Scott Shindledecker/Valley Press file)
by
Clark Fork Valley Press
|
October 27, 2021 12:00 AM
The Thompson Falls Blue Hawks wrapped up an undefeated regular season Thursday with a 56-14 win over Troy.
Quarterback Eli Ratliff ran for two touchdowns and threw for another as the Blue Hawks improved to 9-0.
They led 42-0 after the first quarter, invoking the Mercy Rule and a running clock.
Nathan Schraeder got things started with a 44-yard run. He kicked the first of his four extra points.
Trae Thilmony then scored on a 2-yard run and Ryan Bucher caught a 50-yard TD pass from Ratliff. Ratliff followed with two TD runs, 9 and 19 yards.
Josh Wilhite found the end zone on a 7-yard TD pass from Bryson LeCoure. Keinen Williams joined the scoring parade on a 44-yard. The first of two extra point kicks by Jeffrey Mennon made it 49-0 at halftime.
LeCoure scored the Hawks' only TD in the third quarter on a 79-yard run.
Thompson Falls has outscored its opponents 487-108.
The Blue Hawks will host Circle in a first-round 8-man state playoff game this weekend, Saturday, Oct. 30.
In other 8-man football action:
MISSION 64, PLAINS 0
The Horsemen ended the season 0-6 after a lopsided loss to the Bulldogs Friday night. Mission improved to 6-2.
ARLEE at SUPERIOR, cancelled
The Bobcats ended the regular season at 5-2 and will open the state playoffs at 1 p.m. Saturday, Oct. 30 on the road at Park City.
---