Superior volleyball holds off Noxon in four sets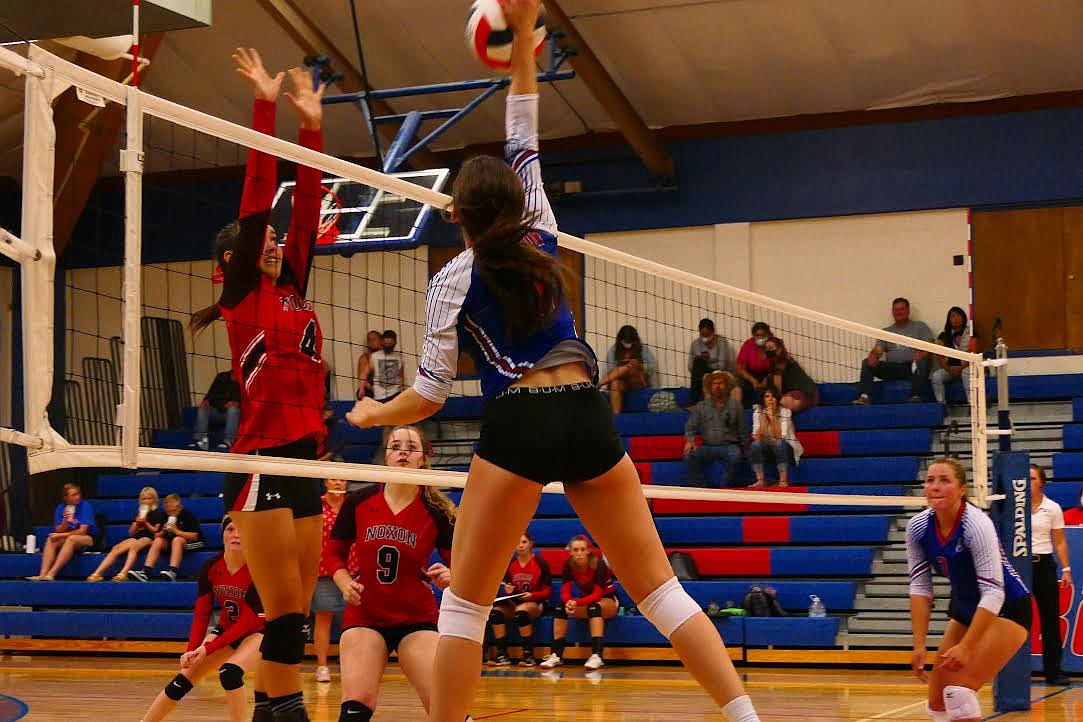 Superior senior Sorren Reese slips a shot past Noxon senior Riley Richter in one of their many battles at the net Saturday afternoon in Superior. (Chuck Bandel/Mineral Independent)
by
CHUCK BANDEL
Valley Press
|
September 8, 2021 12:00 AM
The final score Saturday afternoon in Superior read three sets to one in favor of the home standing Lady Bobcats over the Noxon Lady Devils, but the match itself seemed more like a battle-to-the-finish five setter to the gym full of fans who watched it unfold.
Superior opened the match with a 25-17 first set win in a battle that saw the home team grab a narrow lead, then hold onto to it despite Noxon creeping within five points several times.
That set was a portent of things to come.
The second set saw Noxon jump out to an early lead and hold off several Superior runs, including two times in the late going where they tied the score before falling slightly back at 20-18.

The two teams would be tied again at 21-all and 22-all before the host Bobcats forged a slim 24-23 lead. That is when Superior's senior standout Sorren Reese dropped a soft put-back shot into open floor on the Noxon side, giving Superior a 25-23 set victory and a commanding 2-0 match lead.
For volleyball fans, the best was yet to come.
Noxon grabbed the first tenuous advantage of the third set, which saw multiple lead changes from start to finish. In fact, game three was tied15 times, the last of which was at 23-23.
Noxon held on to score the final two points of the set behind the stellar net play of senior Riley Richter and locked up the third set at 25-23 while cutting Superior's match lead to 2-1 and setting the full house of volleyball fans abuzz.
With only nine players suited up for the game, the intensity of the match may have begun to take a toll on the constantly hustling Lady Red Devils, who fell behind quickly in set number four.
With Reese and company controlling the net, the Lady Cats jumped to an early 9-4 lead and were never seriously challenged en route to a 25-13 set win and a 3-1 match victory.
Reese had four service aces and eight kills, while Molia Dao recorded 15 digs for the Lady Bobcats.
Next on the schedule for Noxon is a Thursday game in Hot Springs against the equally thin Lady Savage Heat team. They then return home to face St. Regis Saturday, Sept. 11.
Superior's next game is a road trip to Charlo to take on the Lady Vikings this Saturday in a battle between the two hottest teams in the conference so far this year.
Recent Headlines
---