Magone inducted into Masonic Hall of Fame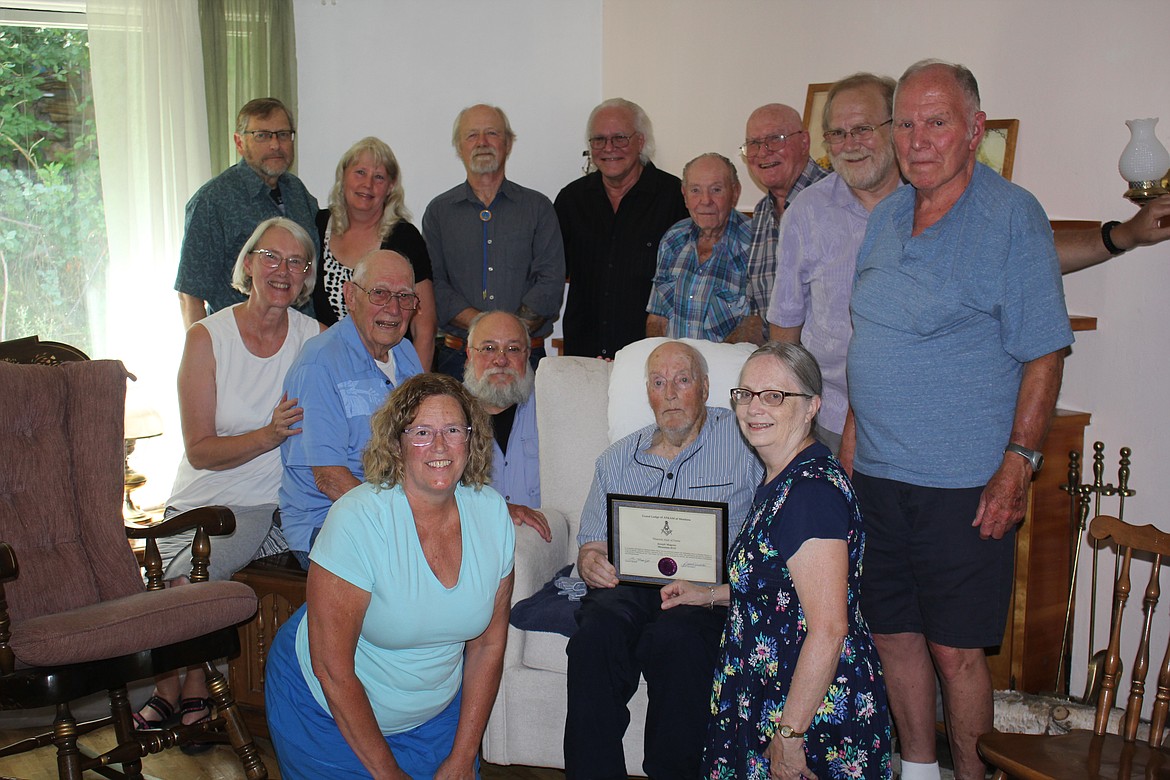 Joe Magone, seated, was surprised when friends, family and Masons held a small celebration for his as he was officially inducted into the Montana Masonic Hall of Fame July 31.
by
MONTE TURNER
Mineral Independent
|
August 3, 2022 12:00 AM
Mountain Lodge No. 110 Ancient Free and Accepted Masons of Montana has been based in Superior since 1917 and is the only Masonic Lodge in Mineral County.
The fraternal organization makes a special effort to be sure the entire county is included from Saltese to Alberton when it comes to their community service.
At one time, Alberton had their own lodge and when it closed its doors, No. 110 took ownership of some of their equipment and members who transferred. Their Lodge is at 201 River Street and it may appear to be empty much of the time, but the 37 members are busy behind the scenes.
Kelly Dillon, secretary, and a few others at a special event shared some of the community services they could think of offhand.
"Let's see, we've held a barbecue for all of the teachers in the county at Eva Horning Park at the end of summer, but Covid crippled that for two years and we got a late start this year so it will be picked back up next summer. We give scholarships for all three high schools of $300 to $500 for the seniors that apply," Dillon said.
Bill Merriman is a Shriner and at 96 years old, he holds the record of being the oldest Worshipper Master Mason in the state of Montana.
"We give money to Women in Timber each year to help buy toys and food for families," he said.
This is a big project involving the Superior LIONS and other organizations who deliver the gifts with Santa Clause himself near Christmas.
"And we have Books for Bikes where kids read over the summer and the reward is a new bike for the most books read, but this has changed to 'Kindles for Kids' in the last few years," shared incoming Master Mason Rob Robinson.
The reason for the special event was for the induction of Joe Magone into the Montana Masonic Hall of Fame which took place at the home that he shares with daughter, Diane.
Diane said, "Now dad, I gotta tell you that Jim (DeBree) engineered this with the support of the rest of the lodge. And this was the longest I ever kept a secret!" as this was a surprise honor to Magone.
The ceremony started out with Jim DeBree telling the audience of a dozen-plus that this presentation to Joe Magone was to thank him for his outstanding leadership in the county, state lodge and church.
"We thank the inductee for his contribution to the growth of Montana and the United States, we honor his life, perpetuate his memory and announce his commitments and accomplishments," DeBree read from the framed certificate as he presented it to Magone.
Magone was very humble but one could see that he was pleased as he didn't realize the get-together was for this recognition.
DeBree continued by saying, "Diane said that you like peaches, Joe. I went into the store and the only thing I could find with peaches, was in a bottle," which drew laughter from the room.
Peach brandy was served in Masonic shot glasses and the toasts to Joe began.
"When I first came to Superior, I was already a Mason and wanted to check this lodge out before committing to anything," recalled Dillon. "Joe, you were on the committee that was to check me out to be sure I was a Mason. You took me off to the side to ask questions that only a Mason would know the answers to so I recited the Tylers Oath from Georgia. You said, 'Well that's good enough for me!' And I just want to thank you for letting me in."
"I'd like to toast on behalf of the Easter Star which is a part of the masonic fraternity. Joe has been a faithful member for over 50 years and was loved in the office he held," said Elaine Robinson, as she held her shot glass up.
Jim Cyr recounted a time many years ago when Montana Power asked whose name should be on the power bill and he said Joe Magone who was secretary at the time, and his name is still on the invoice.
"I'd like to say that as a kid how important the Masonic family was to both of my parents and how many lifelong friendships they made through that connection. They helped get Rainbow (Girls) going and dad was the installing officer for all three of us girls, I think,' said Diane.
"I just have good memories of how important the Masonic family was to my parents."

Installations for the new officers is open to the public and will be held Saturday, Sept. 3.
Recent Headlines
---