Longtime seamstress Betty Martel sells business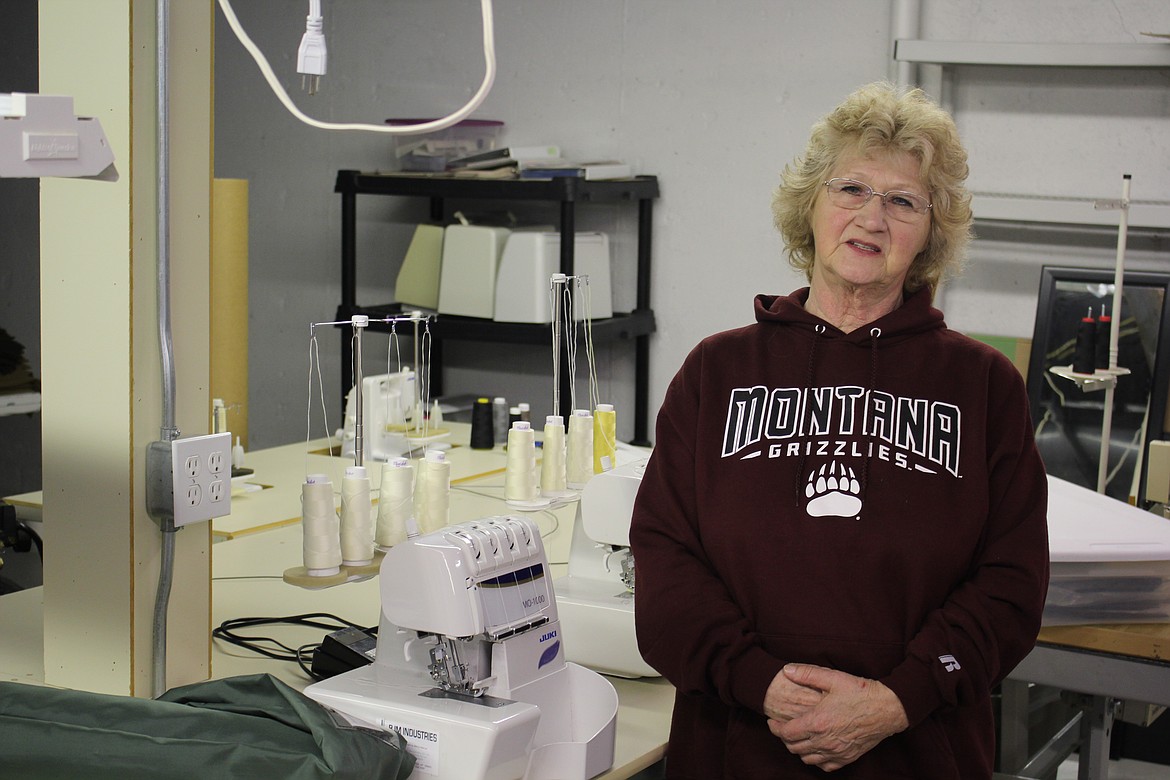 After 40 years of stitching and sewing, Betty Martel has sold BJM Industries in Alberton and is moving back to North Dakota to be near family. Dan Bergoust in Missoula has taken ownership of the business and is combining it with his commercial sewing company, Décor Upholstery. (Monte Turner/Mineral Independent)
by
MONTE TURNER
Mineral Independent
|
January 5, 2022 12:00 AM
Her husband ran their North Dakota farm near Bottineau every day of the week. They had a young son with special needs who required 24/7 assistance as well as a few other family members who depended on help. More money was needed. She had a sewing machine that was not in very good condition and her experience was basic use only, but their backs were up against the wall.

Upholstery is what she started experimenting with and then came the mending of blue jeans, hems and patches.
"Learn as you go and sweat bullets", laughs Betty Martel, 73, who after 40 years of commercial sewing has sold her business, BJM Industries in Alberton, and is moving back to North Dakota to be near her children.
There were no sewing classes in north-central North Dakota or YouTube or a mentor to explain the different techniques and stitching the different material thicknesses. It was trial by baptism as everything that came in was a new challenge. "In about 1982, we moved to Alaska, and I restarted the business but bought a commercial grade (sewing) machine built in Germany," she recalls.
More experience produced more confidence which produced more revenue. In the mid-80s, they moved to Petty Creek where she started sewing on an even larger scale while doing other odd jobs to make ends meet. Soon there was a shop on Bible Lane with 8 employees.
"I was doing anything and everything by now and had contracts for Wooly Walker sheepskin slippers and men's and women's underwear where we made thousands and thousands of them for a business in Nebraska. Locally, the biggest one was for swimsuits for Gemini out of Missoula", she reflects.
In 2003 she moved for her last time to Mountain Drive in Alberton along with five or six employees. The employees worked 40 hours a week and Martel was at least double that with doing the books, marketing, ordering, customer service and the outside landscaping was too much of an eyesore so Martel was seen with a flashlight in one hand and a shovel in the other many different times.
"We've done a lot of work for Neptune Aviation and the Frenchtown Fire Department over the years and designed and manufactured heavy duty bags for the Smoke Jumper Center by the airport."
And Martel is very proud of her products and work ethics which made her business an attractive opportunity for Don Bergoust out of Missoula. If the last name is familiar, he and his 2 brothers competed internationally on the U.S. Ski Team (one went on to win a gold medal in the Olympics). Bergoust has sewn commercially in Hawaii and Spain but returned home in 2020 with his wife and is incorporating BJM Industries with his current business, Décor Upholstery.
The equipment, sewing material and customer lists have been transferred over and Bergoust can be reached at (808) 205-6477.
As for Martel leaving the area she has lived in for 40 years, "I would like to thank my customers for their support and love because I have had a lot of people and a lot of love come through this door ", she smiles. "But I'll be back here, lots! That grandbaby is so precious."
Her son, Mark, and his family live in the area so being a grandmother with time to enjoy the fruits of her labor have finally arrived.
Recent Headlines
---