Second half of girls' hoops season gets underway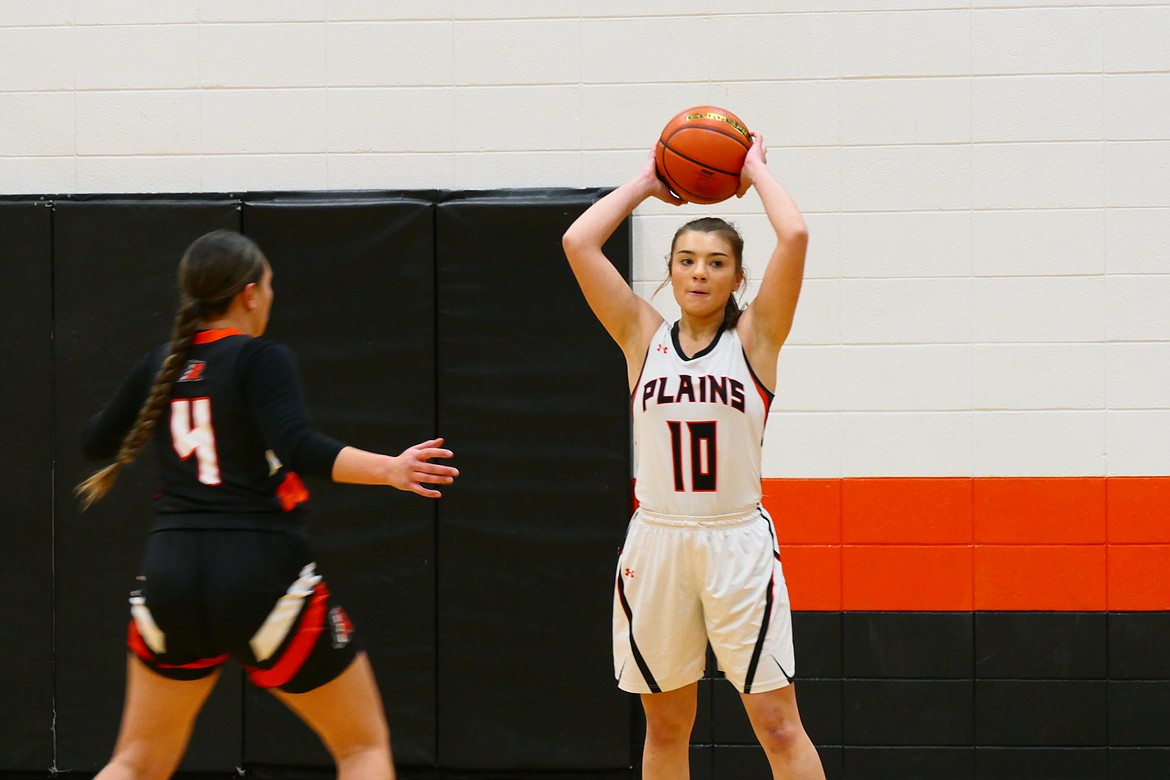 Plains' Carlie Wagoner looks for an inbound pass opening during first half action in the Trotters gym. (Chuck Bandel/Valley Press)
by
CHUCK BANDEL
Valley Press
|
January 5, 2022 12:00 AM
While boys basketball fans get ready for the second half by velcroing down, girls fans might be advised to tighten the bleacher seat belt and hang on.
The second half of the Western 14C and Western 7B basketball seasons get under way tonight (Tuesday, Jan 4) with a pair of games and some classic showdowns ahead as the teams in Sanders and Mineral counties seek to improve their standings.
The lone exception is the Thompson Falls girls who resume play tonight with a home game versus Mission. The Lady Hawks bring their 6-0 pre-break record to their home court to face a solid Mission Lady Bulldogs team that is 4-2 on the year.
The Western 7B conference game features a Thompson Falls squad that has rolled over every opponent this year, thanks to their smothering style of defense and talent throughout the lineup.
The Lady Hawks are led by 5-10 guard Ellie Baxter and 5-8 senior Maliyah LeCoure, along with a host of others, including Noxon transfer Avery Burgess, a 5-11 junior forward. Thompson Falls is tall, talented and well-coached by long-time area coach Chadd Laws.
T Falls takes to the court for varsity action at 7 p.m., with the JV game starting at 5:30 p.m.
The area's other Western B team, the Plains Trotters will be looking to get into the conference win column as the post-break action gets underway. First they will host Western 14C power and conference leader Charlo Friday night. The once beaten Lady Vikings have established themselves as the team to be in the 14C conference with a 6-1 overall record.
The Trotters will be looking to senior guard Kaylah Standeford to help them improve on their 0-3 start. The Trotters will then travel to Eureka for a Western 7B conference game against the Lady Lions this Saturday.
Meanwhile, Charlo will be looking to extend its lead in the 14C race with a game home tonight in Two Eagle River, then a home game against the Noxon Lady Red Devils this Saturday.
The St. Regis Lady Tigers, who sit in second place with a 3-3 overall record will hope seniors Baylee Pruitt and Taylor Hurd can continue their aggressive style of play on offense and defense, along with junior Macy Hill as they travel to Superior tonight for a conference match-up with the improving Lady Bobcats who are led by Payton Milender, Darby Haskins and senior post Cassie Green.
The Lady Bobcats won their last two games before the break to pull their season mark to a similar 3-3, setting up a classic showdown game in this longtime I-90 rivalry. Superior will follow Friday night's game with St. Regis with a road game in Hot Springs Saturday night.
Hot Springs' Lady Savage Heat, which features perhaps the best player in the Western 14C, senior forward Katelyn Christensen, travels to St. Regis Friday night, then returns home to face Superior on Saturday. Hot Springs returns from the Holiday break with a 2-2 overall mark.
The region's other Class C girls team, the Noxon Lady Red Devils has a game tonight (Tuesday, Jan 4) at Two Eagle River as they begin a four-game road trip. They travel to conference leader Charlo for a Saturday game against the Lady Vikings.
Noxon is hoping to break into the win column against Two Eagle River. The Lady Red Devils are led by seniors Jaedyn Murray and Vanessa Horner, along with talented junior guard Emily Brown.
Recent Headlines
---