Veterans on Warriors Expedition stop in Mineral County
Marine veteran Richard Rivadeneira (leaning against tree) was welcomed at Eva Horning Park by the Mineral County Rails to Trails Committee, VFW and community members on his bicycle route from Washington, D.C. to the Pacific Ocean. (Monte Turner/Mineral Independent)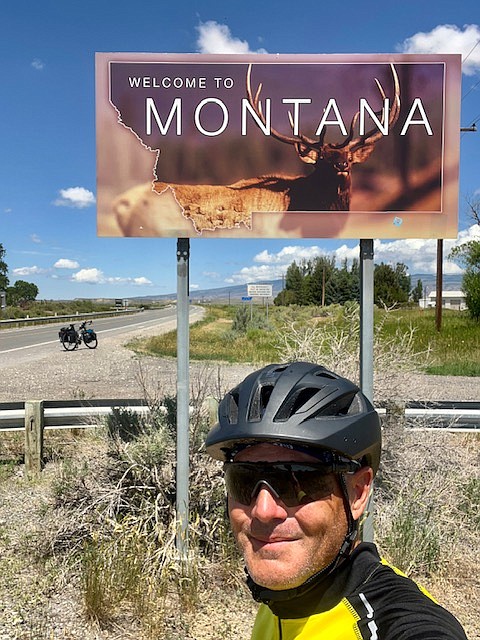 Richard Rivadeneira arrives in Montana during his cross-country bike ride with Warriors Expeditions. (Photo provided)
Previous
Next
by
MONTE TURNER
Mineral Independent
|
July 20, 2022 12:00 AM
Historically, military units could spend months marching home from war. During this journey, they would process and come to terms with their wartime experiences. World War II veterans spent weeks aboard transport ships coming back to the United Staes talking, thinking and recalibrating.
But in today's age of modern transportation, military personnel can find themselves home within a few days of serving in a combat zone.
Warrior Expeditions is a nonprofit organization that allows combat veterans an opportunity to give themselves time to transition from the military back into civilian life. The program originally began with veterans hiking the Appalachian Trail and Pacific Coast Trail. That adventure remains popular and now veterans can also choose to canoe from the headwaters of the Mississippi River in Minnesota to the Gulf of Mexico.
But the newest quest is bicycling from coast to coast where Mineral County joined the tribute last summer and welcomed four tired, but happy veterans within 500 miles of their destination.
Diane Magone, chairperson of the Mineral County Rails to Trails program explained how their organization became engaged.
"The way that we became got involved was through my contact at the national Rails-to-Trails Conservancy, Kevin Belanger, who is the Project Manager for the Great American Rail-Trail project and they are co-sponsors with the Warriors Expedition program," she said. "We help them get through the county which usually consists of a night in a motel and then try to do a social gathering if they have time. One of the problems is that we don't know when they are going to get here until they are out three or four days."
The first of five riders for this summer came through last Tuesday in Superior and then spent Wednesday night in Haugan to ride the Hiawatha Trail, courtesy of Lookout Pass.

"These types of expeditions take time because we need time to help with the transition," shared Richard Rivadeneira.
Rivadeneira retired as an E-7 after 25 years in the Marine Corps with multiple combat deployments to Afghanistan. He doesn't have an estimated time to complete this mission and just takes it as it comes.
"Every day is different. Every mileage day is different so when it happens, it happens," he laughs explaining that his first day was June 1 when he began the journey from the Reflecting Pool at the U.S. Capitol in Washington, D.C., with the end zone in Olympic Park west of Seattle.
Born in Simi Valley, California he now calls Valencia, California home.
The Vietnam Veterans of American Chapter 1087 in Kalispell helped sponsor a social gathering in Eva Horning Park with the Mineral County Rails to Trails committee on the evening of July 12 where at least two dozen people attended to meet and encourage Rivadeneira.
Members of the Lloyd Ridings VFW Post 6238 in Superior surprised Rivadeneira with a check as camaraderie, cake and chuckles were shared by everyone.

"I can't tell you how excited and humbling it is for all of you to take time today to welcome me and show so much hospitality. It's an honor to be here and coming through your town (Superior) and seeing how beautiful your surroundings are, it's really overwhelming," he said.
Rivadeneira spent time thanking the veterans for their service and asking questions on their duty-time with genuine interest.
"I have to say that my biggest takeaway from traveling coast to coast is the people I've met along the way. It's wonderful to see humanity at it's best as I've had firsthand experience of seeing Americans being so kind and willing to offer a hand as it's pretty inspiring."
He then shared strong emotions.
"This ride is part of my journey with Post-Traumatic Growth. While Post-Traumatic Stress Disorder is well known, very few people are aware of Post-Traumatic Growth. The concept behind it is one of 'whatever doesn't kill you makes you stronger, turning struggles into strength.'"
Warrior Expeditions coordinates support in the forms of transportation, lodging and food from community supporters located along the trail. They outfit each veteran with some of the most highly rated training skills, equipment, clothing and supplies available from the outdoor retail industry.
A small monthly stipend is paid to each participant but the local communities are the backbone.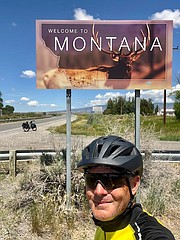 Recent Headlines
---