Court order pauses Montana wolf hunts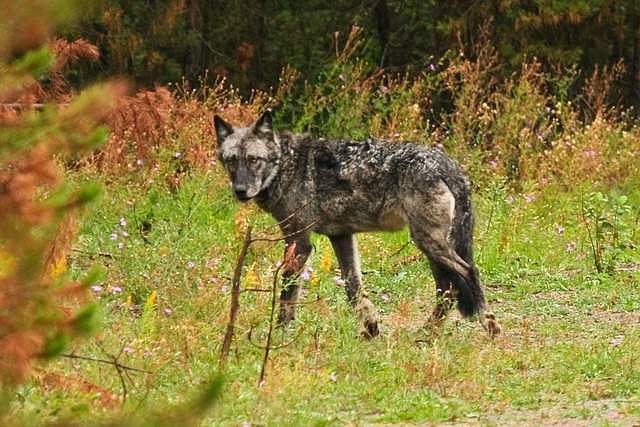 A gray wolf photograph provided by the Montana Dept. of Fish, Wildlife and Parks.
by
KATE HESTON
Hagadone News Network
|
November 23, 2022 12:00 AM
A Lewis and Clark County District Court judge on Tuesday granted a temporary restraining order truncating the size and scope of wolf hunting season in response to a motion filed last week by conservation groups.
The judge's order closes wolf hunting near Yellowstone National Park, prohibits the use of snares during trapping season and returns several wolf management units to their previous quotas, including one near Glacier National Park.
It represents a partial victory for conservation groups WildEarth Guardians and Project Coyote, which requested an end to all wolf hunting while a lawsuit against the state, Montana Fish, Wildlife and Parks, and the Fish and Wildlife Commission on regulations surrounding the animal worked through the court system.
The advocacy groups alleged significant flaws in the model used to estimate the state's wolf population.
In his decision, District Judge Christopher Abbott wrote that he was unconvinced that a complete cessation of hunting is necessary to avoid "immediate irreparable harm." He did agree, though, that "interim relief is necessary to ensure there is no acceleration of wolf kills that would impede relief at the preliminary injunction stage."
The order expires Nov. 29. A hearing is set for Nov. 28 at 1:30 p.m. in Helena, which is the same day that wolf trapping season is scheduled to start. Abbott will decide whether to issue a preliminary injunction during that hearing.
According to a press release from FWP, the order returns wolf management units (WMU) 110, 313 and 316 to their state under the 2020 wolf regulations, including the units' previous quotas. WMU 110, which borders Glacier National Park, has a two wolf quota.
The order also closes wolf hunting and trapping in WMU 313 — near Yellowstone — restricts hunters to harvesting only five wolves each per season and bars the use of snares for trapping wolves.
"Seeing that WMU 313 was closed brought tears to my eyes," said Lizzy Pennock, a carnivore coexistence advocate at WildEarth Guardians, one of the groups suing the state. "Even for just two weeks, we've literally saved wolves, which is something that doesn't happen very often."
While the restraining order is a first step for the wildlife advocacy groups, FWP officials reemphasized their confidence in their own management models and the science behind them.
"We have a healthy and stable population of wolves in Montana," said FWP Director Hank Worsech in the press release. "We've proven we can manage wolves across the state and will continue to do so. We will comply with the judge's order and look forward to the opportunity to defend good science and management strategies."
While the advocacy groups seek a complete cessation of wolf hunting and trapping, they deemed the court's decision a win.
"This is good for wolves, this is good for people, and this is good for American ideals," said Michelle Lute, the carnivore conservation director at Project Coyote. "It is in the hands of the lawyers and the judge to really see the merits of our case and the science that is on our side."
Reporter Kate Heston can be reached at kheston@dailyinterlake.com.
Recent Headlines
---