Fred Fike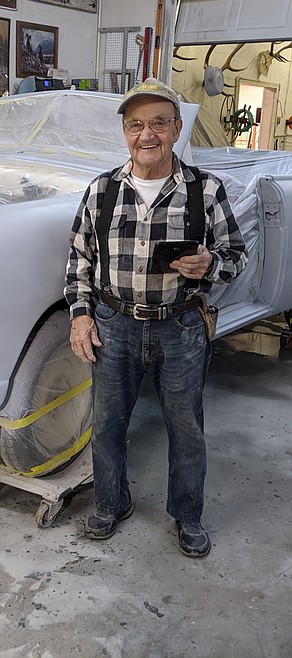 |
November 23, 2022 12:00 AM
Fred Fike of Superior, passed away peacefully at home on Saturday, Nov. 12.
He was known by his community as one who was always ready to help. He was friend and a helper to many. His love for Jesus Christ was very strong and it kept him going through all the suffering.
He fought cancer for 10 years. The last six months he broke his femur on his left leg and had several bouts of infection within his body. But Fred was a fighter through it all. He could always find a way to glorify Jesus too. He said keeping busy was the best thing he could do. He would say, "I would rather wear out, than rust out."
Fred was a talented man. He could fix just about everything. He was a good mechanic, a good logger for 18 years and a very good carpenter. He built six homes over his married life. Fred grew up on a farm in North Dakota. He was 30 miles from town. When something broke, he just had to fix and mend it to get the work done.
He was the youngest of 12 children. Farming in North Dakota was not an easy life. He came to Montana at 17 years old and worked on the railroad until he was old enough to work for the Anaconda Company.
He married Tressie Rush of Deer Lodge. They were married 67 years. He would say, "She was the love of my life."
Fred is survived by his wife, Tressie Fike. Fred and Tressie had five children. He was preceded in death by his daughter, Lillian Stocks (Terry) of Alaska. He is survived by David Fike (Kathy) of Whitehall, Mont., Deborah Rabel (George) of Gallatin Gateway, Mont., Kenneth Fike of Deer Lodge, Mont., Nancy O'Reilly (Matt) of Columbus, Mont. They had 15 grandchildren and 15 great grandchildren. Two surviving sisters, Ruth Mayor of California, Gracie Schell of South Dakota.
Fred had a special talent for music all his life. He played the guitar and sang for church and for many other special events like the Mineral County Fair and for family benefits. Now he can be singing for Jesus and all the angels.
Services for Fred will be at the Superior Community Church, on Dec. 3 at 11 a.m. Come and join us for a fellowship dinner after the service to celebrate his life.
Recent Headlines
---