Hope for Harlee: Nonprofit raises funds for pediatric cancer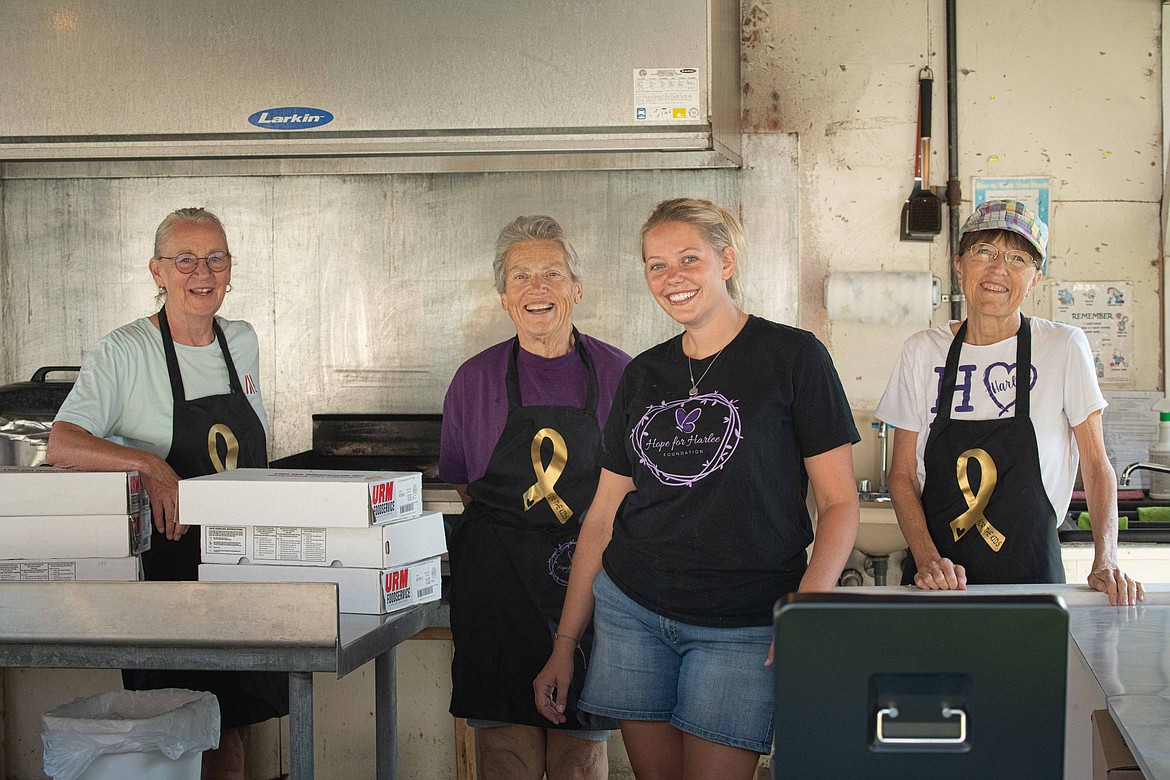 Volunteers with Hope for Harlee, a local nonprofit that raises funds for pediatric cancer, at the Sanders County Fair. (Tracy Scott/Valley Press)
by
TRACY SCOTT Valley Press
|
September 14, 2022 12:00 AM
A flurry of activity at the Hope for Harlee Foundation booth at this year's Sanders County Fair brought awareness to the community about the loss of a young life through pediatric cancer.
The nonprofit foundation was established after the life of 6-year-old Harlee Salmi was cut short from Diffuse Intrinsic Pontine Glioma (DIPG). DIPG is a rare, fast-growing tumor that forms in the brain stem and usually occurs in children.
Harlee began her struggle with cancer during May of 2019 with headaches and mobility issues. CT and MRI scans brought the tragic news of a mass on her brainstem and that the condition was inoperable with a life expectancy of 6-9 months. Harlee spent the next couple of months undergoing 30 rounds of radiation and drug treatments.
Her parents Matt and Taylor Salmi spent the summer of 2019 seeing some progress in shrinking the tumor. Devastating news came in November of 2019 about the increase of the size of the tumor. Another round of radiation treatments and a promising new trial in Seattle came next.
In April of 2020, after 11 months of treatment, Matt and Taylor made the decision to discontinue treatments and keep Harlee home for the remainder of her short life. Harlee spent some of her remaining time swimming in her hot tub donated by Make a Wish Montana and attending kindergarten for a few weeks.
On May 6 2020, just four days after turning 6 years old, Harlee passed away.
Donations and burger sales were around $26,000 during the 2021 Sanders County Fair. Salmi said she hoped sales could top $30,000 this year.
The foundation has received over $210,000 over the past two years and has helped support 20 Montana families in their struggles with pediatric cancer.
Those interested in helping fight pediatric cancer can go to http://hopeforharlee.org
Recent Headlines
---