Bobcats stroll to homecoming night victory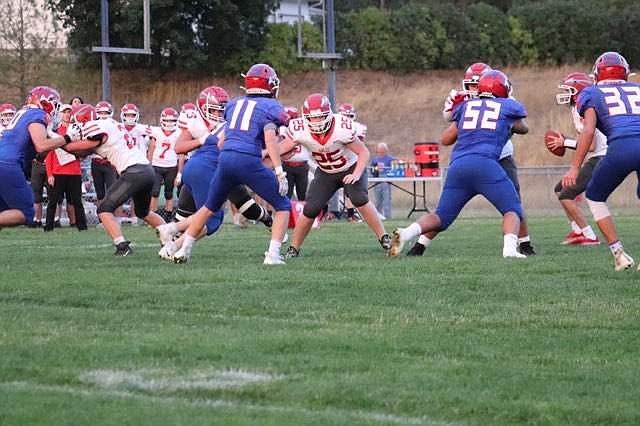 Superior's big, strong and quick offensive line creates a wall for Arlee to try and get through during Friday night's Homecoming football game. (Kami Milender photo)
by
CHUCK BANDEL
Valley Press
|
September 28, 2022 12:00 AM
If you had to describe this year's version of the Superior Bobcats 8-man football team what would it be?
Hard to say, but "Wow" would have to be one of the chosen superlatives.
And if the latest Bobcat rout, 68-6 over Arlee on Bobcat Homecoming night doesn't move you to the "wow" column nothing likely will.
This is a team that is not only talented, big and fast, but one that also has learned the most important part of the game...playing as a team.
They are like a box of chocolates as Forrest Gump once said. "You never know what your gonna get".
But if you are a defensive coordinator, you best come prepared.
This team features a two-headed quarterback rotation featuring senior Orion Plakke and junior Jaxson Green. Both are big, strong-armed and agile players who present a complex nightmare for D-coordinators.
Friday night Plakke, who is also an outstanding receiver was 5-for-8 in passing for a total of 138 yards and three touchdowns. He is also an accomplished runner and has a loaded stable of running backs to hand the ball too at any given time.
Green is also a solid passer and runner, and a mainstay on defense.
Plan for that, especially when you add in senior wide out Decker Milender, a 5-7, 130 pound speed burner on the field.
The list is long and deep, like the offensive and defensive lines the Cats march out on a regular basis. These guys love the weight room and it shows.
So it's not hard to see why they are averaging nearly 65 points a game. Arlee had bascially no chance of stopping them.
And coach Jeff Schultz and staff have a wide range of plays that are designed to keep even the most stable defenses off balance.
Friday night Plakke opened the scoring when he caught a 50-yard pass and sprinted across the goal line for six. The pass was thrown by, Milender. That, coupled with a successful PAT, put the Bobcats up 8-0 just 18 seconds into the first quarter.
A short time later, Milender showed off some of his wheels when he blew past the Arlee defenders on his way to a 37-yard TD run.
Plakke then caught his second TD pass of the game with the quarter less than half way old, snaring a ball thrown by running back Lucas Kovalsky that was good for 52 yards and a score.
Junior Chase Woodson got in on the first quarter scoring too, plunging into the Arlee end zone from one yard out and giving the Cats a 30-0 lead after one quarter of play.
The scoring circus continued in the second quarter when Plakke hauled in another TD pass, this one also thrown by Kovalsky with 9:53 to play in the first half. Before the first half came to an end, Woodson scored again, this time from two yards out.
At halftime, the score was 46-0 in favor of the home team.
Arlee finally got on the scoreboard with just under five minutes to play in the third quarter on four-yard scoring toss.
But that score was answered and erased when Milender shifted into a higher gear and sped past the stunned Arlee defense for a 61-yard TD. Superior scored again with :15 seconds left in the third quarter when freshman Phin Cataldo crashed over from the four. At that point the Bobcats lead was up to 60-6.
The home boys added one more score in the final quarter on a six-yard run by Owen Doyle to wrap up scoring on both sides.
The win boosted Superior to 5-0 on the season, with four regular season games remaining, including the October 7 home game versus Charlo, which at this point has a 4-1 mark.
Bobcats head coach Schultz was clearly pleased with his team's progress and togetherness.
"They have worked well together," Schultz said. "Been a lot of fun to coach. What makes them dangerous is everyone does their jobs. That helps everyone look good. If we can keep that up it is going to be an amazing season."
Recent Headlines
---