Eastbound I-90 rest area temporarily closed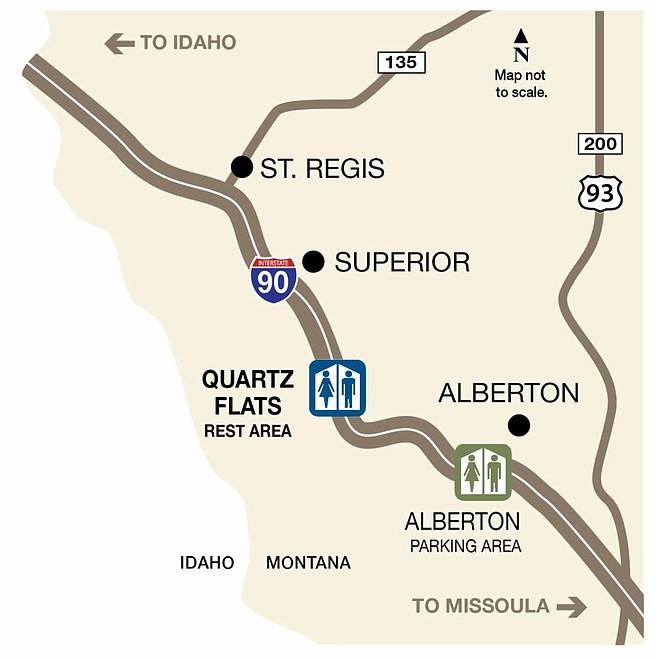 by
MONTE TURNER
Mineral Independent
|
September 28, 2022 12:00 AM
It's not very common, but it happens. A brand-new vessel or building or facility has a grand opening with dignitaries, ribbon cutting and hors d'oeuvres. The completion of a large venture with everyone in the celebratory mood as they are already thinking and working on the next project or two.
This was the case in April when the Quartz Creek rest Areas on I-90 between Tarkio and Lozeau reopened after a 15-month rebuild. Tourists used the dickens out of them this summer, but now there is a hiccup.
Engineers discovered that there is too much sand in the well of the eastbound rest area. The Montana Department of Transportation discovered this and decided they need to close the east bound rest area for a couple of weeks to repair.
"Typically, sand can just be filtered out of a well like this. Unfortunately, the filtration system has not been able to manage the amount of sand in this well," said MDT Missoula District Construction Engineer John Schmidt. "The water has been safe to drink but the sand would ultimately limit the service life of this rest area's water system if left unchecked."
Excessive amounts of sand in the well will damage the plumbing system if not fixed. MDT has attempted to filter the sand out but has not been successful. It is a common practice to filter sand out of commercial well systems, but this well has required significantly more maintenance than is typical.
The work will include mechanical surging, jetting, and pumping to remove loose sediment in the aquifer formation near the well. This work is expected to stabilize or minimize the amount of sediment being pumped into the rest area facility. MDT and its contracting partners are working as quickly and efficiently as possible to fix the issue with the water system and reopen the rest area. This rest is fully closed with no parking or restrooms available.
The work is anticipated to take a couple of weeks to complete.
To stay informed about the status of the construction activities at the rest area, visit www.511mt.net.
Recent Headlines
---