Isabelle "Izzy" Welch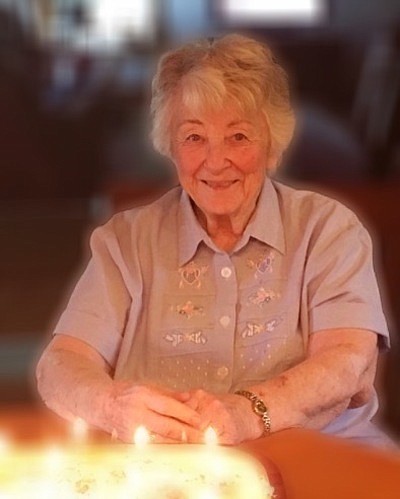 |
January 18, 2023 12:00 AM
Isabelle Welch, 89, passed away peacefully on Jan. 7, 2023, at the BeeHive Assisted Living with her family by her side. She was born Aug. 22, 1933 in Kalispell, to Walt and Genevieve Rau.

They lived at Lost Prairie and Kalispell until 1944 when Isabelle's parents purchased a ranch and moved to Hot Springs. While attending Hot Springs High School Izzy met John Welch, the love of her life. She graduated in 1951 and a few days after turning 18, she and John were married. A year later John joined the Navy and Isabelle moved to Washington DC for a secretarial job with the Navy. There she lived with four ladies who became her lifelong friends.
John and Isabelle returned to Hot Springs where they made their home, raised cattle and 4 children: Dana, Teri, John and Dacy. Izzy worked as a postal clerk for 30 years, helped with the cattle, haying and raised a big garden. Somehow while doing all of this, she always had a lunch on the table at noon and dinner at 6 p.m. There was always plenty of food for the hired help and whoever stopped by. Isabelle loved to sew. We all have fond memories of the clothing, potholders and quilts she made for us and John's western shirts complete with pearl snaps and were admired by all.
John passed away in 1996 and Isabelle moved to Plains a few years later. She took a few trips, became an avid reader, enjoyed her family and of course, continued her sewing. She organized a Plains Red Hat Ladies group which brought her so much joy. It was the perfect excuse dress up, meet with friends and share lots of laughs. Izzy loved playing cards, especially pinochle. She planned her schedule around pinochle game days and Lord help you if she suspected you were cheating!
Isabelle was preceded in death by her parents, husband, daughters Dana Baxter and Teri Foster, sister Dacia Baker, and step brothers Bert and Bill Finch. She is survived by her son John Welch of Hot Springs and daughter Dacy Holland (John) of Plains, 11 grandchildren: Heather Loar, Mary Ann Foster, Sara Snyder, Daci Slater, Shawna Everett, Jaylyn Baxter, Crystal Maedche, Rondel Koepplin, Kamaria Sweeney, Jessica Holland and Mike Holland, 15 great-grandchildren, two nieces and one nephew.
We will always miss Izzy's beautiful smile, kindness and witty personality. Please join us for services on Saturday, Jan. 14, 2 p.m., at the Lonepine Hall. Burial and luncheon to follow. In lieu of flowers please consider donating to the Lonepine Hall, Friends of Camas Prairie or Shriners Hospitals.
Recent Headlines
---