Superior girls nab 2 victories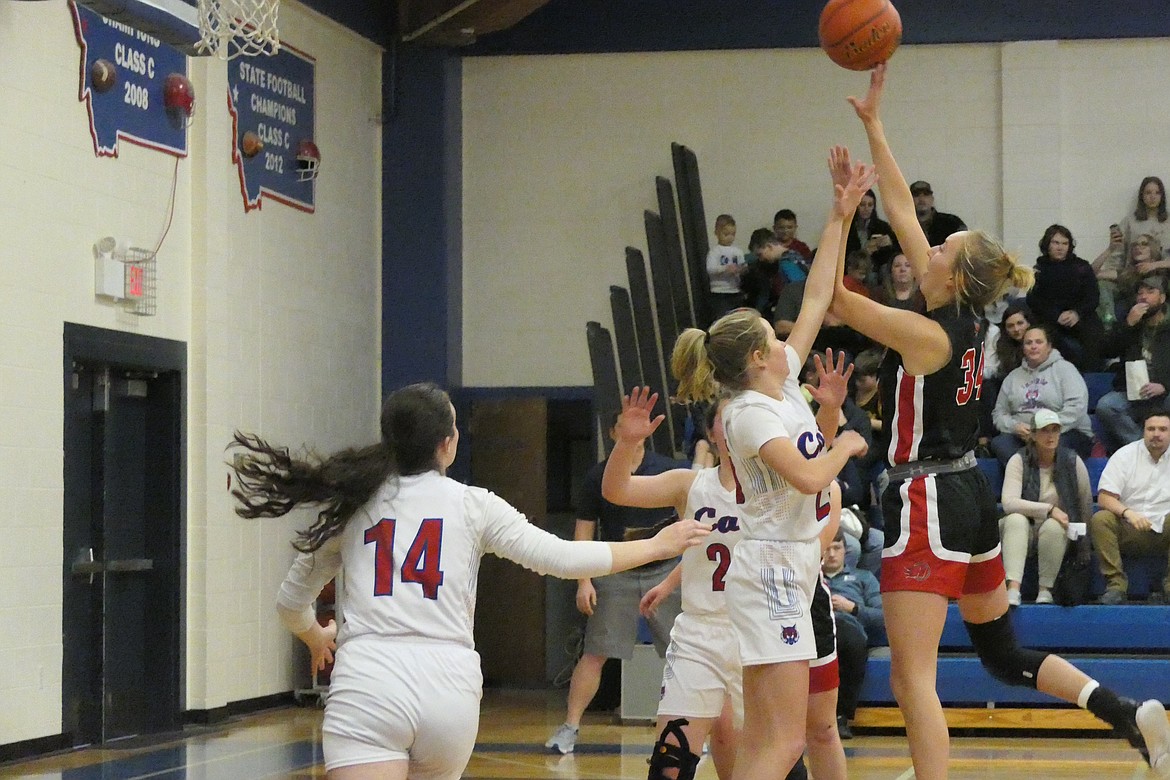 Hot Springs forward Lauryn Aldridge (34) shoots over Superior's Payton Milender during their game Saturday night in Superior. (Chuck Bandel, VP-MI)
|
January 18, 2023 12:00 AM
A weekend split of basketball games played is normally even-Steven.
In the case of the Superior boys and girls team it was uneven-Steven.
The girls, who sit atop the Western 14C conference standings, swept their two games, beating Charlo 52-32 in Charlo Friday night, then polishing off Hot Springs' Lady Savage Heat 63-33 Saturday night in Superior.
The Bobcat boys, however, continued to play hard but came up short against Hot Springs, 51-44 Saturday evening at home, after falling to Charlo 68-49 the night before in Charlo.
For the Lady Bobcats, it was business as usual in their two games this past week as they once again deployed a choking defense that smothered Hot Springs while the Superior sharpshooters rained indoor threes in the win over the Lady Savage Heat.
The Lady Bobcats roared out to a 21-6 first quarter lead behind their trio of quick seniors who routinely outrun opponents up and down the court.
By halftime, Superior had built a 39-12 lead and were never seriously threatened the rest of the way in running their 14C record to 5-0. They outscored Hot Springs by three in the second half to complete the victory.
Isabella Pereira, the Lady Cats' super-fast point guard, led all scorers with 24 points, many coming on long distance three and breakaway lay-ins. Teammate Darby Haskins was also dialed in from behind the three point arc, contributing 16 points to the Superior cause.
Hot Springs, which fell to 3-5 on the year and 2-3 in conference games, was led by senior forward Lily DeTienne who scored 14 points. They also got nine from Josie Uski.
The girls opened their two-game week with a road win Friday night against the Lady Vikings from Charlo.
That game was back and forth, with multiple lead changes and ties throughout the first half as each team looked to pull away from the other.
Superior, which led 23-19 at the half, found a way to offset the aggressive Charlo defense in the third quarter as they outscored the host team 15-7 to gain a little breathing room, 38-26 heading in the final eight minutes of play. They then added eight points to their lead in the fourth quarter to secure the hard-fought win.
Pereria was the leading scorer for Superior with 15 points, while Haskins and senior forward Payton Milender each tossed in 14 for the Cats.
The Superior boys, who rolled out a glimpse of their future this weekend in their contingent of talented eighth graders, traded leads and ties throughout three of the four quarters of play versus the Hot Springs boys.
The game was knotted at 26-26 at halftime. The third quarter, which was a low-scoring period, saw Hot Springs take a narrow advantage they would never lose as they out-pointed Superior 9-3 behind the inside play of 6-3 senior Garth Parker, who had an unofficial 30 points, mostly from underneath the basket.
Parker's point contribution came despite constantly battling Superior's 6-2 senior forward Orion Plakke and 6-4 eighth grader Landon Richards, who has impressed in his varsity debut as of late.
Another Bobcat eighth grader, Gannon Quinlan, who like Richards was a key part of last year's unbeaten junior high league champions, also played a key role for the Bobcats, as he buried several long-distance three-pointers that kept the Cats close. Quinlan finished with 14 points while Richards added eight and snared a large number of rebounds.
Hot Springs entered the final quarter leading 35-29, then held off several Bobcats rallies to hold on for the 14C league win.
Hot Springs moved to 3-7 on the year and 2-5 in conference play with the win, while Superior fell to 3-6 overall and 2-3 in 14C action.
Friday night in Charlo Superior fell behind 17-9 by the end of the first quarter against the senior dominated Vikings. Charlo then built a 38-25 lead at the half, behind the play of seniors Stetson Reum, who had a game-high 17 points, and Keaton Piedalue, who tallied 15 for the home-standing Vikings.
Charlo used a 23-8 third quarter advantage to seal the win as Superior rallied in the final quarter but could not overcome the early Vikings lead.
Plakke paced Superior with 15 points, while senior guard Isaac Miller added 14 for the Cats.
Thursday the Superior boys and girls teams head down Interstate 90 for a renewal of their Mineral County rivalry with St. Regis. They continue their road trip Saturday afternoon with a pair of games in Pablo against the Two Eagle River Eagles.
Recent Headlines
---