Eggflation: St. Regis farm sees boost in egg sales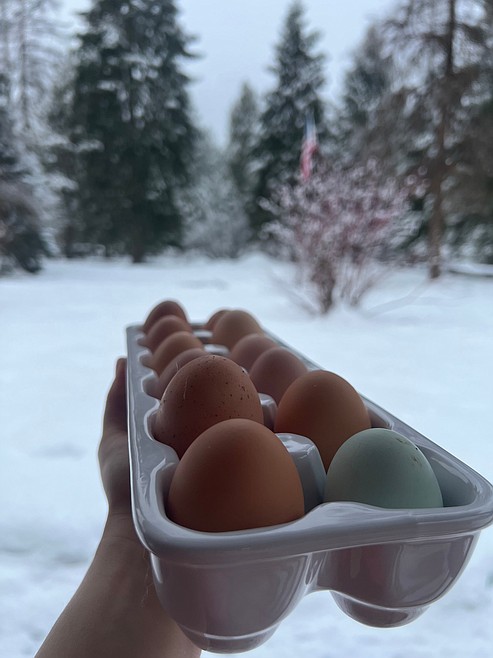 For the past several weeks finding a carton of eggs at an affordable price has been an impossible task for area residents. Many have turned to locals who raise chickens and are selling their eggs slightly easier price tag to swallow. Sunleit Family Farms in St. Regis has eggs for sale, but these little brown farm fresh gems have been selling like hot cakes! (Photo courtesy/Michele Leitinger)
by
AMY QUINLIVAN
Mineral Independent
|
January 25, 2023 12:00 AM
During the past year, seemingly every facet of life has been negatively impacted by rising consumer costs. People are feeling the pinch at the pump, in the department stores, rising insurance rates, their nest eggs, and now the most recent painful price hike even includes – Eggflation.
You might want to hold off on that omelet you wanted for breakfast. The cost of a dozen large eggs has doubled to what you paid this time last year. In some states, it's even tripled. According to the U.S. Consumer Price Index, in November of 2021 the average price for eggs was from $1.72. In November of 2022 that cracked a record-breaking $5.59.
Locally however, if you can find a neighborhood chicken raiser you might be able to snag a dozen farm fresh eggs for about $4 instead. That's how much Michele Leitinger in St. Regis was pricing her cartons two weeks ago. Shortly after sharing that her and her husband's homestead had eggs for sale, Sunleit Family Farms sold out fast.
Michele and her husband Taylor, along with their 1-year-old son, have been raising farm-to-table pork, and selling their chicken and duck eggs in since 2021.
Leitinger remarked, "Well, we just began advertising our farm to our local market via the Mineral County Facebook page, and we were blown away by the interest. We work really hard to offer the best price for a premium product."
On the producing end of the equation, the Leitinger's have been keenly aware of the sudden egg shortage and sharp price fluctuations.
She noted, "Honestly, with what we are seeing it may take a little while for the market to catch up with the demand, or could even be a permanent adjustment, it's so hard to say."
Prices reflect several factors, considering overall inflation rates, supply chain issues, and farmers dealing with devastating cases of bird flu. Right now, the country is seeing the deadliest avian flu outbreak in history. Just last year, the disease claimed the lives of more than 53 million birds.
"In combination with the feed shortages and disease that broke out coupled with unsustainable practices we've seen a large shortage of birds and eggs. By keeping a diverse flock and using great management strategies we feel we were able to side step any major issues while also growing our flock," explained Leitinger.
At Sunleit Family Farms, their chickens have fortunately remained healthy. For the Leitinger's their biggest concerns are keeping their chickens fed and happy.
She said, "We are in a niche market that makes finding and buying feed a bit more difficult. Aside from the soaring costs and availability, we specifically buy feed that is non-GMO and corn and soy free."
During the spring and summer, they allow their animals to free range and graze which helps keep costs down.
Sunleit Family Farms has about 20 chickens and they are planning to triple that number this year, all are primarily egg layers. At some point they may begin raising meat chickens, but right now their focus is on eggs.
Leitinger stated, "They have been great egg layers, some breeds give more than others, but we have been very pleased with the amount we get. There are periods where chickens won't lay any eggs, that can last different amounts of time."

A few weeks in November and December they were seeing minimal egg production. Most likely due to the colder weather and many of their chickens were in molt. Molting is the natural process of shedding old feathers and the growth of new ones.
"We added some heat lamps and once they finished molting, we started getting six to seven eggs a day and now we are up to nine to twelve eggs per day," said Leitinger.
She shared, "As a local farm, we are in support of anyone wanting to learn how to raise animals responsibly and ethically."
But, the Leitinger's have definitely noticed the national trend as of late; taking up chicken raising as a backyard hobby hoping for an easy kickback of eggs each morning.
"We have absolutely seen a romanticism of this lifestyle which many days can be true but there are also many hard and unforgiving lessons in between. Like anything, if not more, it takes time, dedication, and hard work to continuously support animals. We just hope that anyone who is planning to make the jump into raising chickens, or any animal, takes it very seriously," expressed Leitinger.
In addition to chickens on the Sunleit Farm, the young family hopes to incorporate more sustainable practices and add more animals into the mix.
Leitinger detailed, "Currently we have pigs, goats, chickens, and ducks. My husband has been convincing me for a while now to get a cow, so I'm sure that will be the next addition to our farm!"
They also offer a limited amount of premium pork they've raised, and have plans to increase their stock of pigs this year.
The farm is ran entirely by Leitinger and her husband.
She shared, "I personally don't have any professional experience in farming or raising livestock, but it has always been a passion. My husband has always talked about how he wanted to have a farm one day, and we have been together since we were 17."
She continued, "Taylor has a bachelor's degree in environmental sciences with a plant biology major. He has worked on many farms doing an assortment of agricultural jobs. We truly both feel so grateful to finally have our own land to do what we have always dreamed of doing."
The best way to contact Michele for eggs or pork availability is through their Facebook page, Sunleit Family Farms.
In the meantime, how can you save money on eggs? Consider buying them in bulk and freezing them. The USDA's most recent Egg Market News Report shows egg prices are beginning to trend downward. With any luck prices will level out before Easter, if not, it might be painted potatoes for the children this spring.
Recent Headlines
---