Kenton Randolph Lewis
|
January 25, 2023 12:00 AM
Kenton Randolph Lewis was born in Missoula on Oct. 21, 1939 to Harold Lewis and Maryellen (Goshen) Lewis, the first of their four children.
When he was very young the family lived in various Montana towns, and, except for the years during World War II when the family was in Bremerton, WA, Kenton lived most of his young life in Montana. For much of his childhood the family settled on the Miles family ranch at Tarkio and his mother taught in the one room schoolhouse there. It was not an easy life, there were many hardships but also many adventures.
Kenton graduated from Superior High School in 1958 and joined the Navy but was discharged a year later due to a lifelong condition called Meniere's Syndrome which affected his hearing and his balance. He returned to Montana and in 1960 he married Carrie Zumwalt. He also began a 17-year stint at Diamond International, starting as a chain puller and working his way up to plant supervisor. Later he returned to Diamond as a boiler operator and worked there until the plant closed.
In the early 1960s Kenton also met the man who owned property adjacent to the Miles Ranch. He and his wife had been associated with a church in the Olympia, WA area and he offered land to establish the Fold of the Messiah at Tarkio. Kenton and Carrie moved to Tarkio, labored with others to build and maintain the community and raised their four children there. This Christian church community was central to Kenton's life. No matter where he was living, he was focused on the work at the Fold and throughout his life he was committed to the church and to Biblical principles.

Through the 70's, 80's and much of the 90's Kenton not only worked at Diamond, and at the Fold, but he was also involved in the production and promotion of many inventions, including an experimental carburetor, the Swing Bike, Eko-Kompost and a uniquely designed wind turbine. These ventures took him around the world, including to Taiwan and Australia.
In 1994 he came to Seattle to set up an office for the wind turbine production where he met Deborah. After a 12 year, long distance relationship, Kenton and Deborah married in 2006 and both returned to Tarkio to enjoy retirement together.
Kenton was a man of many varied interests. He was devoted to his church community, he dearly loved his children, his step-children and his grandkids, great grandkids and so many other young people who grew up enjoying Kenton's famous popcorn and driving the backhoe - "digger die do.…" anyone? He relished his Mercedes, music, yodeling and wouldn't be without his White's boots. He was a very good dancer and enjoyed travel. That could mean a trip to Europe or just "let's jump in the car and drive several hundred miles!" He loved to explore, trips were seldom carefully planned and so there were many interesting adventures over the years.
Kenton had a tremendous curiosity, he was very interested in science but also in people; he wanted to know about your life and what you did, what you thought. Often he'd meet someone and invite them to Montana and sometimes they would actually accept his invitation. He touched people all over the world and left a lasting impression. And always he was a man of service, ready to help in any way he could. Whenever he was needed, Kenton showed up.
Kenton was preceded in death by his first wife, Carrie, by his sister, Valona Lewis Scarbrough and his brother, Tim Lewis. He is survived by his wife, Deborah Lewis, his youngest sister, Marla (Taffy) Gardenhire, his four children including Daniel, Karina and Vonn, his step-children, Missi Horton, Jessica Mason and Alex Aversano and by numerous grandchildren, great grandchildren and honorary grandchildren many of whom carry Kenton's legacy forward today.
Kenton passed away suddenly at home on December 9, 2022. His passing leaves a huge empty space in the lives of many people but his memory will continue to warm our hearts.
A memorial and celebration of life will be held at the Fold of the Messiah on Sunday, Feb, 19 at 1:30 p.m.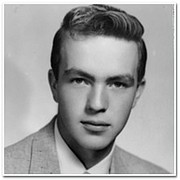 Recent Headlines
---