Superior pool capital campaign making a splash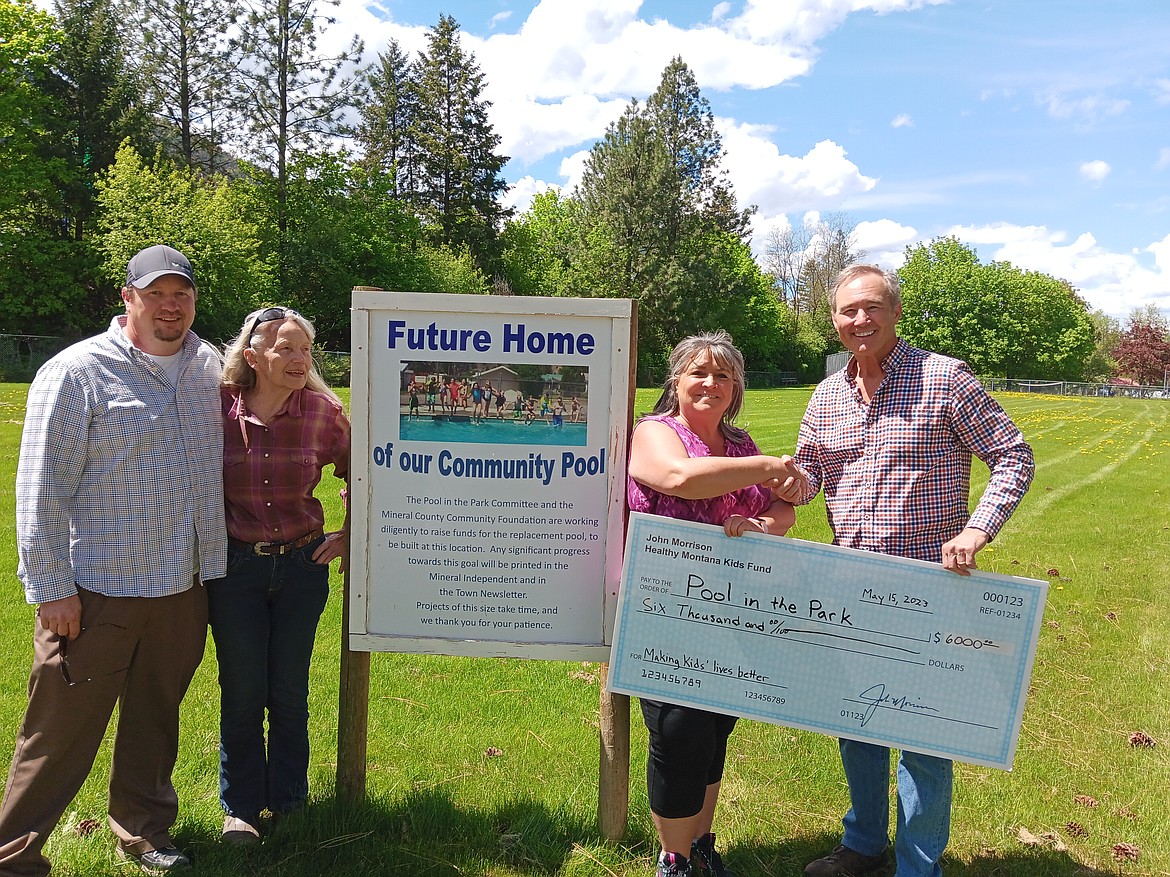 John Morrison, far right, presented a donation to Cheryl Crabb, Pool in the Park Committee Chair, where the pool will be built in the Eva Horning Park. Drew Hanson and Liz Gupton, both with the Mineral County Community Foundation were on hand to thank Morrison as this project is under the MCCF umbrella. (Monte Turner/Mineral Independent)
by
MONTE TURNER
Mineral Independent
|
May 24, 2023 12:00 AM
When the Superior swimming pool closed a few years ago due to the cost of upkeep and needed expensive repairs, the community lost an icon. It was built in the early 60s and was a shining star, especially with the longtime residents.
Cheryl Crabb said, "I was born and raised here and we grew up learning to swim at the swimming pool. Myself and my youngest brother both lifeguarded here. My kids learned to swim here and my daughter was a lifeguard in the 90s. And then our older grandkids started and then it got shut down."
It wasn't long before Crabb and others started fundraising to get a new pool. "Angie Hopwood, Trish Donavan, Tom McCloskey, Kaylee Richards, my daughter. Gayleen Borgman, Patty Pickering, gosh, there are so many as we have a good small core group and tons of other volunteers that help us. Sheelia Miller is another one."
John Morrison is an attorney in Helena and former Montana State Auditor/Commissioner of Securities and Insurance.
"When I was state auditor, I did a lot of work on children's health care and coverage and I wrote a ballot initiative called I-155 that created a program called Healthy Montana Kids. And half the kids in Montana have it now and I continue to be interested in this program," he said.
Morrison went onto say that the donation last Monday is not money from the HMK health insurance program.

"This is a donor advised fund that I created with my own legal fees after we, in my law practice, had some especially successful years. I named the fund Healthy Montana Kids in honor of the health insurance program we all created, and because the fund supports groups around the state that are helping Montana kids grow up healthy and strong."
A second reason is to shine some light on the project so that other organizations and people can help with contributions as well.

"The Pool in the Park effort to create safe water activities for kids is a great example of a community coming together, solving problems and making kids' lives better. Safe and fun physical activities build character and help Montana kids grow up healthy and strong. I'm proud to support this project and Superior, and I hope others will too."
Morrison found out about Pool in the Park by having someone do research on projects like this one, Sandi Luckey, who came up with numerous missions, "But Superior is a special place to me because of my high school experience here and I've always loved Superior. So, Superior made the list," he smiled.
In 1979, the year Morrison graduated from Hellgate High School in Missoula, he spent some time in Superior. "At Hellgate, half a dozen of us did an exchange our senior year. Where we came for a week to Superior High School and Superior sent half a dozen to Hellgate just so that a small high school and big high school could see each other's conditions."
Morrison said at that time, Hellgate had 2,100 students as this was just before the construction of Big Sky High School.
"It was crowded to the point that at graduation when seniors were called up to receive their diplomas, I didn't recognize over a third of the names of my classmates. Superior was much more like a family environment. The exchange was for a week and a weekend and very enjoyable. We had a lot of fun."
Drew Hanson recently returned home after being raised in Superior and has been extremely active in helping develop the Rec Club and is also a board director with the MCCF. Hanson worked with Luckey on the $6,000 donation Morrison made last Monday.
"It's exciting that we've been recognized by an outside group to raise funds. I have high hopes that this will lead to more donations from other areas," he said.
"This will be a dream come true when it is completed," said Liz Gupton, chairperson for the Mineral County Community Foundation that has the Pool in the Park Committee under their umbrella. The new pool will be next to the playground equipment that the MCCF purchased and donated in the Eva Horning Park.
"We're very hopeful on the Land & Water Conservation Fund grant, which will open early 2024."
Gupton shared that they are two and a half years behind in fundraising through grants due to the pandemic. She shared that the town of Superior was the recipient of a LWCF grant three years ago but the money was held up due to the pandemic when government offices were closed. The grant was finally released and that's what helped build the skate park.
"Today, we have a large fund that is building, and is over $100,000 now and the city has a capital investment fund that is being set aside for the pool, which is around $220,000," Gupton explained. "These funds will be used to provide the 1:1 match for the LWCF and other federal grants. We will continue our fundraising with a capital campaign to reach out to individuals, businesses and corporations who support the pool. We're on our way!"
To become a volunteer or help with a donation, contact the Pool in the Park Committee Chair at Cheryl's Backstreet Salon (406) 822-0201.
Recent Headlines
---