Pinocchio entertains audiences in Superior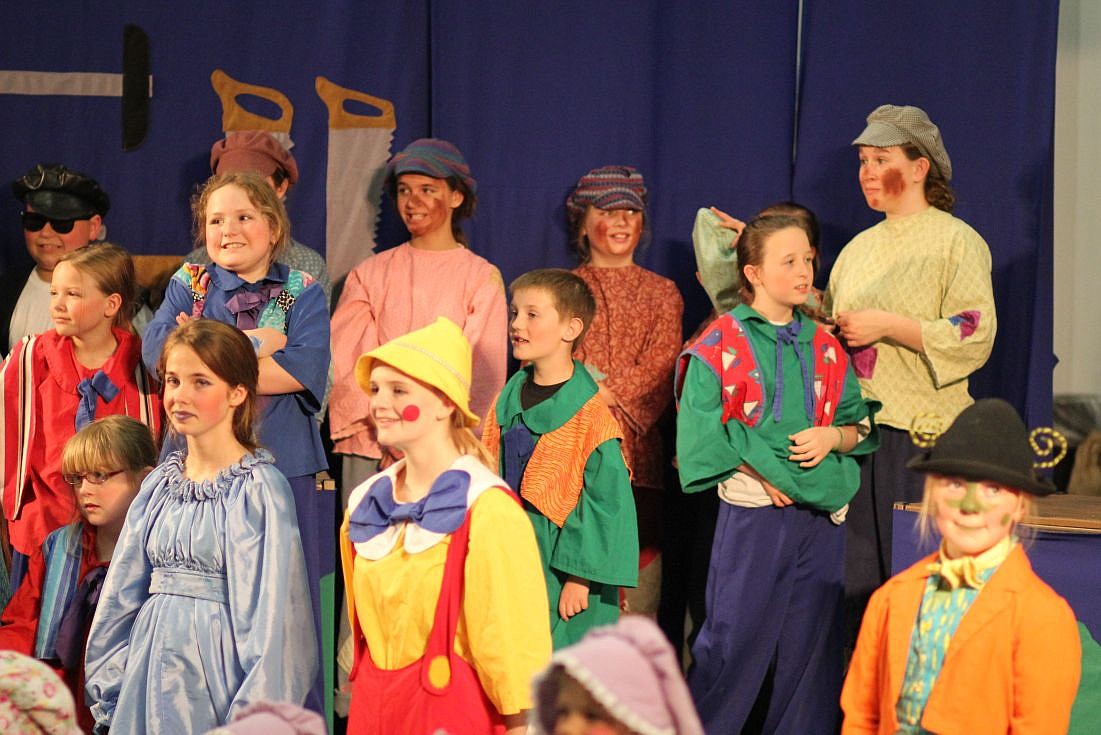 <p>Pinocchio was performed in Superior on April 22. The Blue Fairy was played by Bailey Milender; Pinocchio was Kaylee Ray; and Jiminy Cricket was Taylor Haskins</p>
by
Kathleen Woodford
|
April 27, 2016 6:55 AM
The Missoula Children's Theatre (MCT) arrived in Superior last week and within five days presented local audiences with a stellar production of "Pinocchio".
MCT cast the 58 parts with children from Superior Elementary School. The cast of characters included toys, school children, the Candlewicks Crew, a cat and fox, and of course Pinocchio, Jiminy Cricket, the blue fairy and Geppetto.
There was an afternoon and evening performance. Unfortunately, photos were not allowed during the production because the flash might distract the performers.
The play opened with Geppetto played by MCT actor, Andrew Yabroff, carving a puppet of a boy, Pinocchio, out of a piece of wood from an enchanted tree. The blue fairy named Sabrina, played by Bailey Milender, was dressed in a beautiful satin gown. She visits the toy shop and casts her magic and brings Pinocchio, played by Kaylee Ray, to life.
His best friend turns out to be Jiminy Cricket, played by Taylor Haskins, who nailed the little hop of a grasshopper as she ran around the stage trying to save Pinocchio, who continually got into trouble.
The shop toys included a cast of red toy soldiers, baby dolls dressed in pinks and blue, as well as marionette puppets. The puppets included Harlequin, Isabelle Erker, Columbine, Kylie Quick, and Scaramouche, Owen Doyle.
Toys were played by Lyla Beaudoin, Katheryn Gillies, Maggie Haworth, Lily Jasper, Jimmie Kelly, Tana Lawrence, Turner Milender, Jacqi Jo Mueller, Madyson Neu, Karina Pearce, Cami Quick, Conrad Talbot, Rory Talbot, Truman Traeder, Liam Wheeler, and Danika Wilson.
The play was fast-paced with quick scene changes and songs and dance, including a great solo by Bailey Milender. Pinocchio is swindled by an unsavory Fox and Cat, played by Decker and Payton Milender. He joins up with the Candlewick gang, featuring Taylor Walton, Gracie Mueller, Kaleb Pearce, Kassidi Scott, Connor Toivonen, and Emma Traeder.
Throughout his ordeal, Pinocchio is also chased by the evil villain, Stromboli, also played by Yabroff. Stromboli wants to enslave Pinocchio, to profit off of the puppet 'with no strings'.
The children are lured to Pleasure Isle and turned into donkeys. Pinocchio quickly escapes from the isle and then saves his father who has been swallowed by a whale.
Throughout the performance, dancing urchins graced the stage played by Anasia Awbery, akasha Azure, Lanie Crabb, Penny Foley, Kayla Goldman, Elaina Hamilton, Darby Haskins, Wyatt Haworth, Molly Patko, Devin Webber.
The entire play was done within an hour, with the music and lyrics written by MCT founder, Jim Caron. The piano accompanist was Nancy Wilson. At the end of the performance Assistant Director, Elle Streeter, welcomed parents to take photos. There was a quick opportunity to snap a few photos before the students were dismissed back to class. The next performance was held at 7 p.m.
Recent Headlines
---