Business
Looking for recent business news? Here you'll find all of the breaking and daily business news articles.
Updated 6 months, 2 weeks ago
Garden, Gift and Floral and Plains Liquor is under new direction.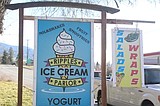 Updated 7 months, 1 week ago
Ripples has been a staple in Plains for and in September it came under new ownership.
---