Births
Who's celebrating a birthday today? Who just had a baby? Find our latest birth records below.
Updated 5 months, 3 weeks ago
Jasmine and Seth Keller, of Thompson Falls, announce the birth of daughter Nevaeh Carolyn Kathryn Keller at 8:58...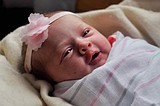 Updated 7 months, 2 weeks ago
Tyler Wynne Fultz was born Jan. 20, 2020, at the Clark Fork Valley Hospital.
---