Plains High School students perform Pre-Festival concert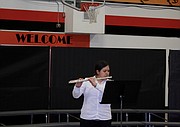 Approximately 60 people were in the Plains High School gym April 3 to listen to flutes, clarinets, guitars, the Marimba, soloists, duets, a concert choir and a concert band. All of those were involved in the Plains Pre-Festival Concert.
Brittany Nichols, the music teacher at the school gave introductions to each portion of the concert. The concert choir performed a total of five songs. They will be performing two pieces in Missoula during the Music Festival; "Ashokan Farewell" and "Follow the Drinking Gourd." Both of the pieces of music have interesting and very different connections to the American Civil War. Jay Ungar wrote the first piece, which was used by Ken Burns in his PBS miniseries "The Civil War." The second piece of music is a traditional spiritual and, according to many long-held legends, may have been sung to help the slaves find their freedom by locating the Underground Railroad.
Soloists and small ensembles included Isabella Richards on the flute playing "Gymnopedie No.2" from Trois Gymnopeies, which was written by Eric Satie and arranged by Donald Peck. Jubal Ryan, who is a Tenor, sang "Shenandoah-Sea Shanty" which was arranged by Celius Dougherty. Rachel Huenink played "A Winter Song" by Murray Houlif on the unique sounding instrument, the Marimba.
The concert band played a total of four pieces, two of them they will be playing in Missoula during the Music Festival; "Air for Band" by Frank Erickson and "Wolf Dancers" by Pete Havely. Nichols gave some information about how the "Wolf Dancers" music was inspired by the writer watching Native Americans of the Pacific Northwest doing a Wolf Dance, which was a ceremony to welcome the young man into the tribe, inspired the last piece of music. The Plains Band and Choir performed at the Missoula Music Festival on April 7 and 8 at Sentinel High School.
Reporter Douglas Wilks can be reached at dwilks@vp-mi.com or 406-826-3402.
Recent Headlines
---