'Our Diamond' students and coaches honored in Plains
by
Douglas Wilks Clark Fork Valley
|
February 1, 2017 4:00 AM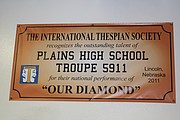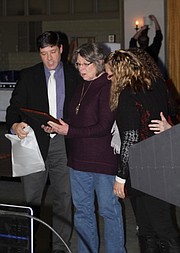 Several former Plains High School drama students were honored at the performance of "Barefoot in the Park" last week.
During the first intermission of the play, Plains Superintendent Thomas Chisholm asked Cathy Emmett and Terry Henry to join him in front of the audience.
"Six years ago, the coaches and drama students from Plains High School gave a national performance of the play "Our Diamond" in Nebraska. I felt it was very important to recognize them publicly," Chisholm said. "There is a banner from The International Thespian Society recoginizing the drama students from Plains High School. The banner is hanging on the wall of the gym, in the lobby just before you walk into the gym."
Chisholm unboxed a plaque and stated, "This plaque contains the names of all who were involved in the performance of 'Our Diamond' in Lincoln Nebraska."
The drama students named on the plaque are Bethany Mack, Mahala Harris, Kenny Griggs, Nick Warren, Chris Halling, Kendall Knight, Taylor Boles, Christgian Beach. Samantha Garrison, and drama coaches Cathy Emmett and Terry Henry. The plaque will be on display at Plains High School in the trophy cases, which are located in front of the school gym.
Reporter Douglas Wilks may be reached at (406) 826-3402 or dwilks@vp-mi.com.
Recent Headlines
---