Meet Mineral County's new attorney, Ellen Donohue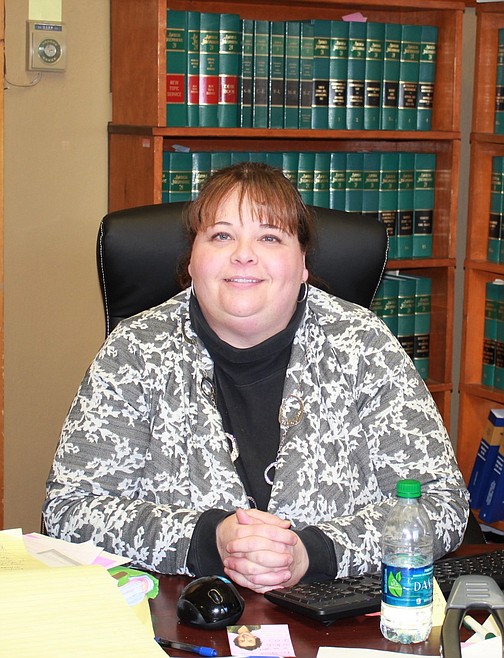 Ellen Donohue is Mineral County's new attorney, replacing Marcia Boris who stepped down last August. (Kathleen Woodford/Mineral Independent).
by
Kathleen Woodford Mineral Independent
|
January 18, 2017 9:33 PM
Ellen Donohue is the new Mineral County Attorney, replacing Marcia Boris, who left at the end of last summer. Donohue was hired for the position by a selection committee, and will work for the rest of Boris' term, which ends in 2018.
Currently she's renting a place, but may buy a home in the future, "it just depends on how well the community likes me. I plan on sticking around for a while, but I've never held an elected position before. It will be up to the voters to decide," she said.
One thing that has surprised Donohue is the high number of felony cases in Mineral County, given the size of the population. There were 92 cases in 2016, compared to 100 in the Anaconda-Deer Lodge area, which boosts a population of nearly 10,000. But, she understands that a number of those cases stem from Interstate 90, which stretches across the county.
There's a pipeline of illegal drugs that transvers the Inland Northwest, where Interstate 90 sees a large volume of narcotics, though the exact amount is hard to guess.
"I understand Mineral County's situation, where someone gets pulled over on the freeway and it can quickly turn into a drug case," she said. "But it appears that there is a lot of well-trained law officials for the drug cases."
Originally from the Philadelphia area, Donohue moved to Butte in 1994. She's not married and doesn't have kids. She has a wide-warm smile, and an easy laugh, as she sat behind her desk filled with files and her first-ever smart phone.
"They said I needed to have one," she said, picking up her small iPhone with a baby blue cover, "and I'm already getting addicted to it."
Her first trip to Montana was while visiting her sister's father-in-law who had a home in the Gallatin Gateway, "as soon as I stepped off the plane in Bozeman, I fell in love with the place. I had never seen anything like this. I've never seen mountains like there are here. That's when I decided to stay," she said.
After graduating from Temple University, she packed up her jeep and headed west. For 15 years, she was a social worker, before returning to law school in 2004.
"I loved social work, and decided to go to law school because I was running a woman's shelter and wanted to understand the legal end of things and so I could help my clients better," she said.
Before Donohue even graduated from the University of Montana Law School, she received a job offer to work for Montana Legal Services in the Butte office. There she worked as a public defender for victims of sexual abuse and assault survivors.
Donohue is almost 100 percent Irish, with seven siblings and 20 nieces and nephews, all of whom live back East. Which is probably why she enjoyed Butte so much, with its strong Irish roots.
"I worked with a woman who was from a third or fourth generation Butte Irish family. They welcomed me right away into their homes. Butte is a great town, real salt of the earth people. They rally around each other and help one another."
Her mother was also a lawyer. After a career as a nurse, she returned to law school while in her 50's and eventually worked with women in Delaware County. There she prosecuted people who violated orders of protection, "I like to say that my mom followed in my footsteps, because she went back and worked at a shelter where I interned," Donohue said.
"I think I'm going to be busy," she said about her new position, "but I know Marcia (Boris) did it and before her, Shaun Donovan did it for many years, and so I'll do the best I can."
Recent Headlines
---