'TAKING FLIGHT' Plains singer-songwriter's music soars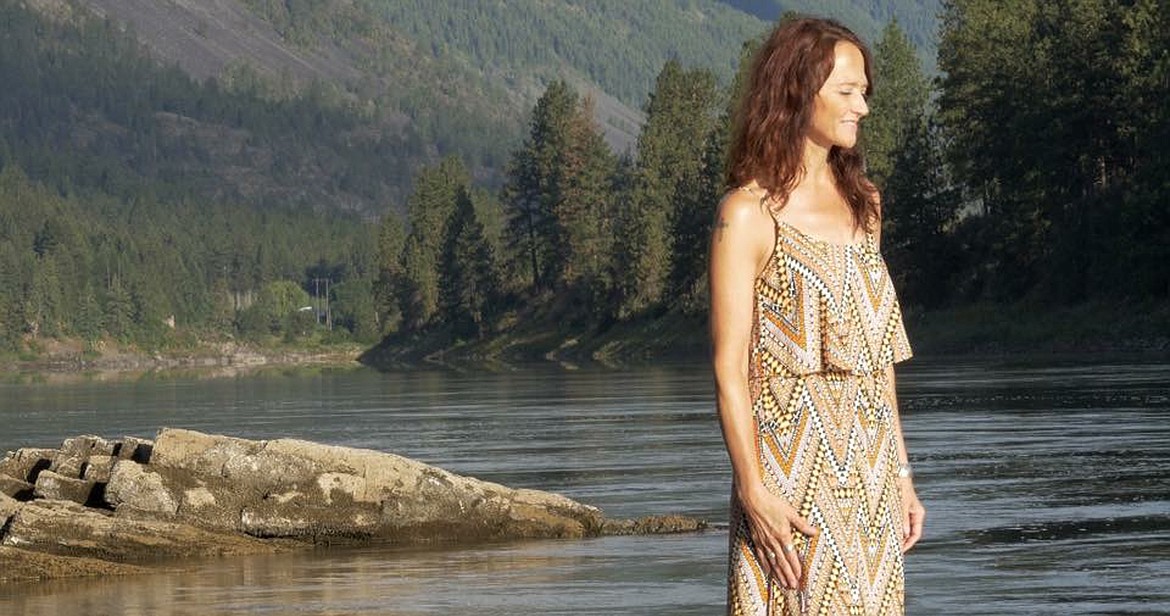 Polly Cavill at the banks of the Clark Fork River near Plains. (Photo by Skeeter Johnston)
SKEETER JOHNSTON and Polly Cavill. (Photo by Franky Winebrenner)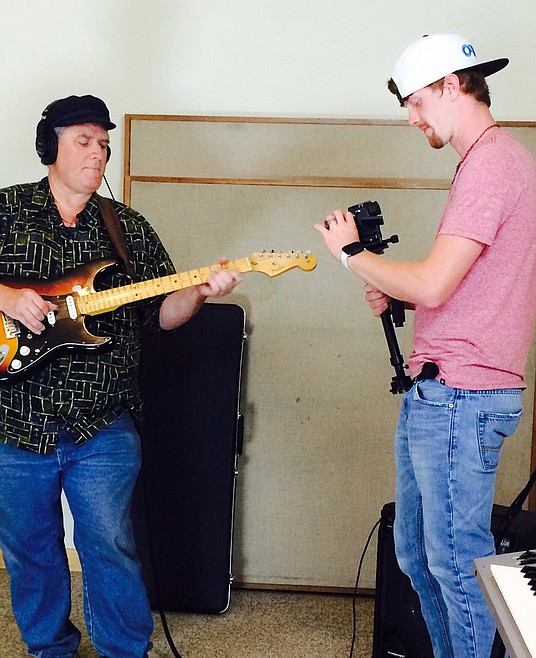 Skeeter Johnston recording video of Brett Barber playing the guitar in the Custer's Last Stand recording studio. (Photo by Polly Cavill)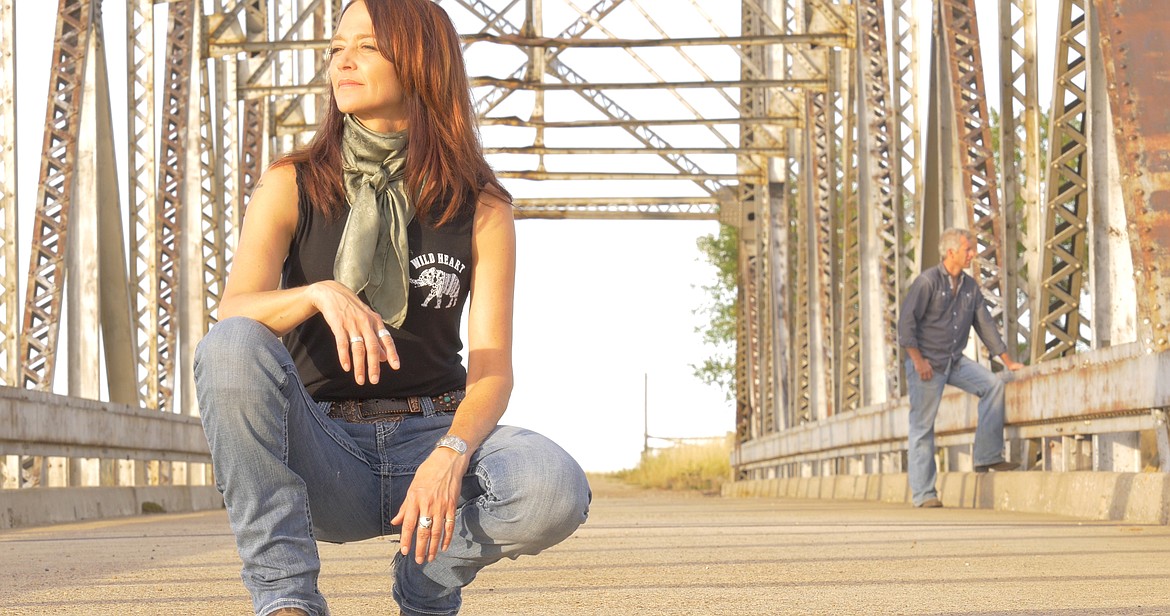 POLLY CAVILL and Shane Reiswig pose for a photo at Powder River. (Photo courtesy of Polly Cavill)
Previous
Next
by
Douglas Wilks Clark Fork Valley
|
January 25, 2017 4:00 AM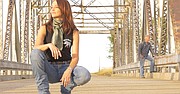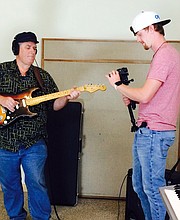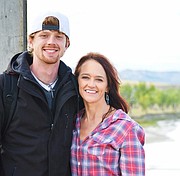 Polly Cavill is a woman you will not soon forget after you have met her the very first time. She has an infectious big smile and an amazing energetic and calming presence. She may be singing, dancing, smiling or possibly doing them all when you meet her.
Music is her passion; she is making a difference in the world by using her talents and gifts in positive and amazing ways.
Cavill studied respiratory therapy at the University of Montana and has a bachelor's degree in psychology. She has worked at the Clark Fork Valley Hospital in Plains as a respiratory therapist for several years. But many in Sanders County know Cavill through her music.
From 2010 until 2016, she was the lead singer of the band Dark Horse. She spent many hours singing a variety of music with the band, including rock 'n' roll, country and pop. Her music brings a calm, peaceful feeling to everyone who hears her sing.
Cavill is a registered respiratory therapist currently working for AirLink Critical Care Transport. AirLink is an air-ambulance service that transports individuals who are in critical condition to the closest hospital. On a recent transport of two children, she began playing the songs from her latest album, "Taking Flight." As the boy listened to her songs, he cradled her iPhone close to him. Days later the mother of the child told Cavill, "I don't know what I would have done without you."
Cavill spends her time away from work writing music. DiscMakers in Philadelphia created the music CD and placed the album on CDBaby. Her current album is available on Pandora, Spotify, iTunes and Jango. It can also be purchased by going to her website, www.cdbaby.com/Artist/PollyCavill. The album was created from master tracks provided by Cavill, which were recorded at Custer's Last Studio, owned by Chuck Seward.
IN 2016, Cavill began a music video project with Brett Barber, Shane Reiswig and Skeeter Johnston. The music video "You Can Deny" was a labor of love for everyone involved in the creation. The video of the outtakes and bloopers boasts genuine laughter, bright smiles, silly moments and joking.
Cavill gives praise to the musician who helped her create the music on the video.
"Brett Barber is an amazingly talented musician," she said. "On this song and video he plays the guitar, bass, drums and banjo. He spent many long hours laying down the tracks for one instrument after another. He is remarkably talented."
The background vocalist on the song and video is Cavill.
"At Custer's Last Studio, I would first sing the main vocals. Later I laid down the background vocals with the main vocals I had recorded earlier. I was singing with myself," she said.
The man behind the cameras for the "You Can Deny" music video is Johnston, the owner of Skeeter Johnston Productions in Plains. During the creation of the music video, he turned 20 years old.
"This was my very first music video production," Johnston said. "Polly had the music video in her mind for many years. She knew what she wanted and how it was going to look. I synchronized her music to the video. There were only a few times in the video when I was recording sound at the same time, which was when she was walking at the very start of the video.
"We went to two places for the filming of the video; near Miles City and the mouth of the Clark Fork River. In total, we spent about two weeks time to create the music video."
A Panasonic GH4 and a Phantom IV drone were the principal cameras used to create the music video.
"Polly loves what she does and is so enjoyable all of the time. The hospitality shown to me by her and her family was amazing," Johnston said.
According to Johnston, his interest in video began at the age of 13.
"I have taken video courses at Flathead Valley Community College in Kalispell and classes online from Berkley College of Music out of Boston," Johnston said. "I also do a good deal of reading blogs, watching videos, and many trials and errors. This is my passion."
CAVILL WAS the director and choreographer for the video and had very clear ideas of how the action would move into and out of each scene. There is a dangerous stunt involving Cavill holding a huge 8-pound stone close to her and falling backward into the very cold water of the Clark Fork River.
Cavill wrote about the symbolism of the scene: "The rock signified for me that the heartbreak he handed me when he walked away from our love, was enough to sink me. The rock was his denial that he loved me."
These scenes were filmed in June 2016, when the river was high and the cold waters were moving turbulently. Three hours later, and after many takes, Cavill was in a near-hypothermic state when the last shot for the stunt was completed.
This music video soon helped propel her music around the world to people in Israel, Australia, many countries in Asia, and American troops serving in Afghanistan. The technology of the 21st century has made it much easier for singers and songwriters to be noticed by recording companies.
Cavill's music is currently on Music Xray, a website where recording company producers listen to the music and rate it. She reported that two recording companies contacted her and expressed a strong interest in her music. One company is in talks with her for the possible use of her song "Forever More" in a movie soundtrack. She continues to look at the offers submitted by the recording companies and screens them very carefully.
Cavill said that there is more music coming soon.
"I have at least 12 songs ready for the next album. My plan is to complete my newest album around June of this year," she said. "I am super excited through the love and support of those many people in my hometown. My goal is to become a songwriter and have a regular life, too."
Cavill's upcoming album is titled "Unshakable."
"The title refers to my unshakable faith. I know God has His hands in my life," she said. "I strongly believe that faith can and does move mountains."
Reporter Douglas Wilks can be reached at dwilks@vp-mi.com or 406-826-3402.
Recent Headlines
---