'Aladdin Jr.' brings a taste of Broadway to town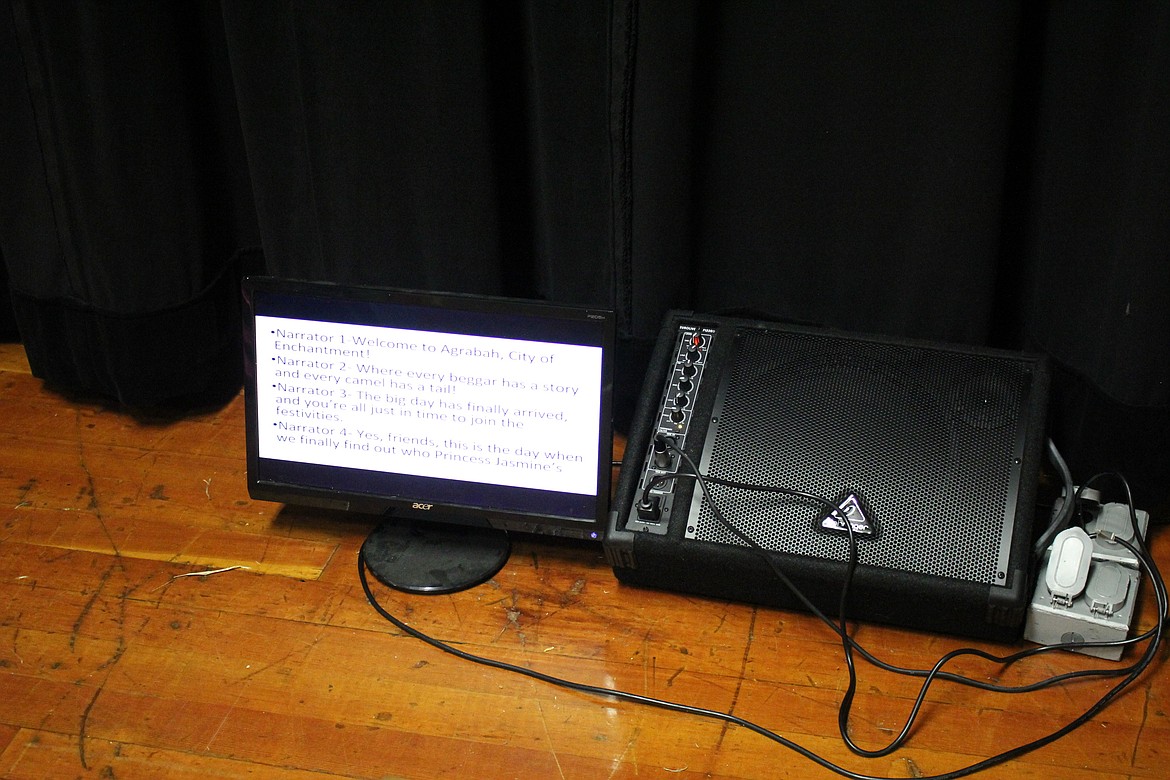 The St. Regis Drama Department acquired a new monitor so students can have their lines prompted on stage.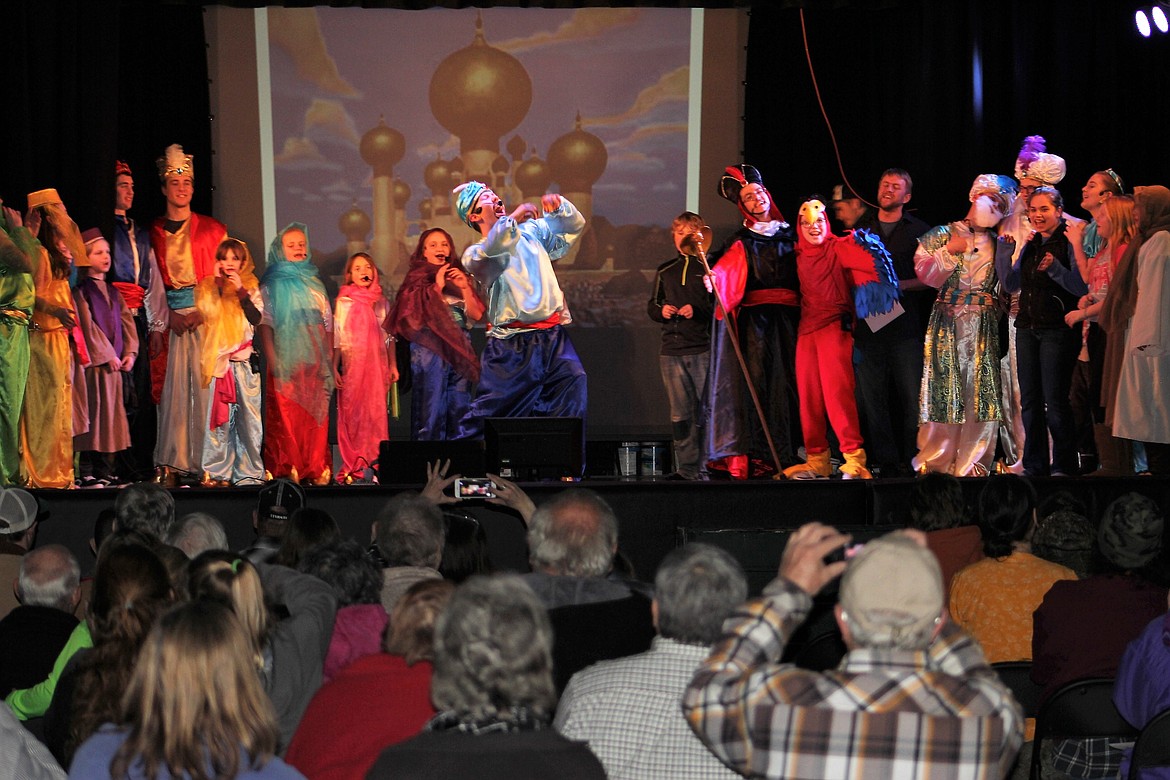 The Genie, played by Ebon Jones, takes center stage as the final musical number is sung by the entire cast during the performance of "Aladdin Jr." on March 16 in St. Regis.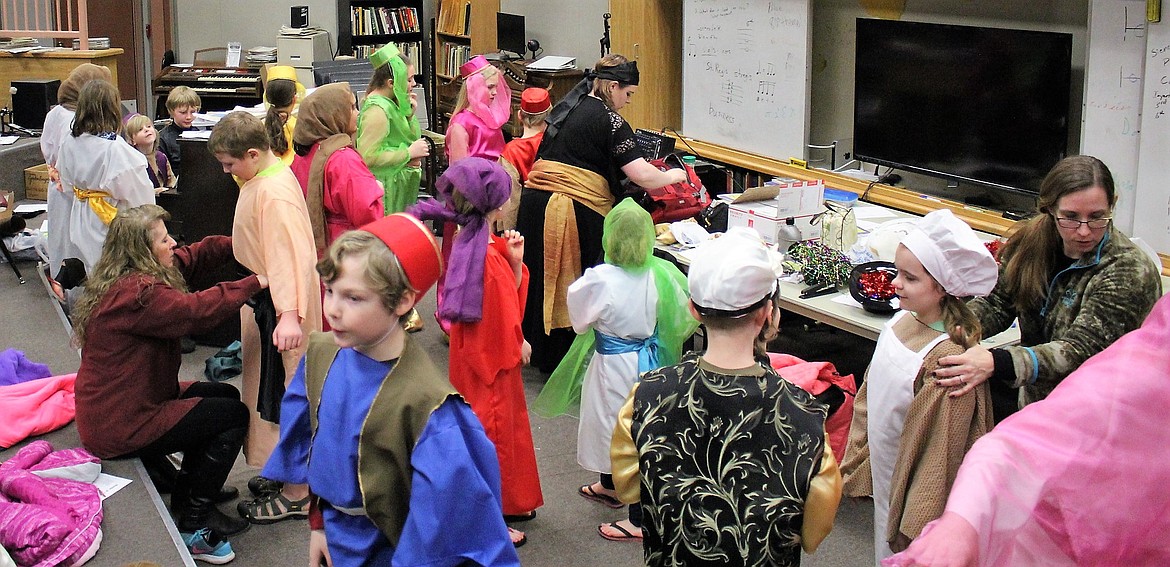 Backstage, Amy Farris, Michelle Simpkins and Shelly Larson get costumes and makeup on students for the play "Aladdin Jr." in St. Regis.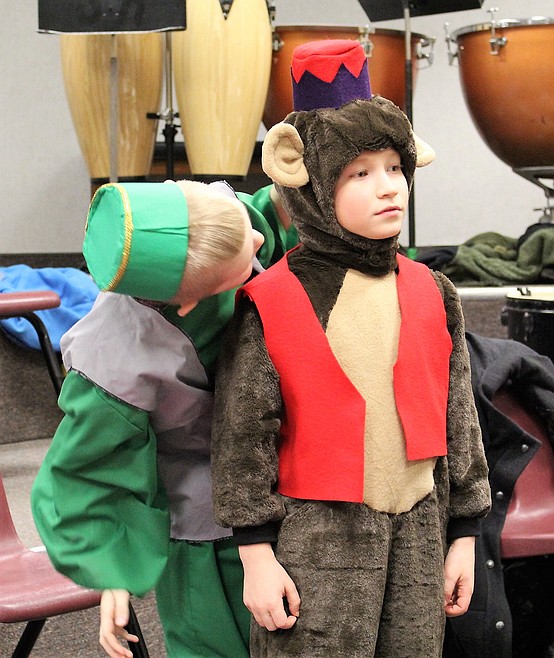 A friend whispers to Joseph Farris, who plays the monkey Abu, backstage before the play starts.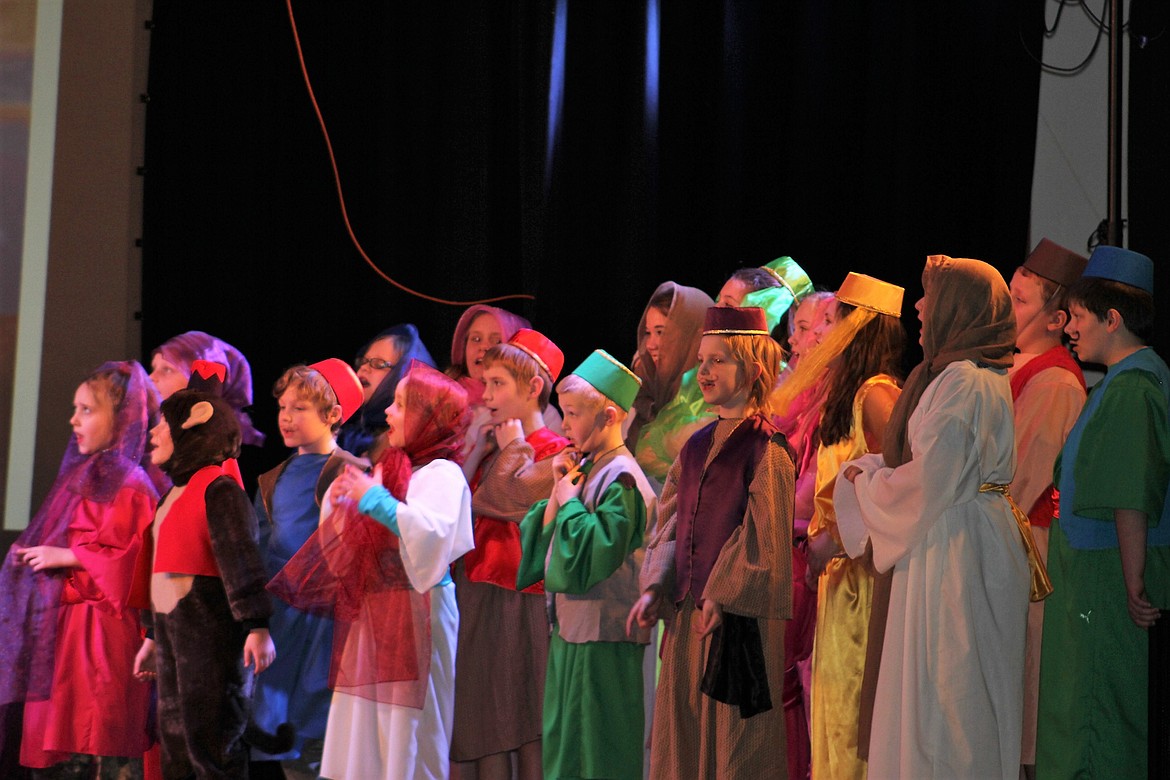 Colorfully costumed townspeople belt out a tune from Disney's "Aladdin Jr." put on by the St. Regis Drama Department. (Kathleen Woodford photos/Mineral Independent)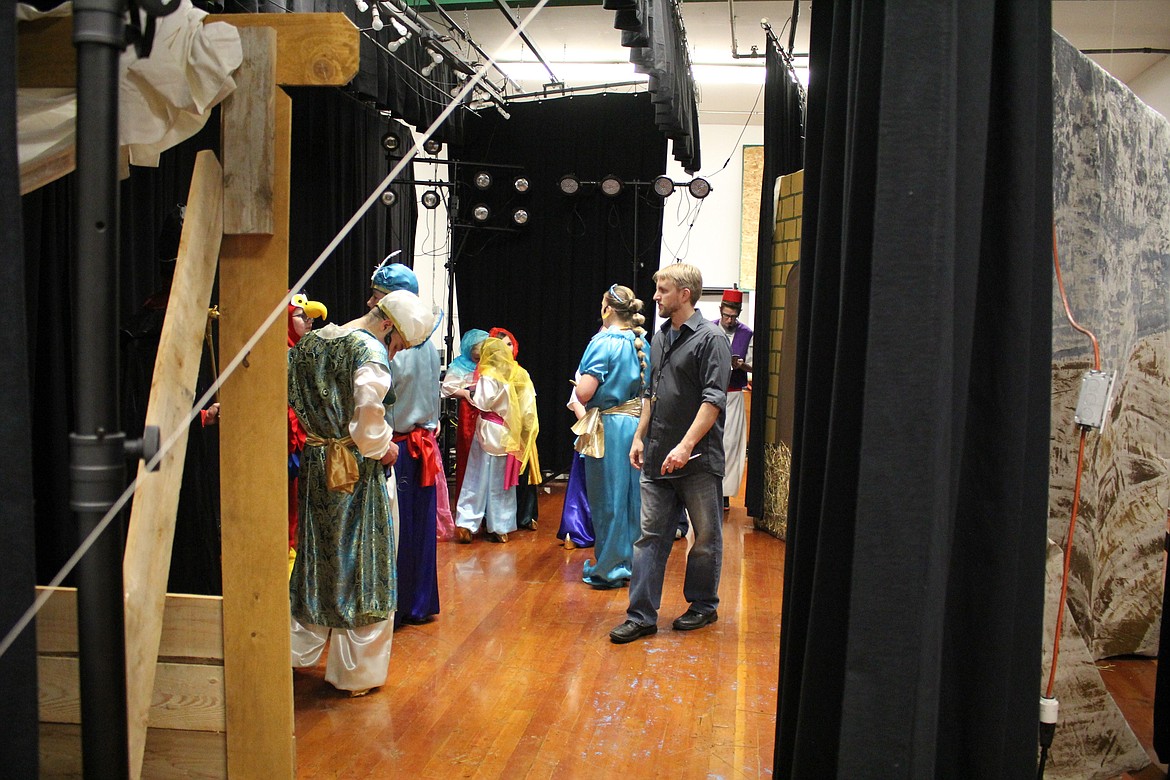 Backstage before the performance of "Aladdin, Jr." was about to premiere on Mar. 16 in St. Regis. (Kathleen Woodford/Mineral Independent).
Previous
Next
by
Kathleen Woodford Mineral Independent
|
March 28, 2017 10:38 PM
St. Regis School drama instructor Derek Larson couldn't contain his excitement following the March 16 performance of "Aladdin Jr.," and took his excitement to Facebook.
"Oh my gosh, what a show tonight!" Larson wrote in a late night Facebook post after the play held "For those of you that were there, did you spot a rear-projection screen that you can walk in front of without disrupting the picture? An unusually small number of lines that you couldn't hear? A screen for kids to look at that didn't get their parts memorized so they could still read their lines? AMAZING costumes? A sound-board capable of handling 18 channels of individual inputs while recording the audio directly into a computer program and providing a sound monitor on stage? LED color lights on the stage as well as, main incandescent, and tons and tons of spirit coming from our town's youth? Awesome job everyone!"
Larson had every right to be excited about the evening's performance, with lead roles played by Robert Dahl and Kenzie Stortz as Aladdin and Princess Jasmine. An assembly of nearly 35 cast and crew members belted out musical numbers in colorful costumes as they acted out scenes from the popular Disney film.
Ebon Jones played the wise-cracking Genie and added twist and flair to the presentation as he and Aladdin attempt to win Jasmine's hand in marriage, only to have their plans foiled by Jafar, played by Travis Jaquez and the animated parrot, Lago, played by Carter Jasper.
Narrators Shelby Simkins, Hailey Dufresne, Kiersten Trayer, Grace Noonan and Brooke Filek made a colorful chorus as they guided the audience through the story that takes place inside the Royal Palace gates in the faraway city of Agrabah, where Princess Jasmine prepares to choose a husband. The Sultan, played by Ian Farris, insists she pick from among three visiting princes played by Brock Cantrell-Field, Ryan Teeter and Trevor Lowry.
Before the play began, Shelly Larson was backstage to help put makeup on the actors and actresses, while costume designer Amy Farris fluffed yards of taffeta and wrapped belts of satin around guards and townspeople.
Larson said they didn't have a lot of time for rehearsals, but the characters were helped with a new prompter that was on stage feeding them their lines. The students also had new headset microphones, which made it easier for the audience to hear.
The music was mixed by a sound board operated by Andrew Cadman near the stage with tracks from the Disney movie, and so the songs were sung with a full orchestra. In addition to these improvements, there was a rear projection screen with moving scenery as Aladdin and Jasmine fly through the air on their magic carpet, played by Mason Dailey.
"Other schools get super jealous of the support our school gives to the drama department," Larson said during a recent interview regarding all the new equipment they have at their disposal. Indeed, it was a little piece of Broadway Theater tucked away in the far reaches of Mineral County.
Recent Headlines
---