Lance Alexander Yohannan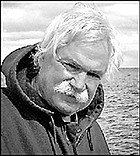 Lance Alexander Yohannan passed away March 4, 2020 in Spokane, Washington.
He succumbed after a short but heroic struggle with pancreatic cancer. He was born Feb. 22, 1951 in Abington, Pennsylvania, the second of three children of Francis and Rosemarie Yohannan.
Lance grew up on Fairchild Air Force Base, Spokane. He had fond memories of exploring the base on his bicycle and spending hours with his friends watching the bombers take off and land.
He attended school at Our Lady of Lourdes, Spokane, Gonzaga Preparatory School, Spokane, and Western Washington University, Bellingham.
Lance's career in the petroleum industry took him all over the country. This fit well with his deep love of travel, often to exotic locations such as the Amazon and Belize. He was an accomplished fisherman, scuba diver, and chef.
As an avid historian, Lance had a particular interest in his Assyrian heritage. He collected artifacts from the Assyrian era and studied the
history of ancient Mesopotamia and Babylonia.
Lance called several places "home." He maintained residences in Spokane and Alger, Washington.
But he was happiest when he was with friends and family at his beloved "Crooked Pine Ranch" in Paradise, Montana. Lance will be remembered by all who knew him for his extraordinary generosity, friendship, and loyalty.
Lance is survived by his brother Frank Yohannan (Judith), sister Sandra Dodge (Bill), daughter Delsah Ihrig (Caleb and their children Jared, Kayla, and Jonathan), friend Kerry McFadden, and nephews Jonathan Dodge and Ross Dodge (Marlene and their children Charlotte, Yohannan, and Ronan).
"If you can't join me here on the warm sunny beaches of Paradise, leave a message. Ciao!"
---