Robert Frank Hermiston
Our dad, Robert Frank Hermiston passed away Friday, March 27, 2020 at St. Patrick's Hospital in Missoula, Montana.
He was born in Polson, Montana, Feb. 9, 1948 to John (Jack) and Charlotte Hermiston.
The second born of six children, he was raised in Paradise, Montana, and attended Paradise schools there before enlisting in the Navy in 1965 where he served until 1969.
Like many other enlisted men of the Vietnam era, he rarely spoke of his service but on occasion would share a story or two about boxing for the Navy that we all enjoyed. It was in the Navy that he became skilled in all areas of heavy equipment operation and construction - a vocation he was passionate about and highly skilled within.
Doug Beed, his daughter's father-in-law and University of Montana Professor, having spent hours watching him move rock behind Doug's lake house with an excavator, referred to his skills as a true form of art. His work ethic, mild temperament and strong will all well-known trademarks, he often said he "had two speeds, fast and faster" and he worked until the end - he wouldn't have had it any other way.
A generous man to a fault, he'd give you the shirt off of his back even were it his last and, having grown up with very little, had a concern and compassion for children that was unparalleled. Robert was a fiercely protective, loyal and hard-working man who maintained lifelong friendships both in his hometown and across Montana - all of whom share in the heartbreak of his loss.
Robert married Paula Ward on March 7, 1970. The two were married for 17 years during which time they had two daughters, Sabrina and Brandee. They later divorced.
Robert then met and married Laurie McNeil, together for over 31 years, during which time they raised Laurie's daughter, Brandie.
Both marriages resulted in the loves of his life and the light in his eyes - grandchildren Wade and Coltyn Bache, Jayden and Jack Beed, Hunter, Aidan and McKenzie Rich. All of whom he tortured with cheek pinchin' and kissin,' endless cartoon watchin' and recliner snugglin'. He was their role model, rock of support, companion and best friend - their Grandpa. They were and will continue to be as he watches over them - his entire world and he theirs.
Robert is survived by his wife, Laurie, daughter's Sabrina (Darren) Beed and Brandee (Dan) McDougall, stepdaughter Brandie (Matthew) Rich-Jaramillo; grandchildren Wade (Ashley) Bache, Coltyn Bache, Hunter Rich, Aidan Rich and McKenzie Rich; sisters Bonnie Morrow, Gayle (Perry) Mock and Shirley Hermiston and various cousins, nieces and nephews.
There will be a service and celebration at a later date when we can all gather together to celebrate what an amazing man he was to all of us.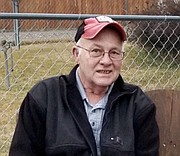 ---