The Mineral County Dixieland Band plays on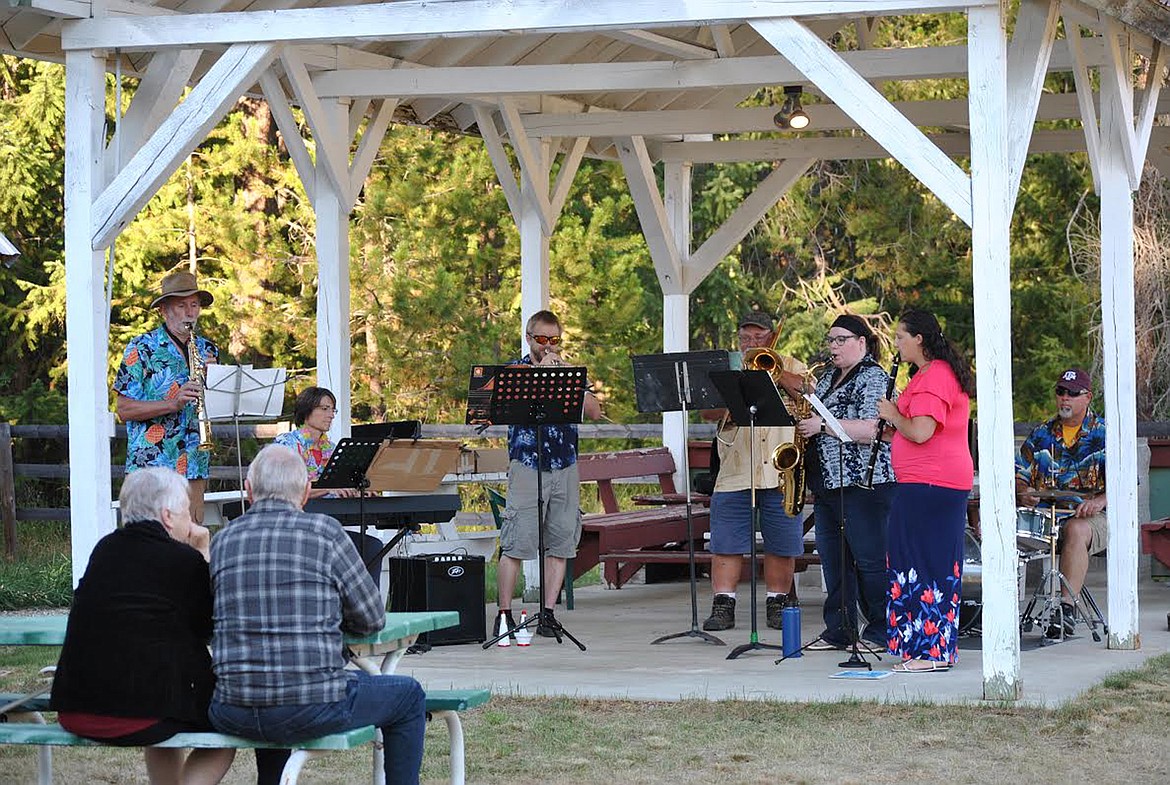 Behind the perfect shade of the Old Deborgia Schoolhouse a small smattering of an audience toe-tapped and enjoyed the tunes from the informal Mineral County Dixieland Band. Vern and Bonnie Rusk had a picnic table to themselves on the evening of August 20 at the impromptu outdoor music gathering. Band members from left to right, Chris Martineau on soprano sax, Dawn Hammerstein on the keyboard, Derek Larson played trumpet, Denley Loge slid the trombone, Shelly Larson on the saxophone, Amber Winter played clarinet, and Matt Eisenbacher kept the beat on the drums. (Amy Quinlivan/Mineral Indepen...
by
MONTE TURNER
Mineral Independent
|
August 25, 2020 5:39 PM
In the late 1970s, St. Regis School found itself without a band director. The obvious issue was that the students were not being taught musical instruments and a side effect was not having a pep-band at the football games.
However, there were some folks around that had played instruments years before that were now parents, ranchers, mill workers, teachers and truck drivers that came up with an idea that sounds like a Hallmark Channel movie, minus the romance.
These civic-minded pirates raided the music room and borrowed sheets of music and started rehearsing together while they built themselves a pretty darn good little group.
They played at the ball games where they dazzled the crowds and then the word got out and the bookings started coming in. They were the pit-band for the production of "The Sound of Music" in Plains.
They were the opening act in Hot Springs for Rob Quist.
Dixon Melon Days, Plains Days along with the State Soil Conservation Convention had them perform and they took the stage at the Mineral County Fair for the Saturday afternoon entertainment.
Privately they played for the 50th anniversary of Dick and Shirley Hollenback in the old Superior School and the Annual Adult Prom in Plains.
In time, St. Regis found a band director, but these guys and gals were on a roll and having too much fun to stop.
By now it was mostly big band music but experiment they did with jazz and Dixieland tunes. But some of the members moved away. Some decided they didn't have time anymore. Some new musicians were enrolled, and it kept going, until it stopped going.
Denley Loge, a long-time resident of St. Regis, was one of the first band members.
"I started playing the trombone when I was in the fourth grade and lived in Hannaford, North Dakota, (population 119 - 2018 figures) and continued through high school and college.
To date, I've played in 35 University of Montana Alumni Homecoming Parades."
But the beat goes on, and they are back together practicing with no intentions of doing any more than just that, because they enjoy playing together and having fun.
So far this summer they have had four practices with the last one on the lawn of the old DeBorgia School house on the evening of Aug. 20. Along with Loge, Dereck Larson, band director of St. Regis School, and his wife, Shelly, played the trumpet and tenor saxophone, respectively.
Chris Martineau had the soprano saxophone while Amber Winter played the clarinet. Making his initial appearance with everyone was Matt Eisenbacher on the drums.
"This is the same trap set I played on when I was in band going to St. Regis! It was brand new that year, 1999, and has seen some miles but is still sounding good."
All of the way from the emergency room at Providence St. Patrick Hospital in Missoula, Dawn Hammermeister drove 82 miles so she could play the piano.
"Denley has been talking for years about everyone getting back together and now it's finally happened," Larson said. "It's a delight to play as there aren't many groups in the county that get together as we're doing," chimed in Shelly.
Martineau, a former band instructor himself, added another reason for them doing this.
"To show kids that playing instruments is something they can do long after graduation. Something they can continue throughout their lives."
These practices are spontaneous, meaning they are never planned, and the location is decided upon when the day and time is agreed upon.
Recent Headlines
---