Thanksgiving dinner a big hit at Bootlegger's Bar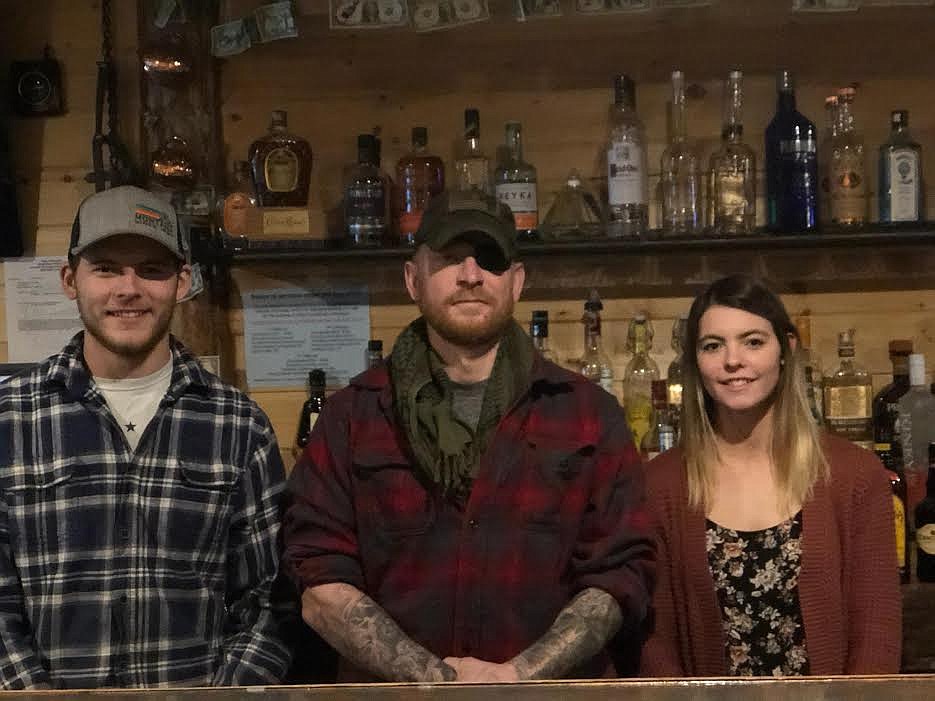 From left, are Tristen Anderson, David Barsotti and Savannah Anderson, whom, along with many volunteers helped make the free Thanksgiving dinner at Bootlegger's Bar a big success. Tristen and Savannah are the children of bar owners Shannon and Anna Anderson kids. (Monte Turner/Mineral Independent)
by
MONTE TURNER
Mineral Independent
|
December 9, 2020 12:00 AM
When David Barsotti, retired from the U.S. Marine Corp, approached Shannon Anderson, owner of the Bootlegger Bar in Superior, a couple of months ago abut hosting a 100% free Thanksgiving dinner for anyone and everyone, Anderson didn't even allow Barsotti time to finish the pitch before he grabbed a pad of paper and the two of them started organizing.
"The Thanksgiving Day meal came about by a group of us service members who were out of country, then later in country, but not allowed to leave base because we were on call," Barsotti said. "So, me not being one for any other holiday other than Nov. 10th (the birthday of the United States Marine Corp) and St. Patrick's Day, I came up with an Orphans Thanksgiving." said Barsotti. "Basically, it was for those of us who either didn't have family or weren't permitted to leave base to go home for the holiday.
"It started out as a few enlisted Marines, plus girlfriends and stragglers who had nowhere to go, about 20 years ago. Ever since then, I have done this no matter where I am. It's a way to have "family" even without your own."
The tactical planning was stealthy because it was kept quiet until they knew it was going to happen. Having absolutely no idea how many would attend, they guessed at what was needed in quantity with a small backup cache in case they became overwhelmed.
For volunteers, they needed help that day, but a key player was needed who could drop everything and pitch in.
Carlos "Pedro" Rodriques had helped Barsotti on four charity events and a short phone call made this one the fifth. This comes from a guy with a huge heart to help people with an almost two-hour drive, one way, just to make it to Exit 47!
Anderson had his wife, Anna, and children Savannah and Tristen on board and a couple others pitched in for a wonderful time.
"Thanks to donations and volunteers we made it work smoothly," reported Barsotti. "I honestly feel privileged to have been able to help those who were not able to buy a dinner but were nonetheless hungry and desperately wanted to celebrate Thanksgiving. Most were take-out or delivery, which meant that they could have a hot meal around their own kitchen table as a family."
Anderson feels they might have been able to use a few more side dishes, but it was a success serving 97 people.
"Six-and-a-half turkeys deep fried in the parking lot by the Meat-Man (Barsotti), 15 pounds of potatoes, two gallons of gravy, eight pounds of green beans, 10 pounds of yams, eight pumpkin pies, two apple pies and one cherry pie and 20 pounds of stuffing," he said. "The biggest surprise was the support from people who stopped by just to donate. They had other plans to eat but wanted to help us help the community. People brought cookies, pies, and deviled eggs."
Asked of Anderson if they would consider doing this again?
"Yes, we will do it again. With so many in need and alone for holidays we should do a Christmas dinner," he stated.
Recent Headlines
---