Carol Jean Christensen (Flory)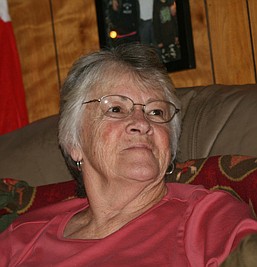 |
February 14, 2020 3:54 PM
Carol Jean Christensen (Flory), 79, of Plains, passed away in the arms of her children on Sunday, Feb. 2, 2020 at Clark Fork Valley Long Term Care after her battle with cancer.
Mom was born Sept. 29, 1940. She was the first of four children to Alvin and Janita Flory of Bonners Ferry, Idaho. She spent her summers riding her horse, Lady Glen, and causing mischief at the Snyder Ranger Station, where her Dad worked for the Forest Service. Mom graduated from Bonners Ferry High School in 1959, where she was a cheerleader for the Bonners Ferry Badgers, making many lifelong friendships.
In June of 1959, mom was married to Dick Dudley. They moved to Texas closer to Dick's family but returned to Bonners Ferry sometime after. On December 1, 1963 they had a precious baby girl. Our sister, Sarah. The light of mom's life.
Mom's love for the Forest Service and horses brought Slim Deardorff into her life. Slim shod horses for the Forest Service for many summers. They lived in Bonners Ferry where they had their first son, our brother, Dallas. They then moved to Polson, Montana where they had our brother Travis, their second son.
They lived and raised their children at their home in Pablo.
In 1970, Mom met Larry Christensen of Hot Springs, Montana. He was working for the Forest Service shoeing horses at the time. They were married in 1971 and moved to Hot Springs. In 1974 they had a daughter, our sister, Larri-Jo.
Shortly after, they moved to Plains for a ranch job with the four kids. In 1977 they had our sister, Casie. They spent the next 19 years together raising their family.
Mom's whole world has always been and will always be her family. Her five children, 19 grandchildren, six great grandchildren, and one great-great grandchild.
Grandma's house was always warm and full of love. We were always welcomed with a smile, open arms, and home cooking. Grandma was always in the crowd cheering us on. She also loved her horses, animals, and anything about ranch life. Conversations with her close friends, family reunions with her parents, brother, sisters, nephews, nieces, uncles, aunts, and cousins who were all so dear to her.
Our Mom was the strongest, most giving, most caring, woman we know.
Mom, you will always remain in our hearts and memories and we will carry you with us every day. We love you Mom. We love you Grandma.
Mom was preceded in death by her parents, Alvin and Janita Flory; Her dearly loved daughter Sarah Dudley; and her favorite brother James Flory.
Mom is survived by sisters, Sue (John) Lozier of Bonners Ferry, Idaho; Laurel Christopher of Osborn, Idaho; son, Dallas (Nita) Deardorff of Plains, Montana; son, Travis (Bridgette) Deardorff of Post Falls, Idaho; daughter Larri-Jo (Joe) Gamboa of Plains, Montana; daughter Casie Christensen of Plains, Montana, grandchildren, Jesse (Misty) Miller of Missoula, Montana; Jim Miller of Plains; Chelsea Deardorff of Plains; Zak (Barb) Deardorff of Florida; Cassie Deardorff of Craig, Colorado; Shelby Deardorff of Great Falls, Montana; Brady Ovitt of Delta Junction, Alaska; Ryan and Tanner Ovitt, Gavin Gamboa, Grace and Gabriel Gamboa of Plains; Kaylan McCrea of Plains; Erin (Dylan) of Lewistown, Montana; Cole and Donna McCrea of Superior, Montana; Jamie, Cayden, and Christian Christensen of Plains.
Great Grandchildren; Chase, Mason, and Callie Miller of Missoua, Montana; Anna Miller of Billings, Montana; Haydon McCrea of Plains; and Bellamy; Great-Great Grandchildren; Ezra Miller.
A memorial service for mom will be held for family and friends at the Plains Bible Chapel, 243 Compbest Creek Road, Plains, Montana, at 1 p.m. Saturday, Feb. 22.
A celebration of life luncheon will follow the memorial service.
---