Scenic chairlift added at Lookout Pass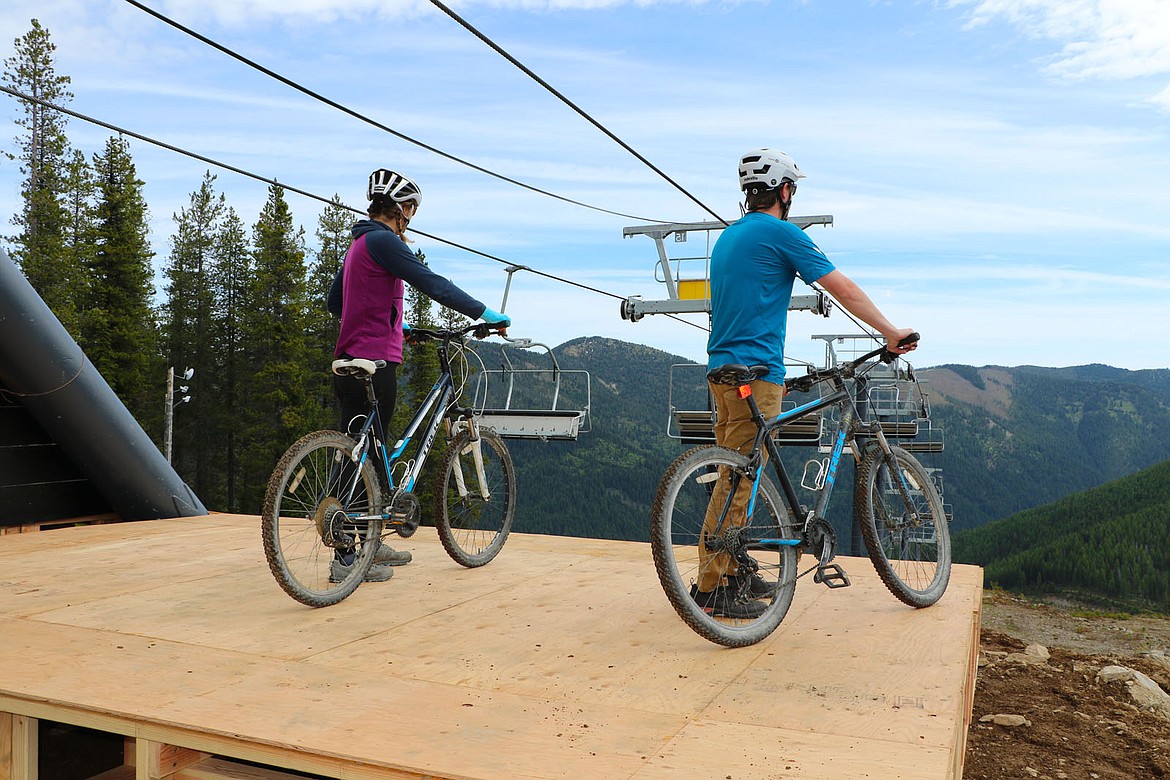 Riders stand with their mountain bikes on the platform at the top of the new Peak 1 Quad chairlift at Lookout Pass Ski and Recreation Area. (Photo courtesy Matt Sawyer, Lookout Pass)
by
AMY QUINLIVAN
Mineral Independent
|
July 2, 2020 6:02 PM
Lookout Pass Ski and Recreation Area along the Montana and Idaho border has recently added new summer activities to its list of attractions.
In early June the ski hill began running its first ever scenic chairlift rides up Eagle Peak for tourists to take in the scenic mountain views and offer more opportunities to explore without snow.
After eight months of construction the Peak 1 Quad chairlift was in operation for the start of the 2019-2020 winter season. This American made chairlift manufactured by SkyTrac out of Utah, is located on the front side of the Mountain. The new Peak 1 Quad seats four people so this lift just about doubles the capacity of the previous double chair that it replaced.
This is the first season for lift served hiking and family-oriented mountain biking from Lookout Pass' summit.
Matt Sawyer, Director of Sales and Marketing said "In the summer we operate the lift a bit slower than in the winter as people are getting off with intentions to either hike, bike or ride the lift back down again. Because of this you enjoy a ride that lasts about 15 minutes. In the winter the ride lasts about eight minutes."
Sawyer recommends hiking back down the mountain if you come prepared with proper footwear and dressed for the weather. Work roads on the mountain are the easiest routes for trekking back to the lodge. These service roads will also be in use for the beginning of their mountain biking prospects at Lookout.
"We are working on some single-track style trails and enhancing some jeep trails. We'll grow our trail system based on the reception we see to the current offering. We are confident that a fair number of people that stop by to enjoy the Route of the Hiawatha will also find some downhill trails of interest," said Sawyer.
As for difficulty they are rating them as a mix of beginner and intermediate focusing on creating family bike friendly trails.
For mountain biking enthusiasts Sawyer stated, "Watch our offering grow over the summer. Provide us with feedback about what you like and about what you would like to see. We value our rider's input as we build out the trail network."
Like many other ski resorts in western Montana and the Idaho panhandle summer recreational activities are a boon for tourism. Whether it be ziplines, mountain biking, or summit-based events, travelers are eager to explore these usually powder covered playgrounds.
As for falling in with other resort offered trends Sawyer noted "I don't know that I would call Lookout a follower. We have the No. 1 scenic Bike trail in the country with the Route of the Hiawatha - so on that front we are a leader and, in many ways, an international attraction.
"We hosted just under 60,000 visits last summer. What we do with the ski area in the summer is designed to find a niche that many other mountains may not be looking to fill."
Lookout is seeking to match what they offer in terms of summer mountain recreation with those who come to ride the Hiawatha, usually family-oriented groups. In addition to their new mountain biking project, they are also building a 9-hole frisbee golf course that starts at the summit.
Scenic lift rides with hiking or mountain biking are open Fridays, Saturdays, and Sundays through the end of September. As always, it's advised to bring bear spray, and one bonus of a lift up the hill is it brings you closer to the huckleberries!
Recent Headlines
---