David Mirisch still going strong at 85
by
MONTE TURNER
Mineral Independent
|
July 30, 2020 5:54 PM
It was just a year ago when David and Sandy Mirisch moved to Superior to join their daughter Summer Drey and three of their eight grandchildren Madeline, Brydon and Brigder.
This was their second time in living in Montana where they had lived here from 2010-2014. They spent the first two years in living on a beautiful ranch property on Nine Mile and the second two years of living in Missoula two blocks from the campus at the University of Montana.
So, in June 2019 they moved from the city of Thousand Oaks, California with a population of 127,000 to their new home town of just 800 people. This obviously was a major switch for a couple whose family produced 72 motion pictures, won 24 Academy Awards including three Oscars for "Best Film of The Year."
They have been a friend of Barron Hilton (Hilton Hotels President) for 28 years, were invited to Denmark by its Queen, had the King of Malaysia play in a golf tournament and invited to Ecuador by the president of the country.
One of his specialties was as a fund raiser. David said he had been involved in over 2,500 fundraising events throughout the United States and in seven foreign countries which included 200 golf tournaments, 150 tennis tournaments and 50 ski events and in the process he helped them raise $35 million.
This led to the recent publication of his autobiography and his being honored by The Museum of Ventura County (California) with a one-month exhibit about his most amazing life.
So, this now brings us to David's present life here in his new home town. Never being one to stop or being busy, even at the age of 85, he has helped out many of our organizations here in town such as the Chamber of Commerce, the Hospital Foundation, the Historical Society, the Mineral County Foundation, Superior High School, the MTX-101 Air Rifle Team plus being on the Fair Board and producing the talent show.
He was also the recent Car Show Co-Chairman with Mike Curtin plus also volunteering his time to compile the weekly Community Calendar for the Independent.
During the rest of his day he is presently donating his time and expertise to help 20 nonprofits around the state of Montana.
He is more than happy to do this with any club, school, organization or church in Mineral County.
What more could now be included in the life of this blessed man?
He proudly tells me that a full-length documentary on his life will soon be entered at film festivals all across America. Before he moved to Superior a film crew followed him for 18 months all over Southern California capturing him at some of his events and interviews with more than 20 of his celebrity friends.
A young man from Brazil by the name of Anselmo Martini met David and thought he would be a good subject of a documentary on his life. So, he partnered with a friend, also from Brazil, by the name of Marcela Mariz and they went about recapturing David's life on film.
Some of the stars appearing in the documentary had this to say about David.
"He always has a smile on his face which separates David apart from other people and that is why stars love to go to his events," said Joe Mantegna, Criminal Minds star.
Jasom Felts, president of Virgin Motion Pictures and Television, said "He carved his own path and his legacy should be as a philanthropist. And, he ages with time."
Pamela Marquardt, the founder of Pancreatic Cancer Action Network, said "David had a leap of faith with me and now PANCAN has chapters all over the world."
Jeffrey Sitcov, founder of Photocharity, said "He was my mentor for our first 10 years when we raised $1 million and took 1,800 homeless youth off the streets of San Diego."
Locally, Jackie Callison, president of the Mineral County Chamber of Commerce, was enthusiastic about Mirisch.
"It was so refreshing to have someone come into town with such a positive attitude! He rolled up his sleeves and jumped right in to make our golf tournament successful. And he's a very nice gentleman."
For those looking for help with their non-profit ventures, contact David at david@dmirisch.com.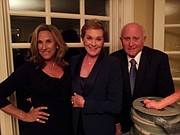 ---