Superior thrift store reopens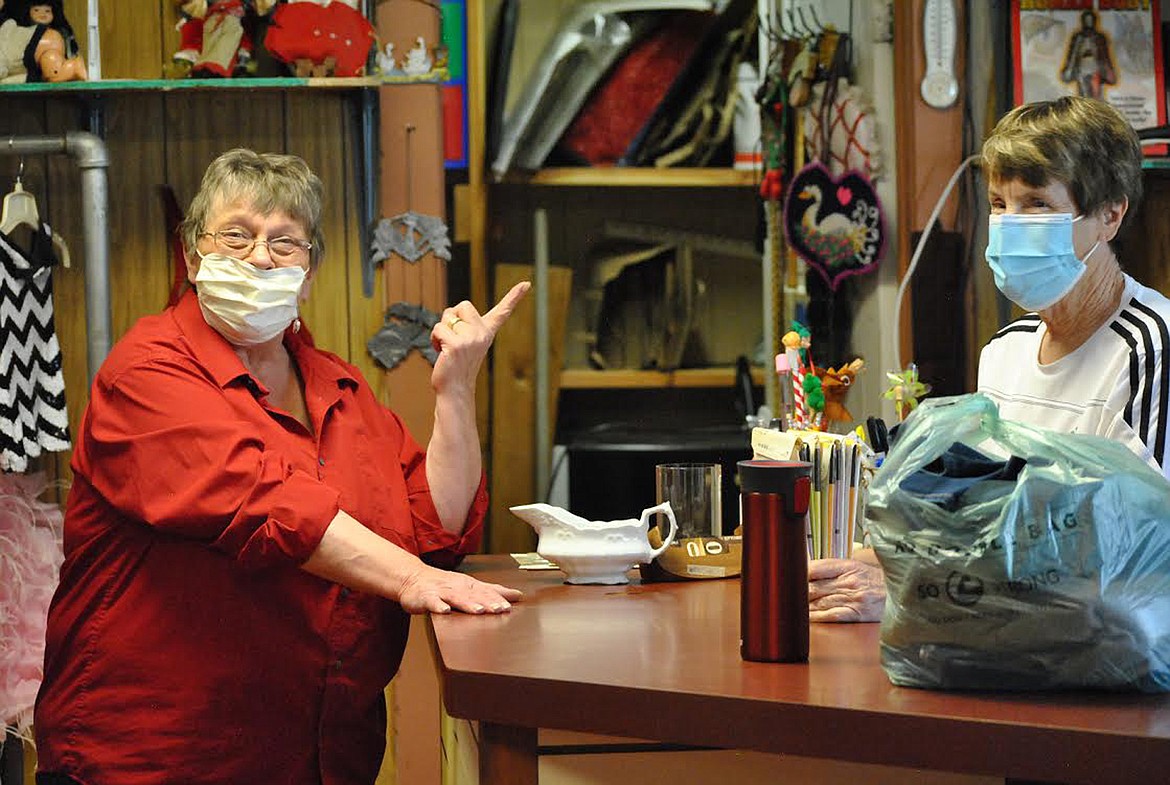 Norma Stepan and Linda Christofferson take a break between customers last Tuesday. They both laughed that it's harder to recognize people with their masks on. Women in Timber is asking that customers wear masks while shopping during store hours on Tuesdays and Fridays from 10 a.m. to 2 p.m. (Amy Quinlivan/Mineral Independent)
by
AMY QUINLIVAN
Mineral Independent
|
July 30, 2020 5:56 PM
The Women in Timber thrift store in Superior opened back up to customers on July 21 after being closed for nearly half a year. One of the original founders of the store, Joann Merseal said, "This has been one of the longest spans of time we've been shut down, and we've been open since 1987."
What started as the store's traditional winter hiatus back in December then rolled into the four months of statewide shutdowns due to the Coronavirus pandemic. Volunteer of 10 years, Linda Christofferson explained, "We normally shut down after Christmas, take a break during the cold weather and get things going once the snow is gone. But this March right as we were about to reopen the virus hit."
As Montana began its phased reopening process in May and June the staff and volunteers at Women in Timber were cautious moving forward. Christofferson said, "Joann contacted the Governor's office back in June and there were so many steps and precautions we would have had to take, just to have two people in the store at a time." During the early days of reopening it would have required costly installation of plexi-glass dividers at the check-out counter, placing social distancing stickers on the floor and posters around the store. Sanitizing and disinfecting surfaces would have left the small team of helpers weary for only allowing a fraction of customers through the door.
"So that's why we decided to just wait it out some more," Merseal stated. "But then that's when everyone in town started talking, and saying that we were never going to reopen, that wasn't true. We are back to business."
Store hours have resumed on Tuesdays and Fridays from 10 a.m. to 2 p.m. The store is requiring the use of face masks, and they do have some available to purchase.
"The hardest part will be trying to remind everyone to stay six feet apart," said Merseal. Another hardship the store has faced is the excessive dumping that has taken place during the quarantine months. "People are still dumping garbage, by the tons, and they don't pay any attention to calling us so we can be there. So much gets ruined when it's left out in the weather." Merseal encouraged those hoping to drop off donations to please call first and set up a time to bring items to the store. Her phone number is 406-822-3180.
Along those same lines Merseal added, "We'll take anything usable, no stained or ripped clothing. We've had to throw out dirty diapers, dead mice, things covered in cat pee. If you wouldn't wear it or give to your best friend, don't bring it to us please."
It's hard work for the volunteers, to sort through items, clean, fold, and display things throughout the store. The workers are all unpaid. And with Women in Timber being a nonprofit group, the shutdown has affected them financially to some degree as well. Merseal said, "It's not been too bad, we had money saved up the best we could. But come Christmas time it will be harder to get baskets for all the families."
Norma Stepan has been assisting at the store for two years now, and preparing for the annual giveaways is something she looks forward to. "In the winter we gather things for the parent's table so kids can get gifts for them. This past Easter we weren't able to do the baskets for children, that was hard."
But as the ladies look forward to getting back into their normal schedules this summer they do so with some anxiety. Stepan said, "I think it's a good thing that we are open again, we'll just have to wait and see what happens in the coming weeks."
On their reopening day, Women in Timber welcomed back a steady stream of customers, and throughout the store patrons could see some major organizing and rearranging had taken place. Christofferson claimed, "We were really busy during all those months being shut down. We cleaned and got rid of things; we came to store on a weekly basis even though it was closed."
Christofferson shared, "I'm a little hesitant reopening, and who knows how long it will be for. But I missed being here with everyone. We just have to be smart about all of this."
For Merseal the past nine months were especially challenging, the last time she stepped foot in the store was on Nov. 6. Since than she lost her daughter Linda, and then her husband Ed passed away in March. So, for her being back in the store has been good for her spirits. She said "It was hard on the other ladies being closed that long because of the virus. We all get along so good, I really commend my girls for getting everything organized during the springtime while I was away."
The Women in Timber does accept monetary donations at 117 Moats Lane, Superior, MT 59872. There are accepting donations, to arrange a drop off time contact Joann Merseal.
---