Hiawatha Bike Trail provides a family challenge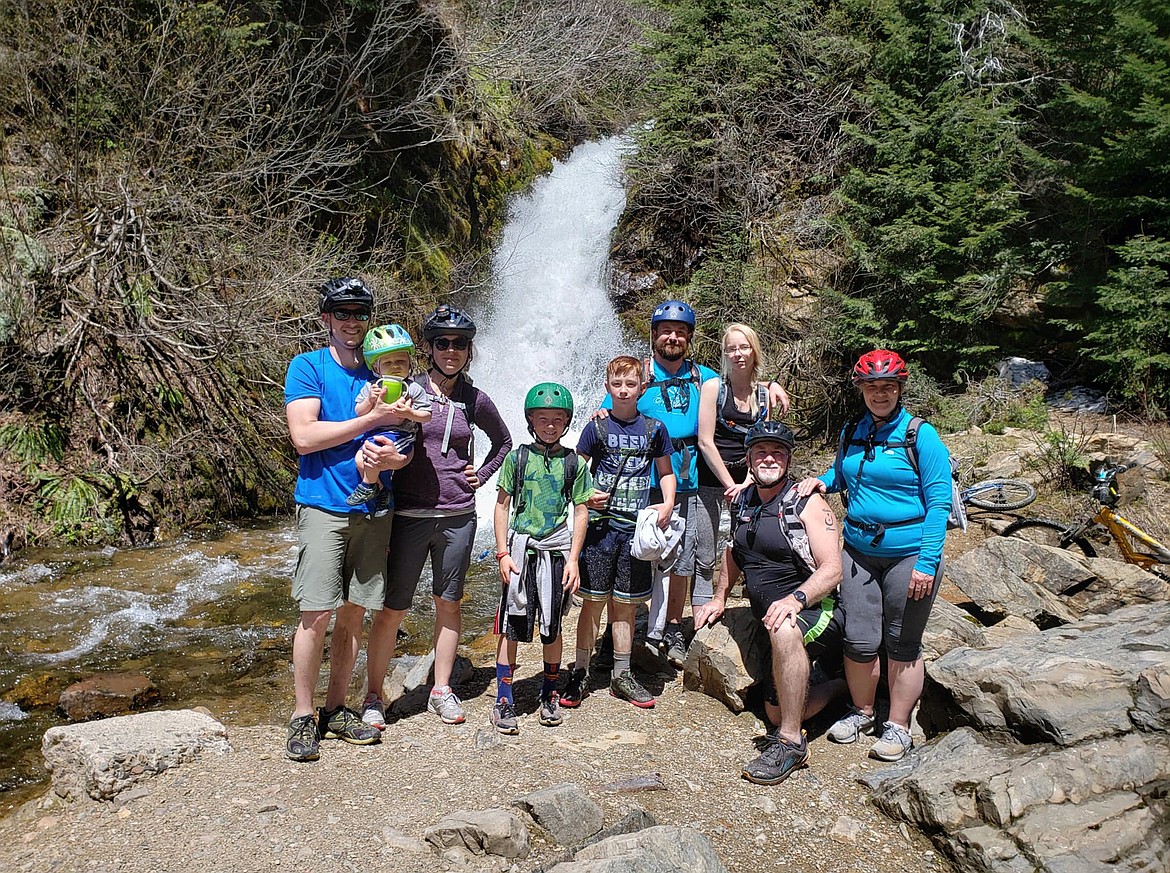 A bike adventure for all. From left, are Christopher Quinlivan, Onyx Quinlivan, Amy Quinlivan, Tucker Desoto, Isaac Desoto, Zach Desoto, Nile Desoto, Morris Hill and Barbara Hill.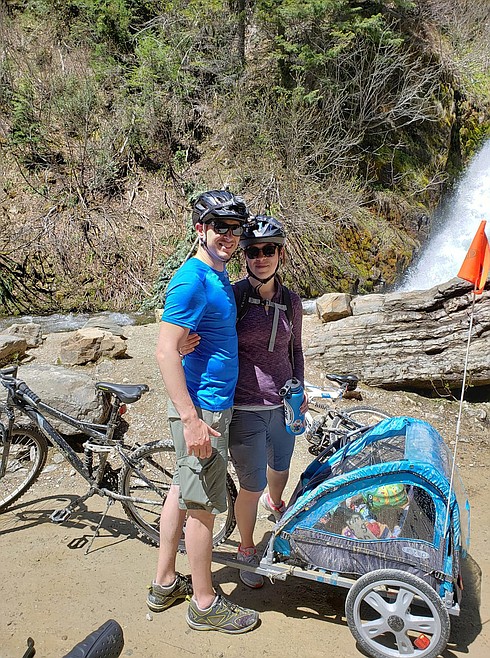 A bike trailer is great investment for biking with littles one in tow, Christopher, Amy, and Onyx Quinlivan. (Photos courtesy Zach Desoto)
Previous
Next
by
AMY QUINLIVAN
Mineral Independent
|
June 10, 2020 3:41 PM
Midway into the one mile-and-one-half long, cold, pitch-black, and muddy Taft Tunnel it started: My 10-month-old son was not happy.
Between the booming echoes of our friends' voices riding with us, and the inky darkness, as he sat in his bike trailer the crying only subsided once we reached the light at the end…so to speak.
I tried to push away the thought inside my head. "Was this really a good idea?"
The Hiawatha Trail opened for the 2020 season on May 22, welcoming bicyclists and outdoor enthusiasts eager to shake off months of compounding cabin fever and stay-at-home orders. Fifteen miles of pristine wilderness, 10 train tunnels, and seven sky high trestles to traverse.
My husband, Christopher, and I had completed this feat twice before. Those times it was just the two of us. We were a bit younger. Pre-baby and before the recent booming popularity of the Hiawatha, the "crown-jewel of rail to trail adventures."
On our May 29 outing, we set out with a varied age group. Good friends, Zach and Nile Desoto and their two boys Isaac, 11 years old, and Tucker, 8. Our pastor Morris Hill, and his wife Barbara were the oldest in our bike gang. Quite possibly the youngest on the trail that day, our fearless little guy, Onyx. The crowds weren't bad, when on a busy day the Hiawatha can see around 800 bikers.
One blessing of the route, is that it is all a gradual downhill slope. This helped to some degree for my gallant husband that had to haul our son and his chariot full of unnecessary toys, diapers, toddler puffs, and other baby paraphernalia down the trail. As we jostled along the old rail road bed we came across another young family, with a slight sigh of relief I felt maybe we weren't so crazy for doing this.
Feeling like we were in a chariot race, I pulled alongside the Dad with his own bike buggy in tow. Under a shade canopy I could spotted two little sets of feet. Ambitious I thought. I hollered over to him, "How old are your little ones?"
The dad grinned and laughed, "Three and one!" Mom was following behind and gave us a sympathetic smile. In an intrepid parental greeting, I felt as though I should give them The Hunger Games three finger salute. "Good luck today!" I said as I pedaled onward.
After a quick bottle break and snack for the rest of the comrades, we loaded our buckaroo back into his bike trailer and carried on down the trail. With each passing tunnel he seemed to adjust more, less crying and more inquisitiveness. The child chariot thankfully had a clear plastic covering, or else Onyx would be completely caked in brown splatter from the mud in the dark passageways. Even on an unusually hot spring day, the tunnels consistently stay cool, and have mountain snow runoff seeping in and showering riders. The thermometer in the Taft Tunnel read a brisk 40 degrees.
Reaching what used to be the train stop town of Adair, Idaho, you're roughly halfway to the finish line of Pearson. With a bit of a late start to our journey our group had to sustain a bit of clipped pace. Stopping only briefly to take in majestic mountain views of what was once part of the historic 1910 burn area.
Quick photo-ops on trestles that look down on the treetops. There is much to learn on the historical markers along the route, but today's mission was to simply survive and make it to our rendezvous point. We anxiously set out knowing that the final shuttle of the day departed at 4:15 p.m. PST. This left us with less than five hours to complete the 15-mile trek and reach the Pearson trailhead.
At a leisurely pace it is noted that the trail can be done in 2.5-3 hours. Throw in a baby to that mix, and you have multiple stops to adjust straps, change diapers, switch out toys desperately trying to entertain, all while attempting to enjoy the experience.
With hope fading of our tuckered-out boy taking his afternoon nap in his bouncy, warm, and bumpy trailer, we carried on. When we made it to Pearson, my husband and I felt victorious nonetheless. Sore bottoms speckled with mud, an over-tired baby, and full hearts. A big family adventure in the books.
All in all the day was gorgeous, and from what we learned from our shuttle bus driver, our day could have been much worse. The family we came across with the child buggy of their own suffered a flat tire on the trail. Another group of cyclists while enjoying their sack lunches had a visitor. A black bear unmoved by their attempts to dissuade it, made off with a backpack, in it was the bicycler's phone.
Whatever your age, the Hiawatha Trail is an incredible outing for the very young to the those who consider themselves super seniors.
Be brave, conquer your fear of the dark or your fear of heights.
Wrangle up your friends and family and hit the trail sometime this summer. You won't regret it.
Best advice, start early and bring food and water. Make sure to pack extra batteries, a patch kit for flats, and lots of wipes for blowouts of the other kind.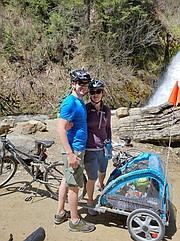 Recent Headlines
---