Superior School pantry keeps its students fed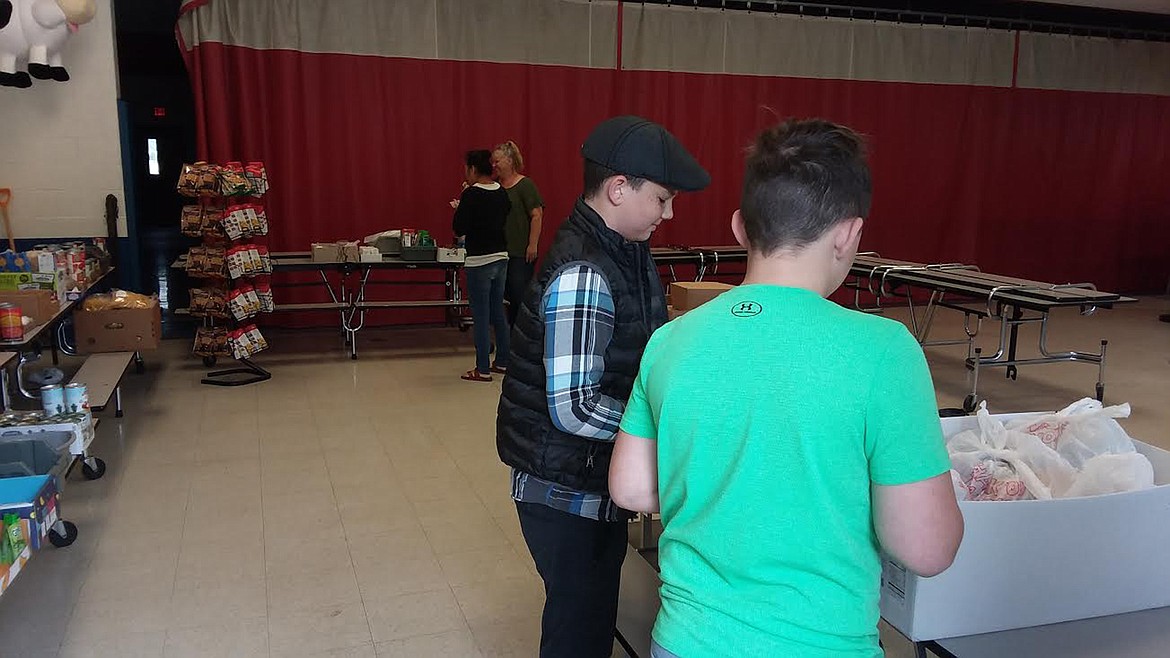 Superior School students make their choices at the food pantry, which provides food during the year. (Monte Turner/Mineral Independent)
by
Monte Turner
Mineral Independent
|
June 23, 2020 4:31 PM
Many people in Mineral County rely on food assistance and many are families with school-age children. When school is in session in Superior, breakfasts and lunches are provided along with their Backpack Program for weekend nourishment.
Slow cookers have been given to students to take home so they can prepare nutritious meals for the entire family.
But school has been out since March 16 due to COVID-19, yet, the school continues to feed kids.
"A total of 11,624 fresh made meals have been served and distributed from Superior School District 3 with 3,172 of those meals being delivered to children, which is 61 meals daily," said Dawn Bauer, Superior Elementary Administrative Assistant.
Bauer and Scott Kinney, Superior School Superintendent, started working and developing the school pantry more than eight years ago and 'opened for business' seven years ago.
The amount of food which has been distributed is staggering. It includes fresh produce, such as 750 pounds of apples, 400 pounds of fresh produce boxes, 2,100 pounds of potatoes,
60 pounds of pears, 50 pounds of onions, 90 pounds of bacon/burger, all from school pantry sources.
However, a total of 10,000 pounds of school pantry items have been given to families to date. The kitchen staff also made and created 'take and bake' pizzas, dishes like chicken
alfredo and casseroles, for families to take home and have for weekends, to the tune of well over 200 meals, all while making breakfasts and lunches for up to 130 kids a day.
"We have part of the pantry set up in the lunchroom so when the kids and parents come in to get their summer meals they can shop, just as we have done since March," Bauer said.
She said they are open from 11 a.m. to 12:30 p.m. Monday through Thursdays, and will run all summer until Aug. 14, with that date being flexible depending on what is happening with closures and health concerns. The summer feeding program is being operated much like the 'lunch in the park' that kids and families have come to know over the years.
"Because of the COVID concerns, our parameters were set up differently by the Human Resource Committee in Missoula this year, so we are operating it through the lunchroom at the school as a 'grab and go', just as we have since March 16," Bauer said.
These meals, which include breakfast and lunch, are available for not just students enrolled in the Superior School District, but for any child, aged 1-18, that would like a meal.
"Kiddos here visiting, hanging out with grandma and grandpa, spending time with the cousins...makes no difference. Food is expensive, and we all know kids are always hungry", said Bauer. "As the summer progresses, additional food boxes (dairy, produce, etc.) will be made available, so stop in to see what's being offered."
Pantry items are also available as well, for parents and children alike to come get what they need, to include a variety of hygiene products, as they have given away hundreds of items already.
"It's been an exhausting few months to be sure, but we've pulled together, like Superior always seems to do. We've all missed the kids like crazy, so to get to see them come in and grab lunch, get a high five, visit about their world...that's been almost as important as the food aspect to all of us," Bauer said.
---