Pioneer Council adds two vans to transport fleet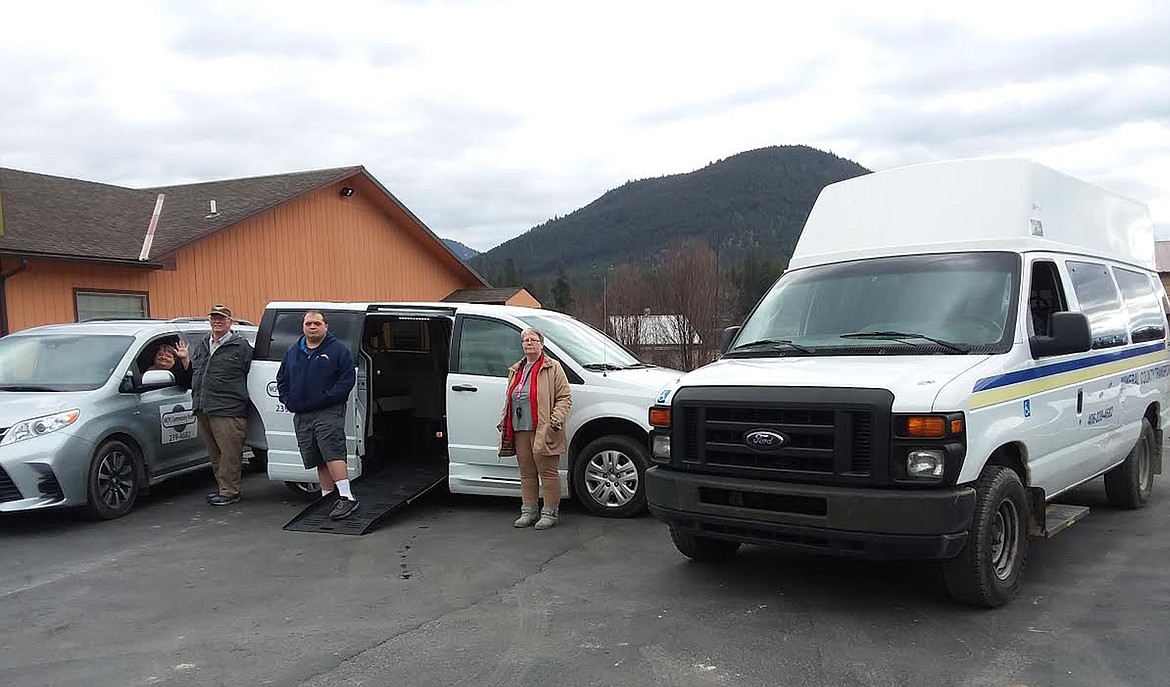 From left, are Mineral County Pioneer Council drivers Lori Phelps (seated), Roy Martin, Zack Hederich and Susan Freeman. (Monte Turner/Mineral Independent)
by
MONTE TURNER
Mineral Independent
|
March 5, 2020 4:43 PM
The Mineral County Pioneer Council has been helping its residents get to and from medical appointments and it recently added two new vehicles to its fleet.
The Pioneer Council has provided public transportation for the last 15-plus years with their nine-passenger wheelchair-lift bus.
It's been the workhorse and will continue to hold that position, but two new minivans have been added to the fleet.
A 2020 six-passenger Toyota Sienna and a 2019 Dodge Braun with a wheelchair ramp and seating for three. These were purchased for the desperately needed medical runs in the county. The concept is to provide passengers round trip service from Superior to the clinic in St. Regis and/or from St. Regis to Mineral Community Hospital and Clinic.
The fare will be $10 which is the minimum charge so even a ride across town and back will be $10.
New routes and options will be developed after everyone has had a chance to test run this new program.
The fares that have been charged for transportation in the nine-passenger Ford Econoline with a wheelchair lift do not pay for all expenses.
"Even if we were to increase all fares by $5, we still aren't in the black," said Lyn Hellegaard, vice president of the Pioneer Council.
As all non-profit organizations, receiving outside money keeps the organization afloat. However, for the Pioneer Council it is complicated beyond measure as the Montana Department of Transportation reimburses every quarter, but the amount varies because it's federal money.
They also have 5311 money but neither of these sources can be used for match money. Title VI uses some of their 3-B money to assist which is state money that can be used for the matching funds that need to be raised each year.
Preventive maintenance costs are reimbursed on an 80/20 ratio while another source covers 54% with the council responsible for the other 46%.
The minivans were purchased from the incredible generosity of so many businesses and private individuals on a matching grant. This was federal money that covered 86.58% of the cost after the Pioneer Council raised 13.42% of the purchase price.
After all was said and done, the balance at the Feb. 27 meeting was just over $2,800 and there are no more matching funds or reimbursement allotments coming until April.
Lori Phelps is a driver and the dispatcher for reservations and questions. She can be reached between 8 a.m.
and 5 p.m. to secure a seat at 406-239-4682.
More information is on Facebook at www.facebook.com/mcpioneercouncil.
Also, a 10-question survey will help get the ball rolling at https://www.surveymonkey.com/r/BKNBHJL
Recent Headlines
---