Sanders County 4-H kicks off Communication Days event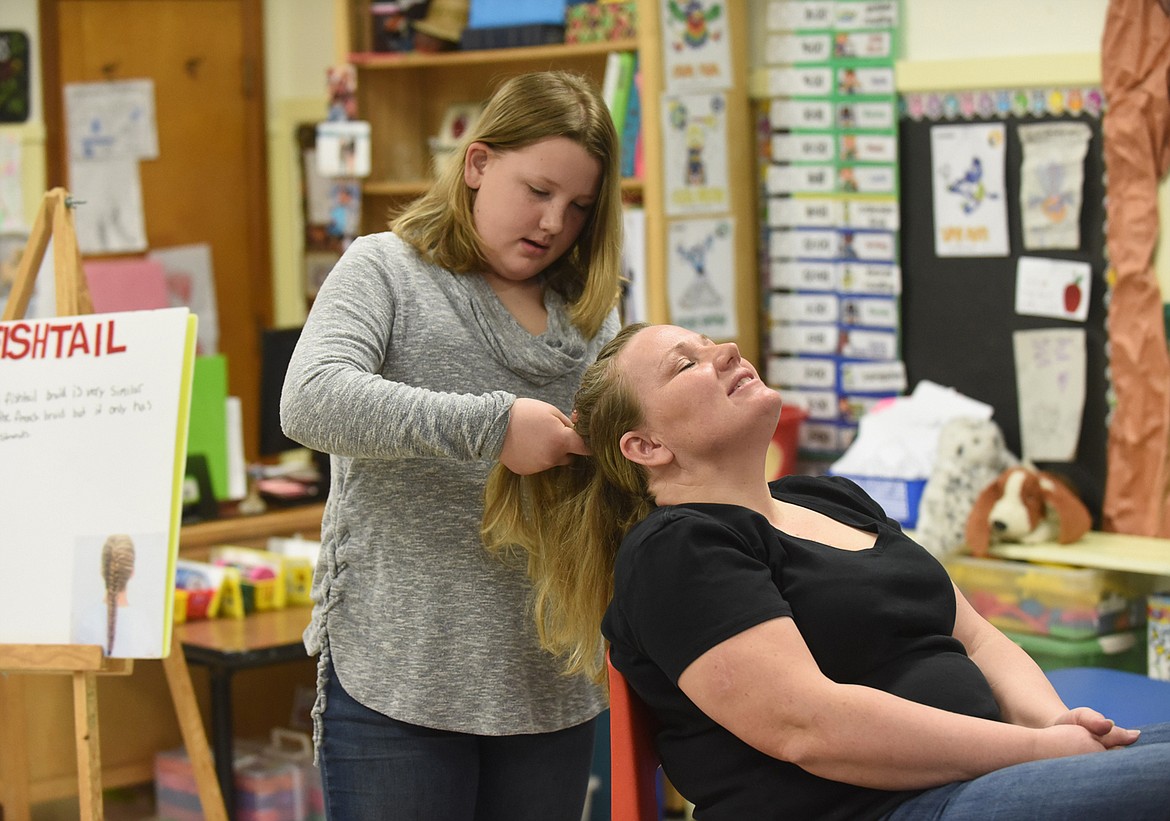 Madison Chojnacky, of Thompson Falls, braids her mother Shannon's hair during her presentation last Saturday at the Sanders County 4-H Communication Day at Thompson Falls Elementary School. It was the beginning of the event that will end this weekend. (Scott Shindledecker/Valley Press)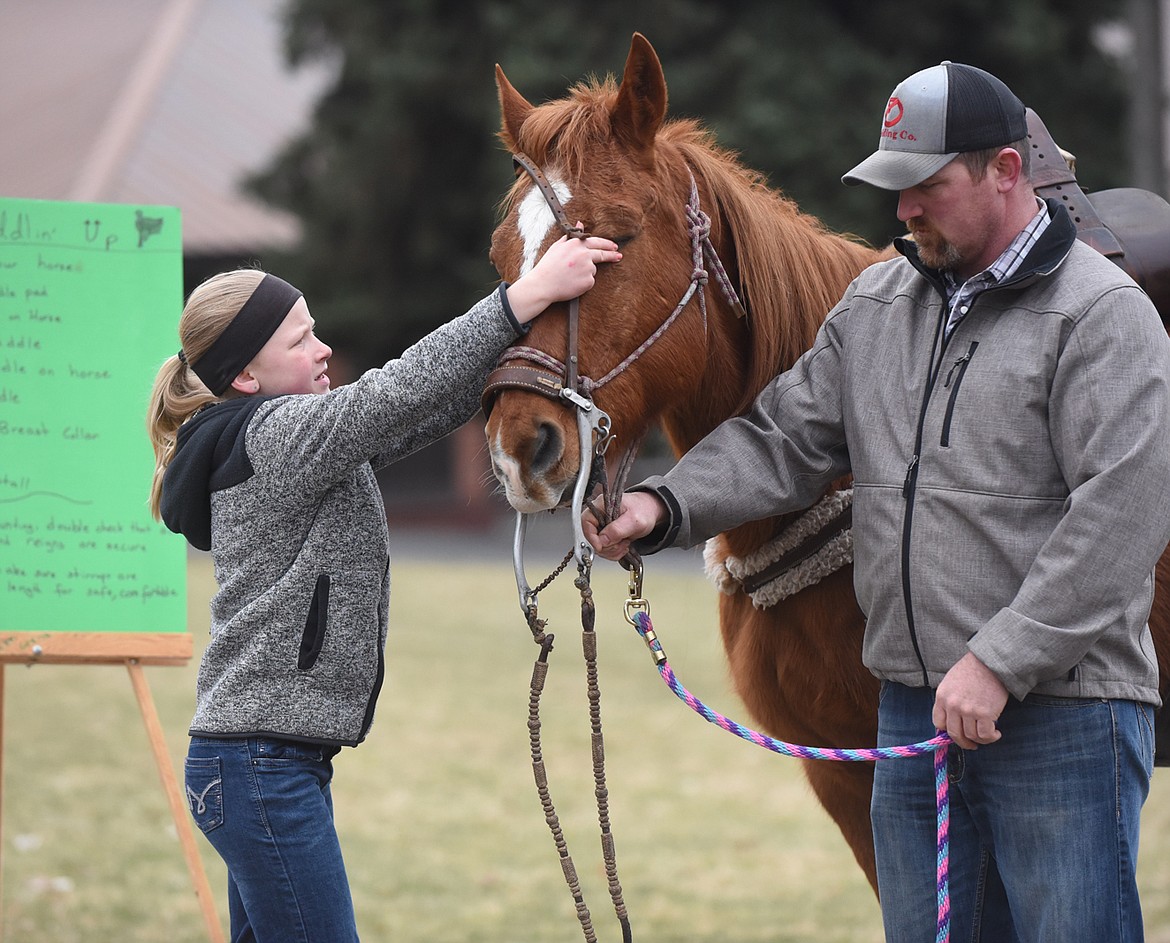 Addyson Deal, 11, of Thompson Falls, with a hand from her dad, Jay, shows how to place a headstall on her horse during last Saturday's Sanders County 4-H Communication Day event at Thompson Falls Elementary School. (Scott Shindledecker/Valley Press)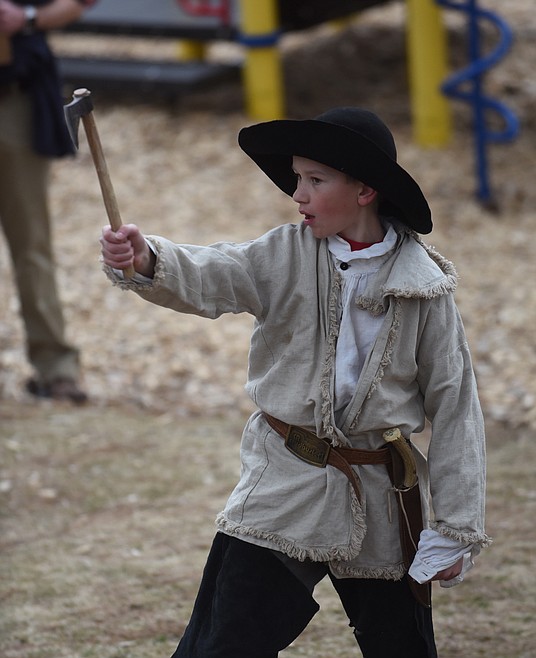 Andrew Wrobleski, 12, of Plains, throws the tomahawk during his presentation last Saturday at the Sanders County 4-H Communication Days event at Thompson Falls Elementary School. (Scott Shindledecker/Valley Press)
Previous
Next
by
Scott Shindledecker
Daily Inter Lake
|
March 12, 2020 9:33 AM
There was a hair braider, a tomahawk thrower and an equestrian, all showing their talents in their respective areas of expertise at last weekend's Sanders County 4-H Communication Days events.
The trio were among the nearly 100 youth that competed as they hoped to advance to this weekend's finals.
The annual competition is one of the county's favorite 4-H events.
The competitors gave impromptu speeches, presented demonstrations on how to be a catcher on a baseball team to outdoor cooking and taking care of baby goats, among others.
Qualifiers, listed below, from last weekend advance to the finals, which will be held at Plains School at 1 p.m. Sunday.
Juniors
South Side Sparks: Marina Tulloch, Brooklyn Crain, Melodie Cook, Mikiah Cook, Claire Wrobleski, Andrew Wrobleski.
Whitepine Happy Workers: Hattie Neesvig, Marley Neesvig, Theodor Nygaard.
Heron-Noxon Explorers: Shane Murray
Little Bitterroot: Jody Page
Seniors
South Side Sparks: Aubrey Tulloch, Cody Hansen, Martin Wrobleski, Chloe French.
Thompson Falls Mountaineers: Mackenzie Robinson
Trout Creek Mavericks: Vanessa Horner
Whitepine Happy Workers: Bethany Burk
Little Bitterroot: Coyle Nagy, Boston Goode.
Hot Springs Wranglers: Sage Jackson
Twenty-six judges volunteered their time to grade the competitors in the junior (9-13 years of age) and senior (14-19 years of age) classes.
Judges
Thompson Falls: Rusty Kinkade, Lacey Scharfe, Shelly Backus, Paula Nelson, Gloria Bennett, Debbie Rolleri, Marsha Hart, Michael Scharfe, Carla Parks, Colette Morgan, Karen Dwyer, Karla Arndt, Marty Scherzer, Breton Homewood.
Hot Springs: Marilynn Carr, Kathy Conlin, Ellen Childress, Glen Magera, Rae Herman, Don Feist, Roni Mitch, Mary Lou Hermes, Justin Wright, Meg Feist, Dale Neiman, Denise Montgomery.
4-H is open to all youth ages 6-19 years of age regardless of where they live. Six- to 8-year-olds can also join as Cloverbuds to explore the variety of programs available in 4-H while having fun in a non-competitive environment.
Nine- to 19-year-olds can enroll in specific projects like woodworking, sewing, dog, robotics, or other projects and exhibit what they've created at the county and state level.
For more information go to http://sanders.msuextension.org/4h.html.s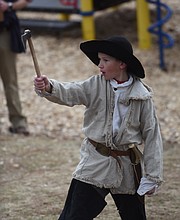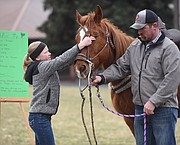 ---