Local teacher scores big with Business Professionals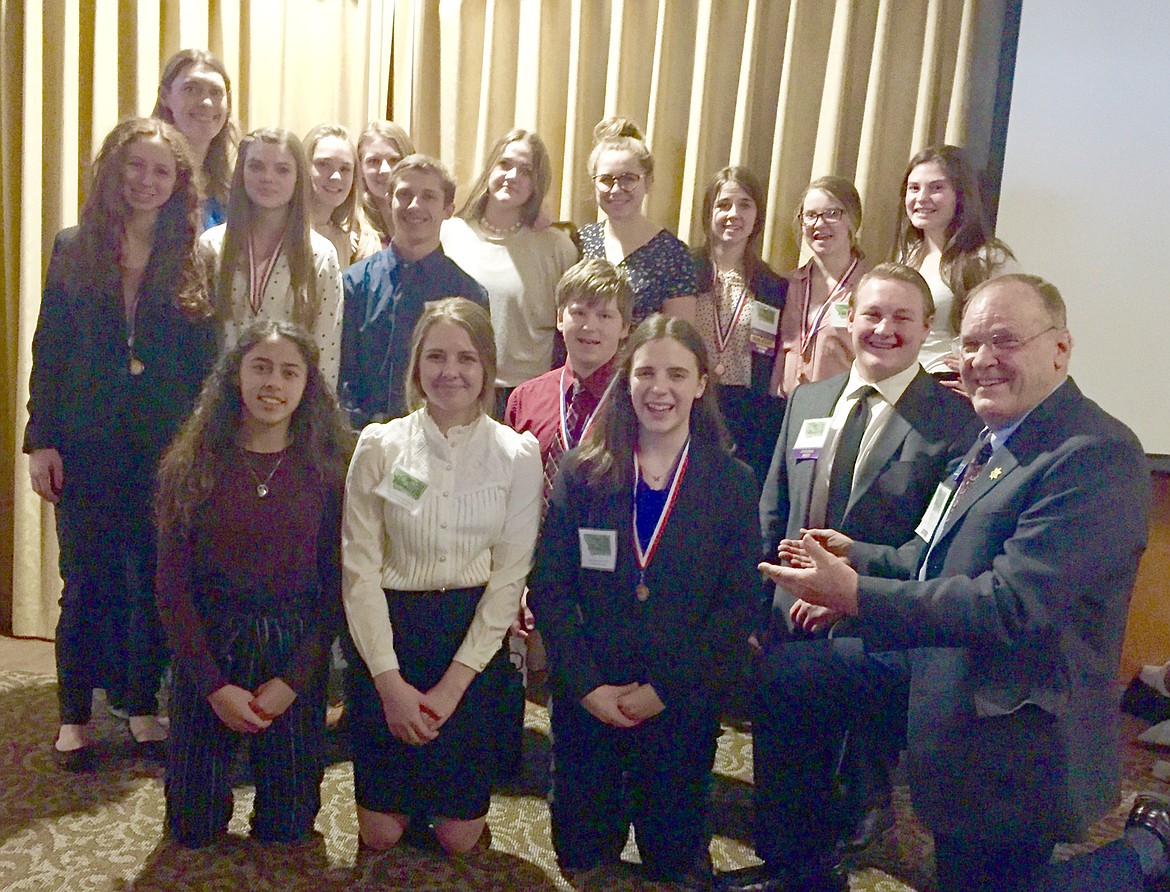 Members of the Superior School Business Professionals Association, including advisors Jamie Toivonen and Gordon Hendrick, posed for a photo in Billings at the State Convention March 7-8. (Photo courtesy Superior School)
by
Monte Turner
Mineral Independent
|
March 19, 2020 10:03 AM
With 45,000 members in over 1,800 chapters across 25 states and Puerto Rico, Business
Professionals of America has the ability to enhance student participation in professional, civic and social endeavors along with service to others.
Officially formed in 1966 as the Office Education Association, it came to Superior High School in the early 1990s under the guidance of Diane Woodard.
Since then hundreds of students have built their confidence in public speaking, networking and have had the opportunity to build a solid work ethic.
How the program works is that the student will create and build a product in any one of the following areas: Fashion, Management Information Systems, Digital Communication and Design Management, Marketing and Communication, Media/Video, etc.
Students must do the work on their own with no help besides suggestions and advice. This instills a sense of pride from individual accomplishment which is needed because their next task is to sell and defend this product before judges.
For the regional qualifiers, they go to state competition and compete against the best. It's a large convention with motivational speakers and webinars but also ample time forvstudents to meet their peers.
It's also where Jamie Toivonen heard about her award because she knew nothing about it even though her husband, co-advisor, principal and most of her students were brought in on the secret two weeks earlier.
Now, to receive the Business Professionals of America Advisor of the Year for the State of Montana, a student must do the nomination.
Then, letters of recommendation from staff, students and administration can accompany the form.
Boy, did she have a bunch of letters!
"Her students just LOVE her," said BPA co-advisor Gordon Hendrick, who has worked side by side Mrs. 'T' for the last 12 years.
"She's firm, but fair," Hendrick said. "She has feelings for each of her students as she pushes them to do better but gives them the tools and knowledge to succeed. Truly, a very caring teacher and it's been a privilege to work with someone as patient as she is."
Superior High School Principal Chris Clairmont echoes those comments and adds, "She is awesome! Just awesome with the kids as she has high expectations of each and every one of them.
"And she has to be one of the busiest teachers especially this time of year with the BPA state convention, teaching AP classes and coaching our track team,"
Toivonen wasn't expecting the honor.
"Very surprised!" she said when asked her feelings. "And when I look at the other advisors that I've been working with in BPA since 2008 and really, I don't feel that I am as qualified as many of them."
Toivonen started as a science teacher at Superior High 19 years ago and today is the Region 2 BPA Coordinator.
The area stretches from St. Regis through the Bitterroot, Missoula and out to Philipsburg and Lincoln.
Organizing competitions and finding judges is only part of the duties but what she enjoys most is being right here in Superior helping her students.
"The biggest change is the technology from when I started. There was very little computer programming compared to what is being done today. And we are doing our best to keep up with what we can afford and is going to be best for the students to learn from at this point."
Asked about what the award means to her personally, she very humbly said, "It is an honor. It really is and knowing that a student had to make the initial nomination shows me that they care. And because I care, it's an award for all of us."
Student Summer Bonsell qualified for the national competition in Washington, D.C., but it was cancelled due to the coronavirus. It was the second straight year she qualified for nationals.
Bonsell took third place in Administrative Support Research project. She wrote a paper on the topic of What Political Concept is affecting the Administrative Support of today and give suggestions on how workplaces can help these people with these issues.
Bonsell focused on the idea of environmental friendly companies and how global change is affecting the workplace. She then presented the topic to the judges in a 4-6 minute presentation.
---