Mixed results for area businesses in COVID-19 pandemic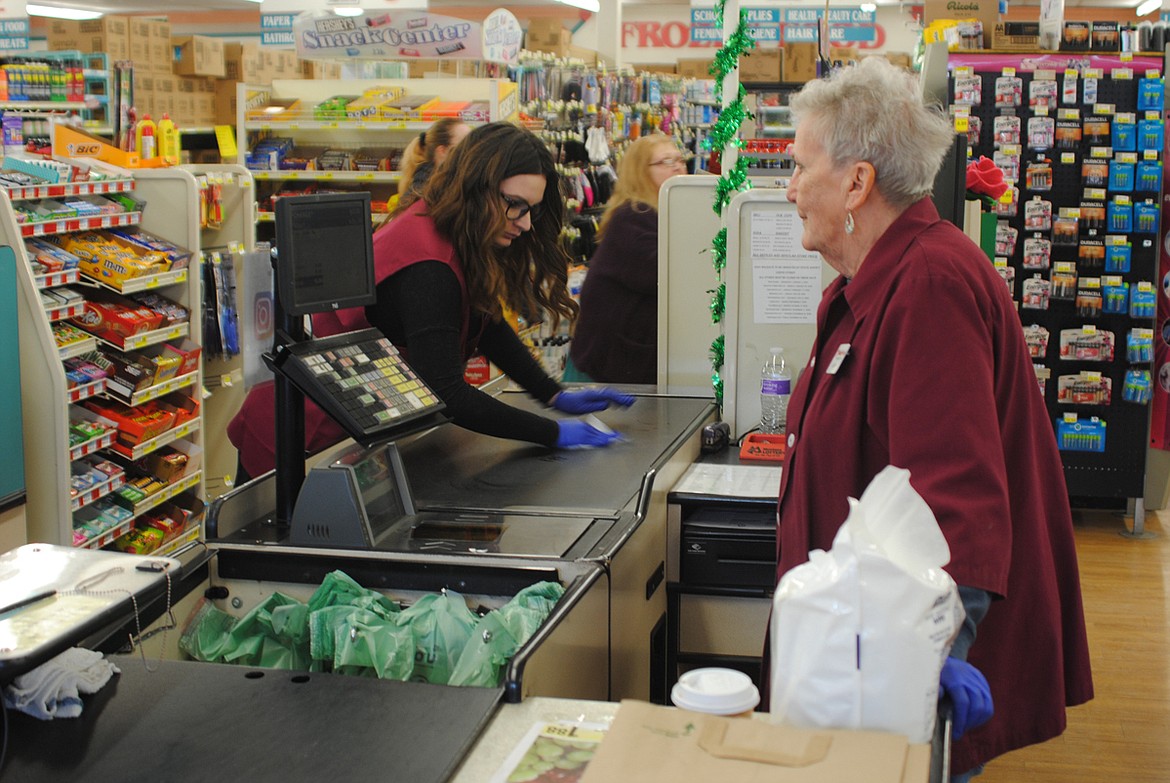 Employees at Darlow's Quality Foods work extra hard to disinfect and sanitize for customer health and safety. (Amy Quinlivan/Mineral Independent)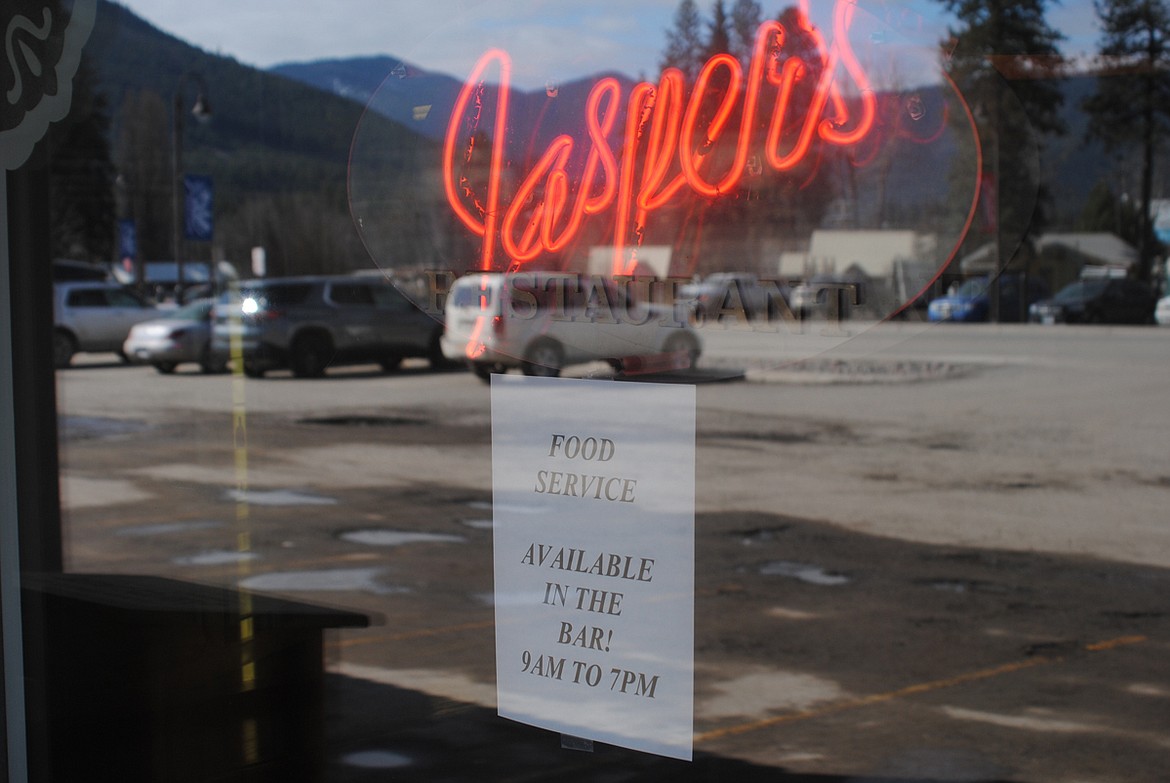 The dining room at Jasper's Restaurant in St. Regis remains closed under recent orders from Governor Bullock. (Amy Quinlivan/Mineral Independent)
Previous
Next
by
Amy Quinlivan
Mineral Independent
|
March 26, 2020 8:40 AM
As public health and safety precautions are put in place across the country and state-wide to slow the spread of the COVID-19, or coronavirus, local businesses are experiencing economic hardships while complying to stringent but temporary regulations and guidelines.
At Whipped Up Cafe in Superior, owner Michele VanTassel expressed, "Everyone is having to change the way we live right now so we are all in the same boat. One day at a time, we are doing what we can to make sure our customers get what they want while following local and federal guidelines to keep our family and customers as safe as we can."
But this doesn't go without compromises, VanTassel said, "All of our catering and parties have been cancelled or postponed and business is really slow. Which I'm sure is the case for most businesses. We are just taking each day as it comes."
On the other end of the spectrum, Chris Darlow owner of Darlow's Quality Foods in Superior has seen an extreme uptick in customers seeking out supplies of basic necessities and stocking up on household goods.
"We have been extremely busy here in the store. Business has been absolutely crazy. I am putting in 16-18 hour days right now trying to keep up with everything," Darlow said.
"We are receiving two shipments a week from our warehouse at this point and they are the biggest loads this store has ever seen," Darlow noted.
The grocery store has been proactively procuring high demand products from warehouse suppliers and local vendors. They order bottled water, and as much paper tissue as possible. Employees were working overtime to keep shelves full of products with minimal out of stocks.
"Our amazing staff has been putting in extremely long hours and completing some very labor intensive freight moving days. We can't thank them enough for all of their hard work!" Darlow said.
To help protect the community while they shop Darlow advised his staff to be proactive with their self-health awareness and assessments, asking them to stay home in the event they start to feel ill.
The staff at Darlows has increased the sanitation and cleaning of its departments. Disinfectant wipes are provided at the front of the store for cleaning shopping carts. All cashiers wear gloves and sanitize credit card machines following each customer. Employees are sanitizing all customer contact points as frequently as possible.
"We ask you, our consumers to have understanding as our normal staffing hours and support might be affected and our customer support may be affected. This can include longer wait times at checkouts," Darlow said.
As of 8 p.m. Friday, March 20, all dine-in food service and alcoholic beverage businesses, as well as entertainment establishments such as casinos, clubs, and theaters were ordered to be closed under a direct executive order from Governor Steve Bullock. Businesses will remain shuttered until 11:59 p.m. Friday, March 27. That is the same date that school closures are set to expire.
Restaurants throughout Mineral County have been forced to reduce hours and allow take out only dining options. Last week it was optional for establishments to close entirely or modify services, but under the new state directives businesses will have to compromise for another week with hopes of reopening soon.
"We are reevaluating every day based on conditions, but I assume this is as good as it's going to get in the near term," said Kenny Jasper, owner of Jasper's Restaurant in St. Regis.
"We have asked our oldest employees and those with underlying medical conditions if they would like a voluntary layoff. As of now, this has allowed us not to force anyone who didn't wish a layoff to keep their jobs."
The dining room of Jasper's is completely shut down, and on reduced hours for food services which are limited to take out from the Talking Bird Bar.
Frosty's Drive-In had to close entirely until further notice. Unfortunately, the employees were laid off temporarily, affecting three workers.
The Hideout restaurant in Deborgia has also reduced hours and is offering carryout, curbside, and delivery orders to those in the community. Truck drivers can receive 20 percent off their bill and a staff member will gladly walk out and deliver the meal.
"Truckers, because they are working overtime right now trying to keep products supplied to the stores,"
manager Michelle Hahn said. "And with all the shutdowns right now, they can't come in to sit and enjoy their meal or fit through a drive thru. This whole mess is a nightmare and most definitely going to get worse before it gets better. Hoping all of our little local businesses can make it when this is all over."
Mineral County Library has also shuttered its doors until further notice in an effort to protect its patrons. They are reminding residents to not use the book drop during this time, and there will be no overdues or fines for library materials. The library has a resource shed outside located at the back of the building, it will have DVDs and books for people to use and returns are not required at this time.
Bullock's orders came following the first case of the virus being found in a rural community, after consulting with health officials he deemed it necessary to expand closures statewide. The closures for both schools and businesses will be reassessed Saturday, March 28.
Restaurants in the county are encouraging patrons to still call for carry out orders and take out dining, during this time of being sequestered at home.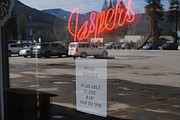 ---