Sheep Mountain Lodge holds tipi raising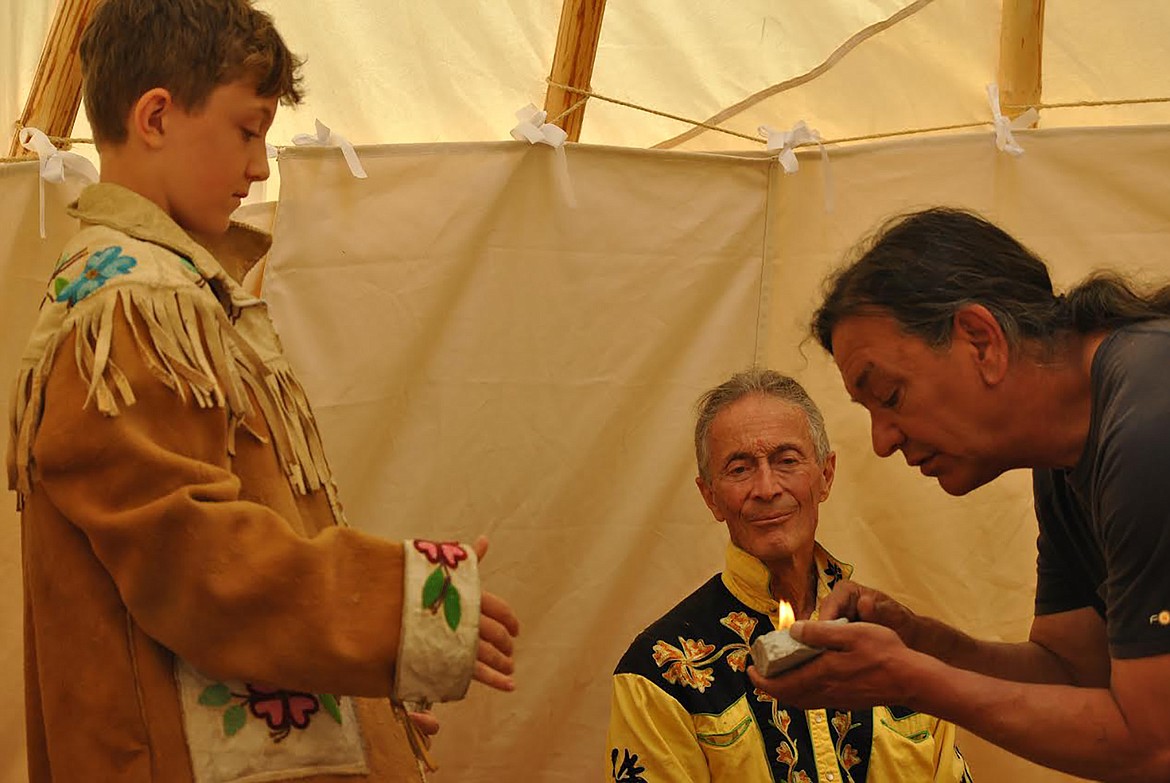 Sheep Mountain Lodge owner Perry Jones looks on as his son, Perry is blessed by Charlie Mitchell during a traditional smudging ceremony held after the tipi raising on his property on May 16. (Amy Quinlivan/Mineral Independent)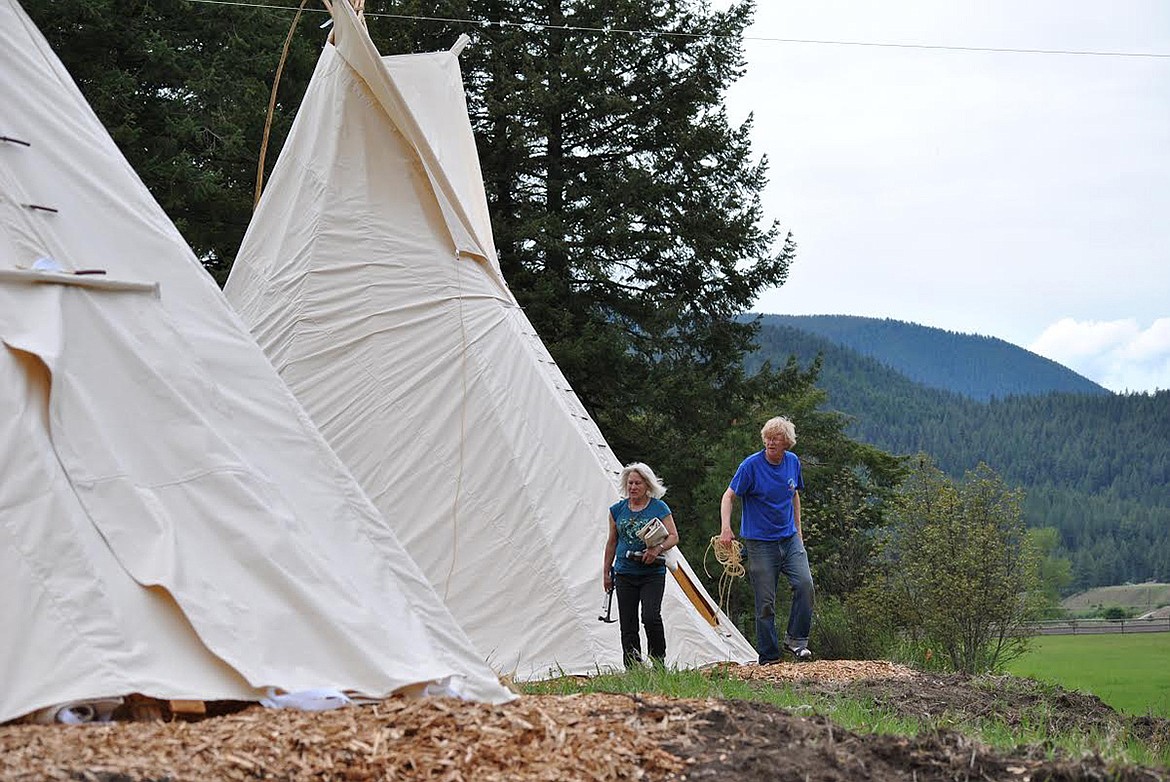 Dick Bratton and Sandy Farrell from Alpine Tipi's wrap up finishing touches on the tipis at Sheep Mountain Lodge in Superior. (Amy Quinlivan/Mineral Independent)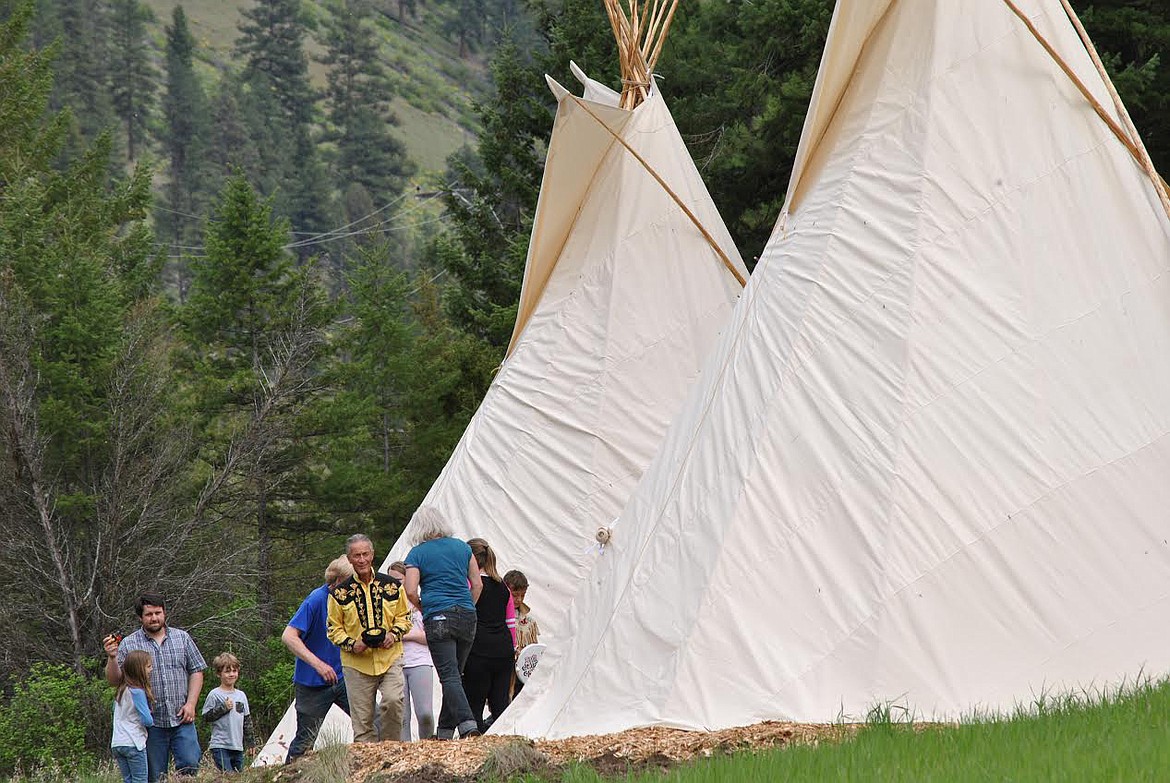 Sheep Mountain Lodge owner Perry Jones, and lodge host Isaiah McGuffey, along with his children, gather with the crew from Alpine Tipi's following the smudging ceremony. (Amy Quinlivan/Mineral Independent)
Previous
Next
by
AMY QUINLIVAN
Mineral Independent
|
May 20, 2020 4:39 PM
Sheep Mountain Lodge sits perched upon the bank of the Clark Fork River just downstream of Superior on what the owner, Perry Jones, calls his favorite stretch of water for fishing.
The lodge has quite the storied past with several local families leaving their mark on the property as host families that have come and gone over the decades.
The guest lodge, which was built in the early 1990s, displays the area's unique mining history and dozens of local big game trophies. Guests who come here are looking for a real Montana experience both indoors and out.
This is one of the reasons why Jones wanted to incorporate two new authentic tipis on the property for guests to one day enjoy as well.
On the afternoon of May 16, a team from Alpine Tipi's in Polson came and assembled the 20-foot native structures and held a smudging ceremony for them.
"Growing up our family attended pow-wows, and we had a deep appreciation of the native culture here in Montana," Jones said. "That's why I felt it was important to have the tipis blessed."
Dick Bratton and Sandy Farrell, owners of Alpine Tipi's, helped craft the tipis and construct them on the property at Sheep Mountain Lodge along with their coworker Charlie Mitchell.
"With three or four of us working we can do the cutting and stitching of the paneling in about a day or two," Farrell said.
After the tipi coverings were stretched across the lodgepole configurations, the linings were tethered, and the smoke vents were opened.
Jones, his son, and the tipi raisers gathered inside to hold a traditional smudging ceremony. While Mitchell from Alpine Tipi's burned a smudge of sage, sweet grass and cedar on a rock slab he explained the process.
"You start by cleansing your head, then your heart, and then your feet," Mitchell said. As the smoke was fanned by bundles of eagle feathers he added, "We ask for the good spirits to dwell in this place and for the bad ones to leave."
While Jones delighted in his latest addition to his land, he also reflected on the property's history.
Ray and Sonya Godin assisted Jones with the property when it was home to a bed-and-breakfast in the mid-1980s.
Rick Lloyd and his wife helped cater to guests and guided fly-fishing excursions later turning a wood working venture into a full-time business. School teachers Mark and Cindy Feasel hosted for many years while raising their two boys, Cody and Dustin in the lodge's wild and whimsical interior.
"This is just such a beautiful spot and I think guests are really going to find it peaceful down here in the tipis, I'm really glad I had this done," Jones said.
Now the lodge and guest cabin are home to Isaiah and Rebekah McGuffey and their three children. The family are Airbnb hosts and are the next chapter in welcoming guests to Sheep Mountain Lodge.
Ultimately Jones is considering pouring concrete in the tipis and possibly putting in queen sized beds.
"Isn't glamping all the rage now?" Jones said.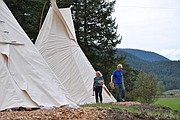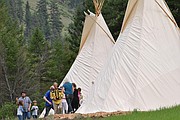 ---