Hot Springs tops Noxon in 14C challenge match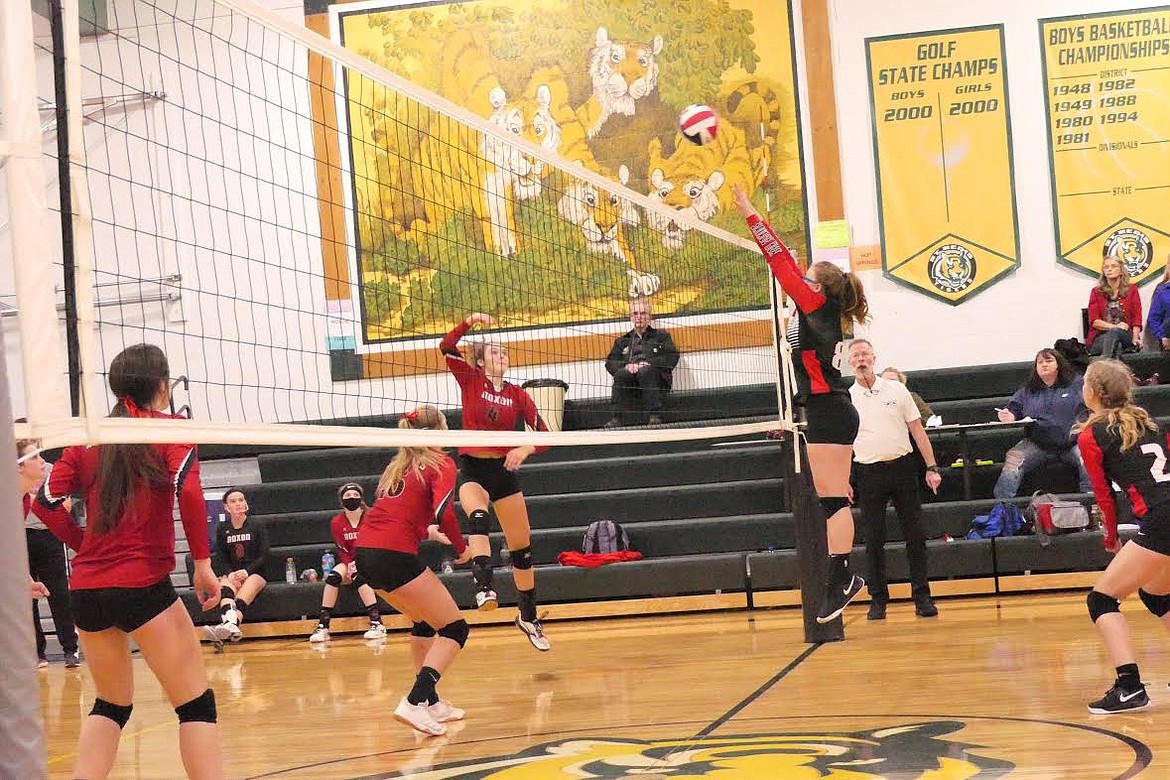 Hot Springs Lily Detienne (8) tries to block a shot by Noxon's Riley Richter (4) during last week's match. (Chuck Bandel/Valley Press)
|
November 4, 2020 12:00 AM
By CHUCK BANDEL
Valley Press
The turmoil created by COVID-19 reared its ugly head again in the world of Montana high school volleyball.
With a scarcity of sites at which to play and a daunting shortage of volleyball officials scrambling from site to site, two teams fighting for their playoff lives faced an additional hurdle.
The tournament, originally scheduled to be played in Ronan, took place in St. Regis, which stepped up and offered its gym as a tournament host for the Saturday contests.
Just a few hours and in one case just more than one hour after hard fought battles on the court, Noxon and Hot Springs squared off in a challenge game to determine District 14C's No. 2 entry in this week's divisional round of play.
Hot Springs entered the game less than 90 minutes after losing to district champion Charlo in a physical, back-and-forth championship matchup. Noxon came in roughly three hours after holding off Clark Fork to win the consolation bracket championship in a grueling match that went five sets.
In the end, the Lady Savage Heat had too much firepower and depth for the Lady Red Devils from Noxon in a three-set sweep by Hot Springs.
Noxon, which earlier in the week took eventual champion Charlo to five games in a 3-2 loss, looked to be the more well rested team in the early stages of the match with Hot Springs.
The Lady Devils built a 6-1 lead early in set one before Hot Springs rallied to tie the score at eight. The score was tied three more times before the Lady Heat began to click behind an all-around effort from senior Savannah Roosma.
The score remained close the rest of the opening set, but in the end Hot Springs held off Noxon for a 25-22 victory.
With Roosma and company showing signs of shaking off the fatigue and disappointment of their earlier loss, Hot Springs took a dominating 15-1 lead in game two, then fought off a Noxon mid-set rally on their way to a 25-14 set win and a commanding 2-0 match lead.
Noxon continued to fight hard despite the deficit and led early in game three, a set that was tied nine times, the last at 19-19. The Lady Devils effort was spearheaded by sophomore standout Avery Burgess, who like Roosma had an overall good game.
However, Hot Springs had what it took to pull away from the late tie and win game three 25-20 and sew up the 3-0 match victory.
Hot Springs began tournament play with a thrilling 3-2 win over Clark Fork, while Noxon opened district action by eliminating Plains 3-0. The win boosted Hot Springs to 13-4 on the year.
---