Season ends for Thompson Falls football team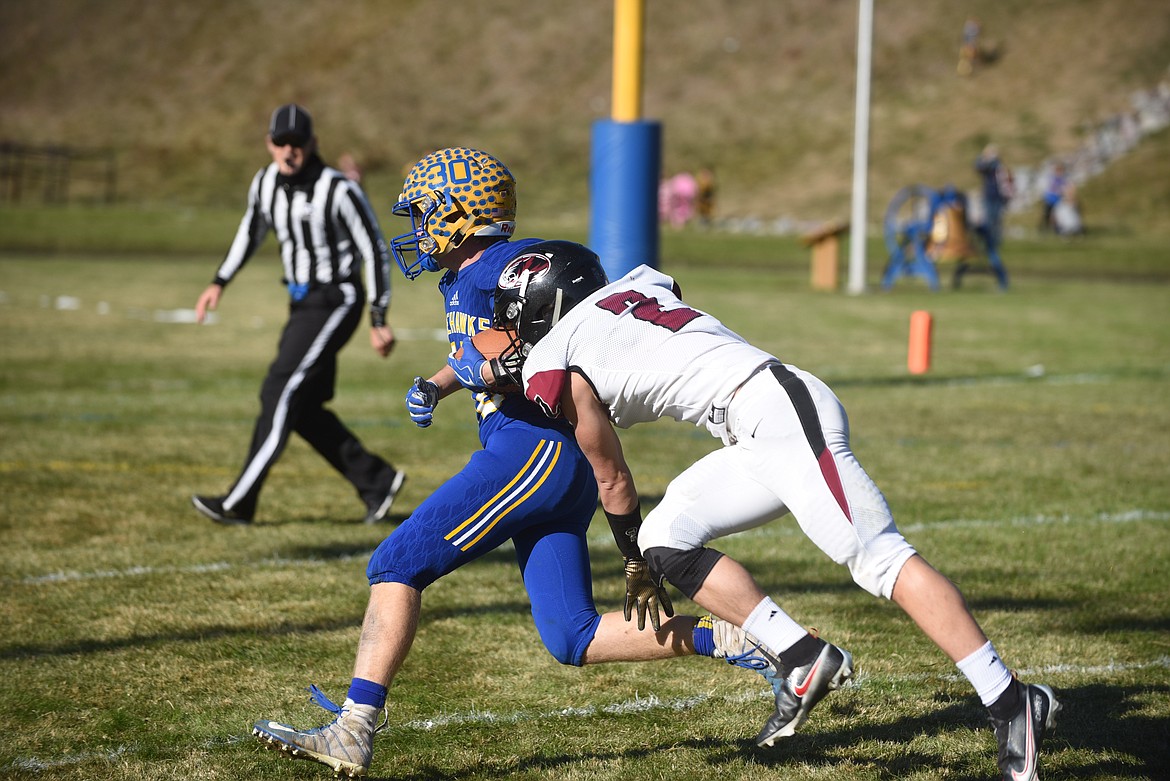 Thompson Falls' Derek Andersen runs away from a Simms defender after catching a pass from his twin brother Luke in last Saturday's 8-man state playoff game. Derek scored on the play in a 50-6 win. (Scott Shindledecker/Valley Press)
|
November 11, 2020 12:00 AM
Clark Fork Valley Press
Thompson Falls and Scobey were tied at 24-24 entering the fourth quarter of their first round Montana Class A playoff game, but the hosts shut out the Blue Hawks 16-0 to claim a 40-24 win last Saturday.
The Blue Hawks ended their season at 9-1. Their 24 points was their second-lowest total of the season. They scored 22 in a shutout win over Charlo on Oct. 16. The 40 points they surrendered to Scobey was just four fewer than they allowed all season while posting six shutouts.
Senior Quarterback Roman Sparks led the Blue Hawks with 75 yards rushing on 17 carries and one touchdown. He completed 3 of 6 passes for 21 yards. Fellow senior Kade Pardee added 65 yards rushing on 20 carries and one TD. Pardee also returned a kickoff for a TD.
The Blue Hawks struggled in the passing game, hitting just 3 of 9 passes for 21 yards. They also had two turnovers, losing a fumble and throwing an interception.
Derek Andersen had an interception on defense and collected 15 tackles. Trae Thilmony had 17 tackles while Pardee had 14.
Scobey (9-1) will take on Shelby in the state semifinals Saturday.
---