Clark Fork volleyball team beats St. Regis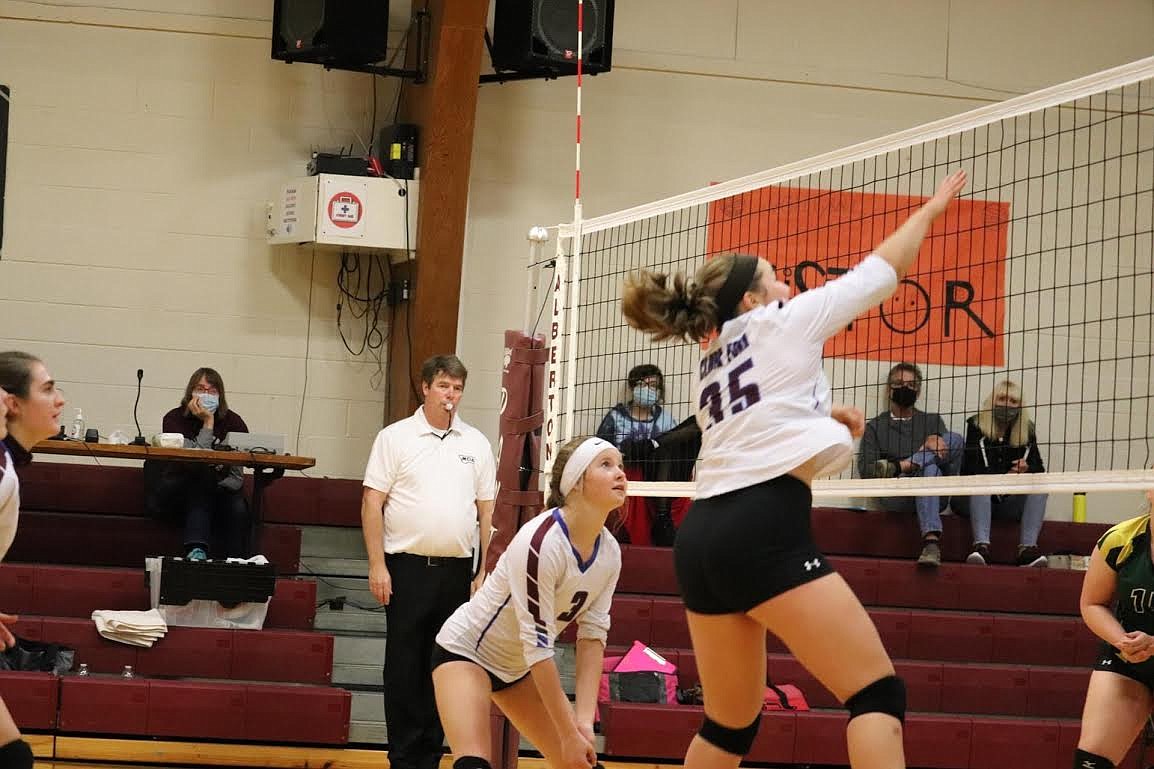 Clark Fork volleyball player Cassie Green (35) returns a shot during a match last week. (Kami Milender/Mineral Independent)
|
October 7, 2020 12:00 AM
By CHUCK BANDEL
Valley Press
After running into the buzzsaw that is the Seeley-Swan volleyball crew, the Clark Fork Lady Mountain Cats made amends two days later.
Clark Fork squared its season record at 4-4 Thursday night with a three game sweep of St. Regis in a game played in Alberton.
Earlier in the week the Lady Cats were on the losing end of a Montana high school volleyball match with now once-beaten Seeley, falling 3-0.
They returned to their "co-home" court Thursday night and took it out on the Lady Tigers from St. Regis.

The game was played in Alberton as part of the co-op arrangement that combined players from Alberton and Superior to form the Clark Fork squad.
Against St. Regis, Clark Fork got an outstanding effort from senior Sorren Reese, who had five service aces, nine assists, two blocks and nine digs for the match.
The Lady Mountain Cats opened the St. Regis match with a 25-13 win in game one, then followed that by winning game two 25-14 to grab a 2-0 match lead.
Game three was even more lopsided in Clark Fork's favor as the Lady Cats cruised to a 25-9 set win and a 3-0 match victory.
The win moved the Cats record to 4-4 on the year, while St. Regis fell to 1-8 this season.
In addition to Reese's fine effort, the Lady Mountain Cats got eight kills from Cassie Green.
Earlier in the week Clark Fork traveled to Seeley where they met up with an at that time unbeaten Lady Blackhawks squad Tuesday evening.
Game one proved to be a tight battle until the Lady Blackhawks pulled away for a 25-20 win behind another solid performance by 6-1 senior Klaire Kovatch. Games two and three were easier sets for the host team, as they won 25-8 and 25-12 respectively to secure the match win.
Kovatch had another awesome night, racking up four aces, four kills, one assist, five blocks and six digs on the night. Teammate Jordan Johnson chipped in 14 assists for the Lady Blackhawks, who suffered their first loss of the year Thursday when they fell to Drummond.
Next on the schedule for the Lady Mountain Cats is a home court (Superior) match with Plains, followed by a home encounter with Drummond this Saturday.
---