Hot Springs volleyball tops Plains, falls to Charlo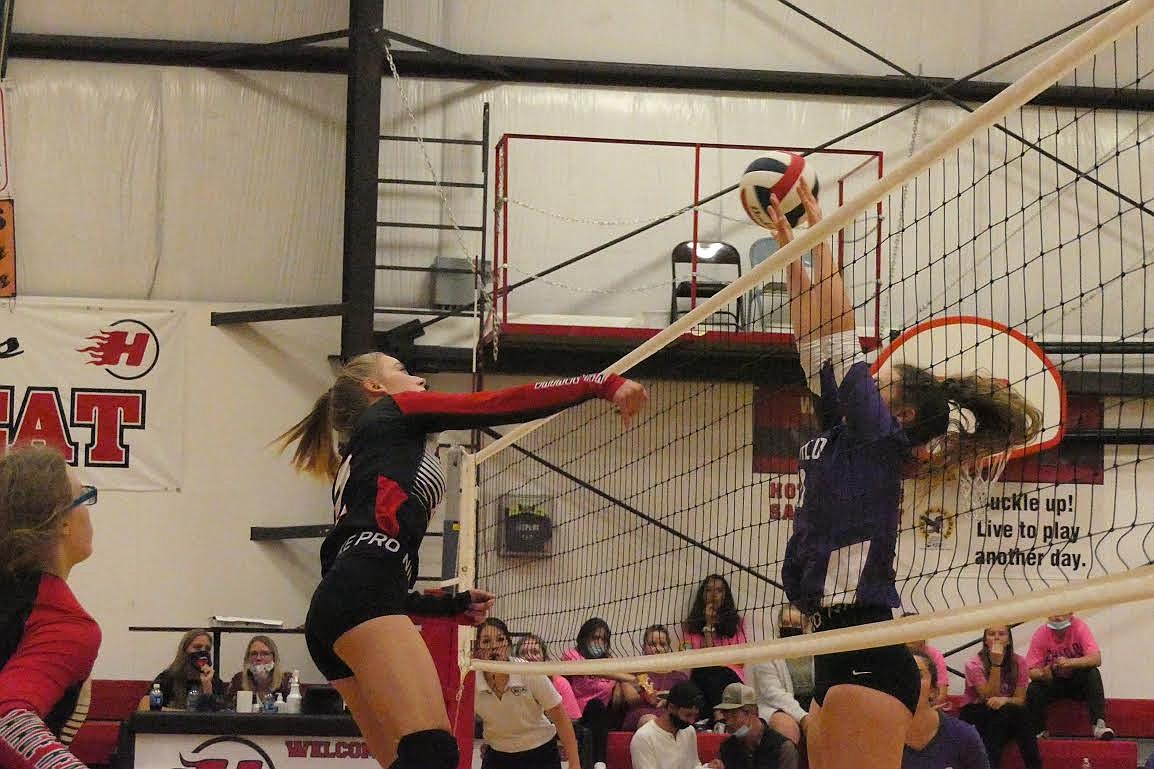 Hot Springs volleyball player Savannah Roosma slips a spike past a Charlo defender during last week's match. (Chuck Bandel/Valley Press)
|
October 7, 2020 12:00 AM
By CHUCK BANDEL
Valley Press
It was a week of long volleys with balls bouncing off the overhead ventilation ducts and spectacular digs and kills for the Hot Springs Lady Savage Heat.
After the dust had settled, Hot Springs earned a split against two strong opponents.
Thursday, in what was anticipated to be a hard fought battle with area rival Charlo, fans were treated to a high-flying display of how the game is meant to be played.
Unfortunately for the Lady Savage Heat, Charlo came away with a three-game sweep, and a sweep of their regular season series. This matchup will no doubt be on display again in the first round of playoffs later this month.
In game one Thursday night in Hot Springs, Charlo opened a quick early lead, then fought off repeated Savage Heat rallies before pulling away for a 25-20 set win and a 1-0 match lead.
Hot Springs had come back from a six-point deficit in the opening game to tie things up at 16 before Charlo edged ahead then held off one last charge by the host Heat.
Game two proved to be more of the same. The two teams battled back and forth in the early going and were tied four times, the last being a 7-7 deadlock.
Hot Springs senior Lily Winn, who finished the game with two service aces, eight kills, two blocks and seven digs helped keep the Lady Savage Heat close.
But Winn's effort were offset by outstanding play at the net by Charlo's Carlee Fryberger who recorded multiple blocks and kills on the night to help the Lady Vikings pull out a 25-19 game two victory and a 2-0 match lead.
Game three was a nail-biter and the kind of action volleyball fans crave. For the game there were 10 ties between these two talented teams, the last one being 27-27 in volleyball's version of overtime. In the end Hot Springs could not overcome the Lady Vikings net play or ability to record crowd-pleasing digs and returns as they recorded a 29-27 win and a 3-0 match victory.
In their previous meeting in September, Charlo won a similarly hard-fought match, 3-1.
The win upped Charlo's record to 7-0 on the year, while Hot Springs fell to 7-3 after having dispatched Plains earlier in the week on the Trotters home court.
Against Plains, the Lady Savage Heat started strong then held on to outlast the Trotters for a 3-1 match win.
Hot Springs took the opening game with relative ease, 25-9 and followed that with a solid 25-11 win in the second game to take a commanding 2-0 match lead.
However, Plains showed they were not done yet and battled back for a 25-23 win in game three, a set that featured six ties.
The match was decided in game four as Hot Springs took control early and held a steady lead throughout the contest before winning the game 25-17.
Senior Savannah Roosma had an outstanding game against Plains, recording 10 service aces, five kills, three assists and three blocks.
Hot Springs returned to action last night (Monday) and plays tonight (Tuesday) in a road match at St. Regis.
Plains returns to action tonight with a home game against Thompson Falls.
---