Mountain Cats rough up Darby, 52-12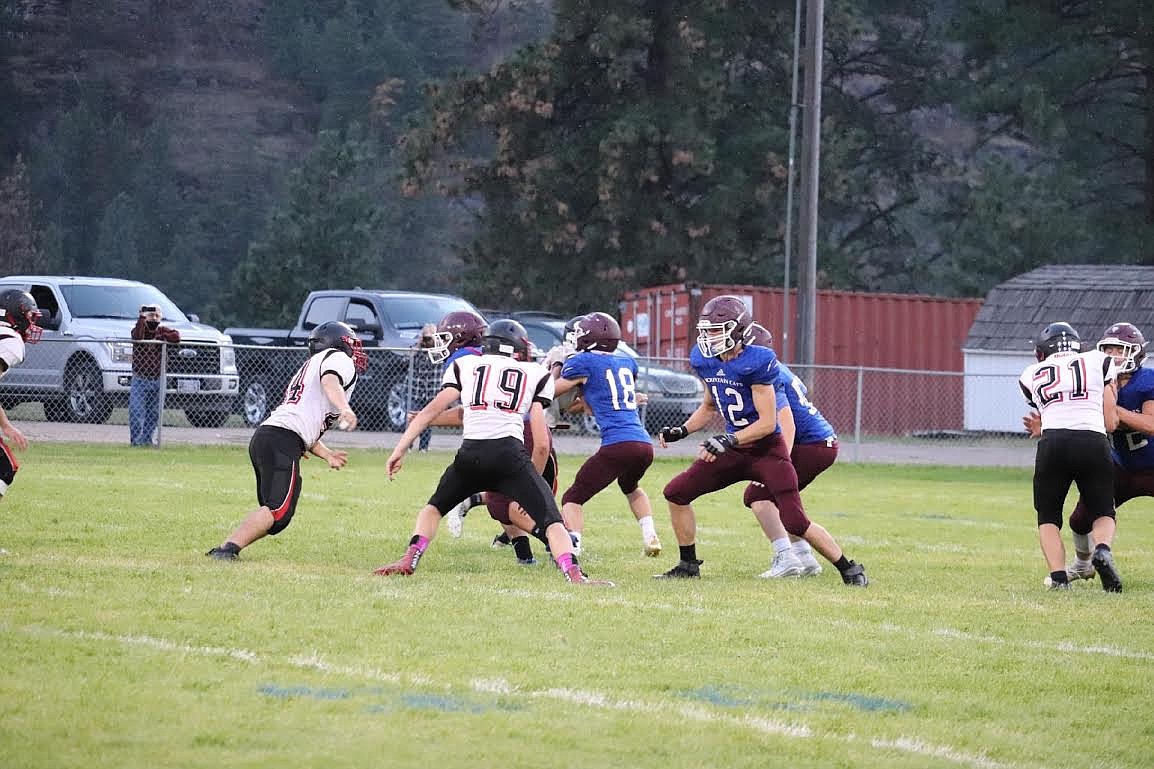 The Clark Fork Mountain Cats football team hammered Darby, 52-12, to improve to 4-2. Danger Haskins (18) and Hunter Haskins (12) block during a play in the win. (Kami Milender/Mineral Independent)
|
October 7, 2020 12:00 AM
By CHUCK BANDEL
Mineral Independent
Superior play and superior coaching equals winning seasons.
That's the case with the Clark Fork Mountain Cats football team.
Friday night the Cats improved their season mark to 4-2 with a resounding 52-12 win over Darby in a game played in Alberton.
Clark Fork, a co-op team featuring players from both Superior and Alberton, got three touchdown passes from standout quarterback Bryan Mask to go with a stingy defense in winning their second straight game.
The state B eight-man runners-up from a year ago showed they are still a force with which to be reckoned as they shot out to an early lead and never looked back.
Mask got Clark Fork on the scoreboard first when he hooked up with Orion Plakke on a 49-yard scoring play in the early moments of the first quarter. A point after run by Decker Milender gave the Mountain Cats an 8-0 lead.
A short time later, junior Issac Miller broke free on a 20-yard touchdown jaunt that, when coupled with a PAT pass from Mask to Silas Acker, gave the hosts a 16-0 advantage.
Before the opening quarter ended, the Mask to Plakke combination connected on a 43-yard scoring strike to put Clark Fork ahead 22-0 at the end of one quarter of play.
Clark Fork's defense continued to shut down the Tigers offense as they did throughout the game. The Cats meanwhile had solid success moving the ball on offense. Senior Aaron Waddle scored on a one-yard plunge as the second quarter got underway and the Cats added a 2-point conversion to pad their lead to 30-0.
Darby answered that score with a short, 2-yard TD run to cut into the Clark Fork lead a short time later.
However, Clark Fork struck back quickly, this time on another passing TD from Mask to Plakke, this one from 11 yards out. Before the second quarter came to an end, Mask broke loose for a 19-yard running touchdown, giving the Mountain Cats a 44-6 halftime advantage and putting the 35-point, clock running continuously rule into effect.
Neither team scored in the third quarter.
The Tigers then put together a drive in the fourth quarter that was capped by a four-yard scoring run. A failed extra point attempt left the score at 44-12 in favor of Clark Fork.
The Mountain Cats closed out the game's scoring later in the final quarter when Milender caught a 26-yard TD pass from Plakke.
For the game, Mask accounted for 269 yards. He completed seven of 15 passes for 134 yards, with one interception. The senior standout also ran for 135 yards in addition to his ground touchdown.
Plakke finished with three catches, all of them touchdowns, and 103 total receiving yards.
The loss dropped Darby to 1-4 on the year.
Clark Fork travels to Arlee Friday night for an encounter with the Warriors.
---